Cottage Garden Design Ideas
Discover what it takes to create an eye-catching cottage garden design that's big on beauty and low on maintenance.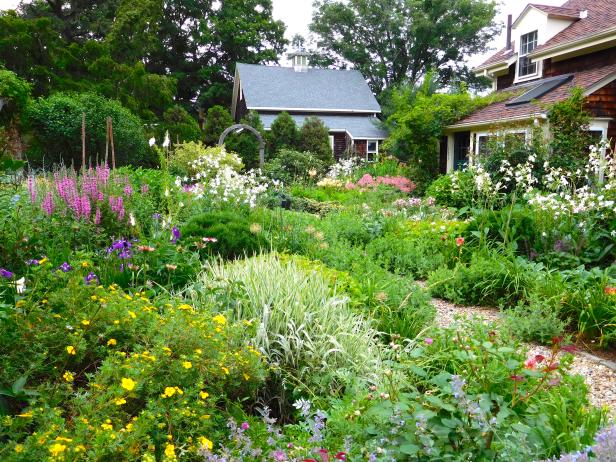 A Cottage Garden's Colorful Planting Palette
The flowering plants are primarily pink, white, yellow and blue, a soft palette that complements the natural shingles of the home. Flowering shrubs, roses, perennials, annuals and spring bulbs ensure that the garden is in bloom from March until late fall. Plants like iris, alliums, echinacea, roses and foxglove emphasize the cottage style of this colorful garden.
Celebrate exuberant color with the carefree plantings of a cottage garden design. While other garden styles feature formal lines and orderly plantings, cottage garden plans thrive on colorful chaos and serendipitous plant pairings. The result is relaxed and cheerful, focusing more on the passion of gardening than the rules. But by following certain garden design tenets and practices, your cottage garden design can thrive with minimal care.
As you dig into cottage garden ideas, understand that what makes a cottage garden sparkle is, above all, healthy plants. Start your cottage garden with great soil. Investing in soil rich in organic matter means you'll ultimately water and fertilize less, reducing the amount of your work your garden requires. Do a soil test to understand what type of soil you have and amend it accordingly. Aim to create soil that helps plants thrive.
One of the best cottage garden plans is to fill your garden with plants having different heights and textures. Keep shorter plants toward garden edges and taller plants in back. Pair plants that are solid and blocky paired with ones that are airy and lacey. Mingle plants with broad, sword-like leaves alongside ones with ferny foliage.
The most effective cottage garden designs stage a steady color show as the growing season unfolds. It takes careful planning to develop a garden that always has something in flower. You can cheat a little by including colorful foliage plants to create a backdrop of consistent hues. Flowering annuals also weave non-stop color into cottage garden plans.
Most cottage garden plans feature full- or part-sun locations. In these types of settings, soil benefits from having a mulch layer to reduce moisture evaporation. Consider installing soaker hoses to ensure that plants receive adequate moisture, especially if you live in a drier region.
To achieve true floral abundance, be sure to include vines in your cottage garden designs. Train them on simple one-dimensional trellises to erect a screen of color, or build a three-dimensional tuteur or teepee-like structure. Cottage garden plans also usually showcase fanciful splashes of hardscape color. Achieve this by coating a tuteur or garden bench with a vivid paint hue. Or maybe you want to include some type of garden sculpture.
Classic hardscape elements in cottage garden designs include eye-catching fences, which don't have to encircle the entire garden. You can create a beautiful corner garden with a strong sense of setting by adding a corner section of picket fence. Or you might search for vintage wire fences at estate sales. Birdbaths, gazing balls, sundials, and birdhouses all adapt artfully to a cottage garden plan.
The trickiest aspect of cottage gardening is the density of plantings. Tightly spaced plantings make access for maintenance difficult to impossible—unless you plan for it. With planting areas wider than 24 inches, include a stepping stone or brick pad in the midst of plants to give you firm footing when deadheading, pruning, and staking.
For easiest access, consider incorporating a stepping stone footpath into your cottage garden plan. You might even make your own stepping stones to outfit your garden with one-of-a-kind ornaments.