All White, Already! White Garden Design
See all the wonderful ways to incorporate white into your garden and outdoor space.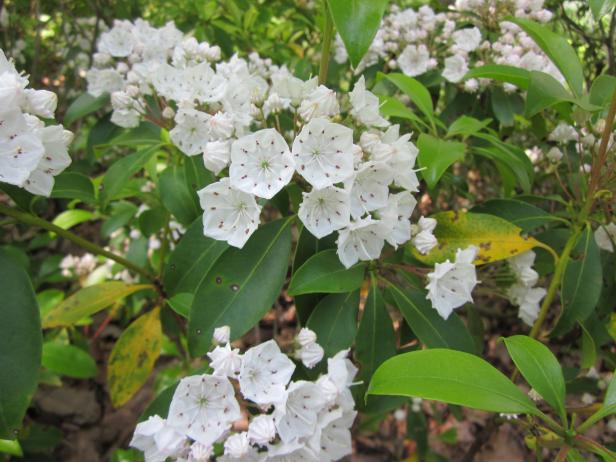 Mountain Laurel
A native plant, mountain laurel (Kalmia latifolia) has pink buds in spring that open to white cup-shape flowers. This native typically grows 5 to 8 feet tall and wide. Mountain laurel is a stand-out evergreen shrub because it tolerates shade (although best flowering occurs in light shade). Look for varieties with red, pink or bicolor blooms, double or large flowers, and buds that stay tight, adding an interesting texture to the shrub. Hardy in Zones 4-9.
I've got a secret, but it's risky: you can wear white after Labor Day.
Well, at least your garden can.
White is arguably one of the most classic colors and makes a radiant addition to your garden. There are hundreds, if not thousands, of white flowers and foliage to include in your beds and borders any season.
Want an all-white garden that will make even Sissinghurst jealous? Choose plants of different heights and textures to keep things interesting. Since many white flowers aren't "true" white – meaning they often contain pigments of other colors like pink, blue and green – silver and gray plants can bounce those hints of colors across their foliage, helping a slightly off-white garden look more uniform.
Perhaps the most magical reason to grow a white garden is the color's ability to keep shining long after the sun sets. White flowers and plants remain more visible at night than their colorful counterparts, so try planting a moon garden of white and silver flowers near the patio to enjoy on summer nights.
And color addicts, I haven't forgotten about you. White flowers and plants serve as a backdrop to make all those vibrant flowers pop.
White has power outside of your perennial garden, too. Use it in landscaping and structures like fencing, pergolas or outdoor furniture as a blank canvas to spotlight your plants or to brighten up dark spaces in your yard.
Browse the gallery below of beautiful white outdoor rooms and get ideas to incorporate white into your own landscape design. Whether used for super-sleek modern paths to eclectic but cozy lounge areas, white gives your space a crisp, fresh boost. No matter your style or zone, you can find ways to wear white all year long.
Don't worry, we won't tell anyone.