Learn more about the feathered friends in your backyard.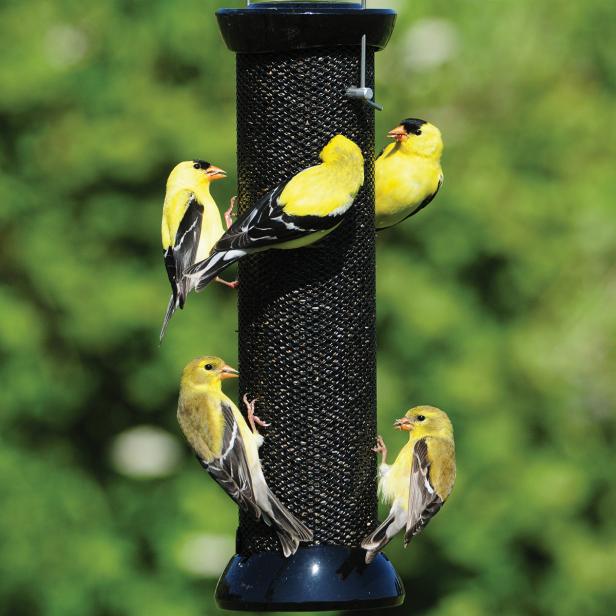 Bird Feeder for Finches
Attract pretty finches with an Onyx Clever Clean 12" Finch magnet. The rust-proof steel mesh has diamond-shaped openings that fit their beaks better than traditional screen mesh designs. The feeder can be hung or mounted on a pole.
According to the USFWS (U.S. Fish and Wildlife Service), bird-watching in the U.S. is becoming an increasingly popular pastime with more than 48 million people taking up the hobby.

Some of the reasons for this growing trend are obvious.
For one thing, bird-watching gets you off the couch and out of the house where you can experience nature firsthand. And understanding your connection to your environment and ecosystem usually leads to a greater appreciation for wildlife and conservation.
Bird-watching is also an inexpensive recreational pursuit compared to most outdoor sports and activities. You don't need a license to become a birder. You don't even have to know a lot about birds when you start out. All you really need is the interest and desire to educate yourself on the subject.
Tim Boucher, senior geographer at the Nature Conservancy and a longtime birder, has some basic tips for beginners that will help them get started in their own backyard.

Making Your Yard Bird-Friendly
"A couple of things — like not using pesticides and insecticides — are very important. Keep dead trees and piles of dead wood — hiding places —especially for birds in winter. To encourage certain species, you could put up nesting boxes. That requires minimal effort. Some people like to have a bird bath or you can create a little stream which is always very useful for birds, especially in times of drought. And plant more shrubs, especially native plants that flower in the spring and provide seed in the fall. Native plants like holly are very good, especially during the winter, because robins and other birds will eat them through the winter and they are considered a very good source of fat for them. Another thing people do and [something] I actually encourage is putting out a hummingbird feeder."
"You have to have binoculars. I would suggest going to a local Audubon chapter or nature center or wild birding store and chasing down a few pairs," says Boucher. "You want a decent magnification [at least 8x magnification and a 30 to 42mm front lens]. Most people start with what they call objective lens [according to size] so "8x32" or "10x40" is what you should be looking for in binoculars. Don't spend too much but get a decent pair; otherwise, you're going to be put off by not being able to see things very well."
Also critical says Boucher? "A good bird guide."

"Go to a birding story and just ask them what birding guides they use. You can also get a birding app and those are a lot of fun because they also give you bird calls. The five most popular ones are Audubon Birds, iBird Pro, National Geographic Birds, Peterson Birds and Sibley eGuide to Birds. For the beginner, I recommend Audubon Birds. It's got good photos but what's really interesting about this app is that it's very helpful in getting the beginner to figure out what they're looking at."
"It depends on where you are but generally speaking, birding starts in mid-April and goes to about the end of May. So those four to six weeks are the most important six weeks in the year for us. All of the birds from South America, Central America, the Caribbean come flooding through, literally a tidal wave of birds. It's a very exciting time of year. [It starts up again] in the fall when the birds start flying south again and that's from late August to early October. Just a great period of migration south."
"You want to watch between six-thirty or seven in the morning so you can be there before the birds start calling. Then you can bird around 3 or 4 hours. By late morning the birds are settling down," says Boucher.

"Weather also plays such an important role. If there's a big downpour they'll hunker down and land in the trees so that the next morning you'll be able to see a lot more birds. In terms of birding, it's better to have clear weather but even an overcast morning is good. Lots of wind and lots of rain obviously make for pretty dreary conditions."
Boucher's interest in birds has led him to become an avid bird conservationist. His bird-watching adventures these days are more likely to be focused on rare or endangered species in remote areas around the world.

In terms of the birds you might see in your yard, that depends entirely on your region of the country and the time of year. The best way to familiarize yourself with the native birds in your area is to use some of the following resources for your research.

For more information about birding, check out Tim Boucher's blog at Conservancy Talk.