5 Frequent Questions About Yard Prep for Growing Vegetables
Preparing the yard for a vegetable garden may take time, but it will pay off all season long.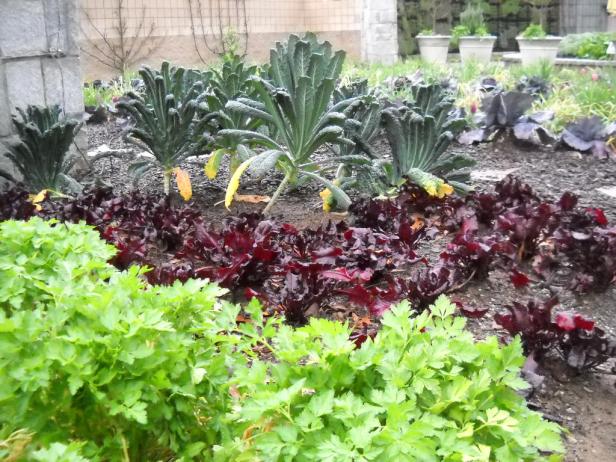 Urban Veggies
A small sample of the Fall vegetable crop at the Atlanta Botanical Garden in the heart of the city includes flat leaf Parsley (bottom of photo), Bull's Blood Beet (center) and Dinosaur kale (top), which is also known as Lacinato or Tuscan kale. "Most leafy green vegetables (kale, lettuce, collards) are planted in mid-September and/or mid-February here in Atlanta when temperatures are cooler," says vegetable gardener Moe Hemmings.
Image courtesy of Atlanta Botanical Garden
Planning on planting a vegetable garden in your backyard this year? It's one of the great American pastimes, but if you haven't tried your hand at one before, or if it's been awhile, you may have a few questions before getting started.
Think of a garden bed — the soil, the location — as being similar to the foundation of a building. What you start out with in both cases is more important than anything you add later — in fact, it's safe to say that the success or failure of your vegetable garden crop depends on the kind of beginning it gets.
Q: What kind of sun exposure and space do I need?
A: You'll need six to eight hours of sun a day, and the soil should be well drained. How much space you need depends on the crops you'll be planting: some need room to stretch, but others are more compact. Also, be sure to plant in east-west rows (in north-south rows, plants shade each other).
Q: What do I need to do to my soil to get it ready?
A: Make the soil more fertile by adding composted — not fresh — manure, compost, loam, sand (for drainage) and nutrients to combat tired, dry existing soil.
Q: What is a raised-bed garden, and why would I do that instead of a traditional garden?
A: Raised-bed gardening is a good solution if you've got poor soil: you can dump whatever you want on top of bad dirt and just mix it all together. A word of caution, though: soil dries out more quickly in a raised-bed, so you'll have to water more often; it also compacts more easily, so try not to walk on it too much.
Q: What are ways to maximize the output in my small garden space?
A: Try "interplanting," which means conserving and efficiently using garden space by planting together veggies with similar needs, but different growing rates or times. For example: radishes and corn. Radishes will come in abundantly long before the corn is high enough to block out the sun. Or try planting green onions with members of the cabbage / broccoli family: onions grow faster than cabbages and can be harvested long before cabbages get big enough to need the space.
Also concentrate on crops that can be trained to grow vertically: cucumbers, pole beans. You can then plant lower-growing, cool-season veggies, such as lettuce or beets, underneath the supports.
Q: What flowering plants can help deter pests from vegetables?
A: Some of the best ones (and the critters they deter) include geraniums (Japanese beetles), marigolds (Mexican bean beetles) and nasturtiums (aphids). Not only flowers are deterrents, though. For example, the following herbs are also good to have in the garden for more than just culinary reasons:
Chives or garlic (aphids), rosemary, sage, thyme and mint (white cabbage butterflies).
Gardening Quick Tip: Protect your seedlings from insects by putting a milk carton around them. Simply open the top and cut off the bottom, then push the carton about an inch into the soil.