Tips for the best varieties of olive trees to plant if you are thinking of starting your own grove.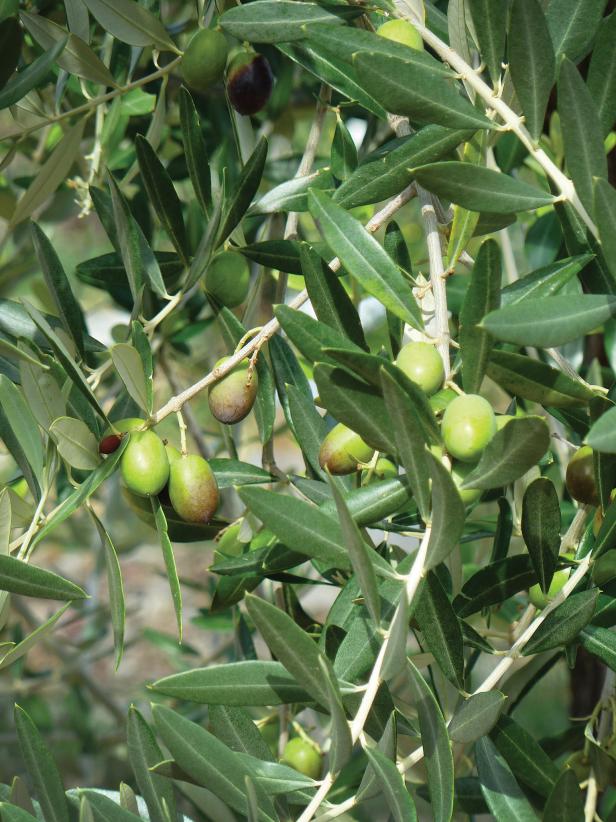 Growing Olives
This closeup shows olives growing on a drought-tolerant olive tree, which is native to Italy.
Photo Courtesy: Scott Womack, 2013 Gibbs Smith, Allure of French & Italian Decor, Betty Lou Phillips
I take gifting very seriously. Scarves, perfume sets and tools are too easy—I only feel good about giving a present after I have tortured myself for days, weeks and sometimes months over whether or not it is perfectly perfect. All year long I keep my eyes and ears open for hints of things friends and family want, then add it to a secret list. I'm sort of like Santa, but not nearly as jolly.

The one person who always eludes this list is my mother-in-law, Lucy, whom I adore. That woman buys what she wants, when she wants it, which leaves me without a crumb of an idea year after year. Since I married into the family, I've bought her things like monogrammed planters and a bobblehead Santa figurine with her picture on it.

But this year was different. While recalling the highlights of a recent trip to Italy, she mentioned sloshing through the mud for a few olive branches to smuggle back as a souvenir. She thought she was telling me a funny story, but she was really giving me the coveted gift-idea crumb—and I hopped online to buy her an olive tree.

Olive trees aren't native to North America, so I immediately worried about sending her something that would die quickly and bomb worse than the bobblehead. But Berrien Sutton, vice president of Georgia Olive Farms says olive trees can thrive in various areas. "It's common to find ornamental olive trees in California and along coastal portions of Georgia, Florida, South Carolina and Alabama," he says. "But they don't do well in areas that get below 20 degrees in the winter, which is probably why we don't see more of them."

Lucy lives in Nashville, but if you live in a cold climate, olive trees can be grown in a large container and brought inside for the winter. At the Denver Botanic Gardens, greenhouse curator Nick Snakenberg uses olive trees for their Mediterranean look, not fruit production. "Since we bring our trees inside for the winter, we grow Olea europaea 'Montra', which is a dwarf variety," he says. "We also grow O. europaea 'Leccino.' Both varieties are self-sterile and will not produce fruit unless pollinated by another cultivar. So if you expect to get fruit, be sure to purchase a self-fertile variety."

At Georgia Olive Farms, Sutton and his crew sell Arbequina, Koroneiki and Arbosana varieties, all of which are fruit bearing. He suggests planting very early in the spring to "harden the tree off" for the first winter. "Olive trees are very tough and live for thousands of years, but surviving the first winter is critical," he says. "They're not big nitrogen feeders, but you should use some slow release fertilizer to jump start them for their first winter." He also suggests cutting off the fertilizer in the fall so the plant doesn't go into the winter with new growth, and keeping the root ball moist, but not wet.

Olive trees have plenty of selling points, but they're not easy to wrap. So I boxed up some artisan olives and told Lucy the trees were on the way. She's thrilled to plant a little piece of Italy in her own backyard, and is anxiously awaiting her fruit, which should sprout up in three to five years.

This gives me plenty of time to start saving up for an olive oil press.
Whether you have a big backyard or a slim windowsill, there's an olive tree for every situation. Here are just a few:

Georgia Olive Farms – Three varieties of olive trees for sale (minimum of 5) plus locally made olive oil.

Olive Tree Growers - Arbequina trees for sale from this Florida-based vendor.

Santa Cruz Olive Tree Nursery - Various varieties and sizes available with minimums required.

Viva Terra – Online green living retailer offers olive plant topiaries and olive bonsai trees.

Sonoma County Extension Service – Thinking of growing your own olive orchard? This site has a wealth of information on pruning, irrigation, food safety and pests.