Discover the beauty and long flowering season of 'Prairie Splendor' coneflower.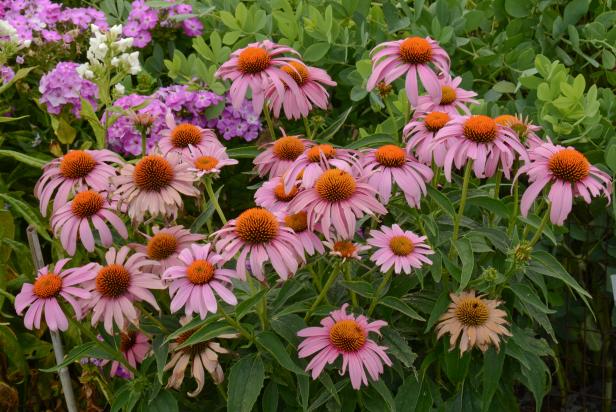 Prairie Splendor Purple Coneflower (Echinacea purpurea 'Prairie Splendor')
Purple coneflower boasts striking blooms with reflexed purple petals that surround a spiky orange-gold cone. This drought-tolerant perennial is hardy in Zone 4 to 8 and native to the Central Midwest. Blossoms beckon butterflies and bees. Plants benefit from dividing when clumps enlarge and flowering slows. You can also lift and transplant young seedlings that form around the base of the mother plant.
Can't get enough coneflowers? Then 'Prairie Splendor' is the coneflower for you. A variety of purple coneflower (Echinacea purpurea), 'Prairie Splendor' takes the traditional purple bloomer a few steps further. It has a longer flowering season, larger blooms and a shorter form that easily fits today's downsized gardens.
Echinacea purpurea 'Prairie Splendor' has many features similar to its purple coneflower parent, Echinacea purpurea. Like its parent, 'Prairie Splendor' has the classic pink-purple petals surrounding a spiky central cone. Its cone reflects its heritage, boasting coppery-orange shades. Unlike its parent, the petals on 'Prairie Splendor' coneflower tend to be slightly less droopy, almost standing horizontally when they first appear.
Also known as prairie coneflower, Echinacea 'Prairie Splendor' brings several new features to the coneflower party. First, it flowers reliably from seed its first year — with a 100 percent flowering rate. That's news in the world of coneflowers, which usually don't hit their blooming stride until their second year when grown from seed. The flowers feature a deep hue of rose-magenta and measure 4 to 5 inches across. They stage a show that's tough to miss in the garden.
This prairie coneflower falls into a shorter height category, doing its blooming thing at a modest size of 12 to 24 inches tall and wide. These smaller clumps fit easily into small planting areas in front yard gardens or small suburban backyard spaces. You can also grow it from seed and use it in a container its first summer, then shift it to the garden in early fall for overwintering. It will emerge the following spring to continue in a perennial role.
The most significant trait 'Prairie Splendor' coneflower brings to the coneflower family is that it starts to bloom two weeks earlier than other Echinacea. This extends the flowering season for this perennial favorite from late spring to fall. Many gardeners report that 'Prairie Splendor' coneflower continues to flower sporadically all the way to first fall frost.
Deadheading plays a key role in keeping the flowers coming. Remove spent flower heads throughout summer to encourage more blossoms to form. By late summer, though, allow spent flowers to remain so that you have ripening seedheads to lure birds to the garden. Goldfinches, native sparrows, chickadees and other bird species flock to the seedy buffet 'Prairie Splendor' coneflowers offer.
Like its parent, purple coneflower (Echinacea purpurea), 'Prairie Splendor' has a wide growing range and is hardy in Zones 3 to 8. It's deer-resistant and can grow in a variety of soils, including rocky, shallow, clay and drought-prone.
If you're shopping for 'Prairie Splendor' coneflower, be sure to ask for it by name. There's another plant known as prairie coneflower, Ratibida columnifera. It most often goes by the name Mexican hat, but is sometimes referred to as prairie coneflower. This is another North American native wildflower that's actually a type of aster. Its blooms feature a tall gray-green cone skirted with golden yellow petals.