Organic Gardening: The Toxic Top 12
Break the toxic cycle by identifying the store-bought fruits and veggies that pose the greatest danger.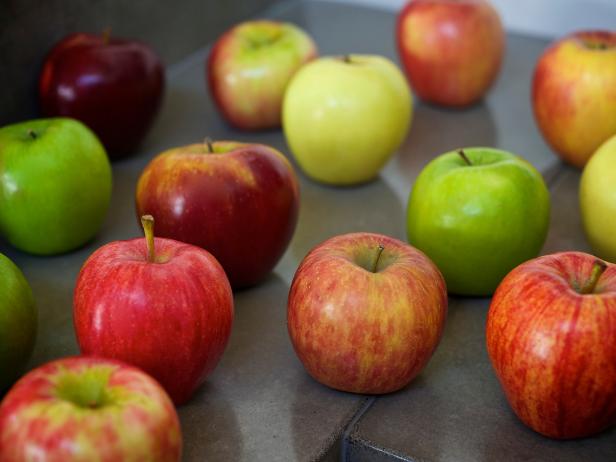 Apples on Countertop
Apples boast skin in an array of shades, from classic red and yellow, to pale green, to streaked and striped varieties. For this autumn fruit, beauty is more than skin deep. A medium apple (tennis ball size) offers 80 calories, no fat, cholesterol or sodium, and is packed with good-for-you fiber—5 grams per fruit. High fiber content means the natural sugars are slowly released into the bloodstream, which helps with maintaining steady blood sugar levels.
Steering clear of the myriad of harmful substances used in the manufacturing and distribution of fruits and vegetables means smartly navigating a minefield of genetically modified and chemically treated goods at the grocery store and even at the farmer's market. If organic gardening comes to mind every time you stroll down the produce aisle, then growing your own veggie patch might be a good choice for you (see our tips below). Before you shop or sow, be aware of which conventionally grown items are the most pesticide-laden…and which ones are easier to avoid.

The consumer watchdog nonprofit called Environmental Working Group has created a shopper's guide to pesticides that identifies the "dirty dozen" culprits. All of the food tested had been grown in the USA, except for the nectarines. Ninety-eight percent of all non-organic apples carried pesticide residue, followed by 96 percent of celery and 91 percent of potatoes. If that's not enough to make your skin crawl, a 2011 study found 88 different pesticide residues on a single batch of bell peppers. One pepper alone tested positive for 15 different pesticides.
Apples
Celery
Cherry tomatoes
Cucumbers
Grapes
Sweet bell peppers
Nectarines
Peaches
Potatoes
Strawberries
Spinach
Hot peppers
Home gardening expert and author Shawna Coronado says, "Organic food is very important for modern day families because more than 400 chemical pesticides are known to be used regularly in traditional farming. Residues from these pesticide chemicals remain even after washing the vegetables with soap and water. Children are particularly vulnerable to this chemical exposure as pesticides are linked to asthma and cancer."

The "clean fifteen" —domestic cantaloupe, grapefruit, kiwi, mango, pineapple, watermelon, asparagus, avocado, cabbage, eggplants, mushrooms, onions, frozen peas, sweet corn and sweet potatoes—fare better. While not organic, each of these items had fewer residues, with 98 percent of avocado, sweet corn and onions carrying no detectable residues. More than 90 percent of cabbage, asparagus, sweet peas, eggplant and sweet potato samples had no more than one pesticide detected.

Inspired to grow your own? Do it, says Coronado. "Growing your own fruits and vegetables at home organically makes perfect sense, because organic vegetables, especially non-processed or raw vegetables, have been proven to have a stronger vitamin and mineral content—up to 25% improved from regular vegetables."

DO choose plants or seeds that work best for your region's climate and soil. Be sure to have your soil tested for pesticide levels and make sure that the prep dirt and any fertilizers (i.e. manure) you use meet the standards for organic gardening. The garden expert at your local garden store should be able to assist you with self-testing soil kits and materials for putting together an in-ground or raised bed.

DO seek out natural alternatives to chemicals. "My favorite gardening tip for growing organic vegetables is to amend the soil well with 'natural' fertilizers," Coronado says. "Adding rotted, composted manure and traditional compost instead of chemical fertilizers is a smart way to go. I only use organic fertilizers and soil additives for growing all of my vegetables and then hand-pick off pests which develop throughout the gardening season."

DON'T be afraid to try different techniques or organic products, such as the self-watering GrowBox container system for drought-prone areas, organic anti-fungal treatments for wet regions, or Sea Magic organic seaweed growth activator. Use organic or heirloom seeds to create an ornamental garden in your front yard, or divide a backyard space into sections, placing compatible plants together.

DO have confidence that you can grow food for yourself and your family.

DON'T expect that you will never shop in a grocery again. Instead, empower yourself with as much information as you can about the food you purchase.