Cilantro is a versatile annual herb that grows easily indoors. Cilantro grows well from seed and in cooking pairs up nicely with fish, chicken and other meats.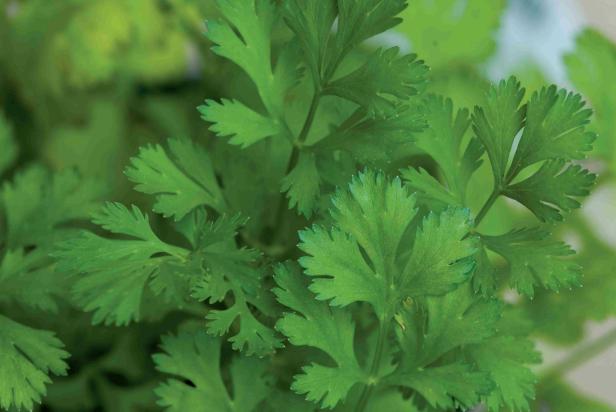 'Calypso' Cilantro
'Calypso' is a top variety and the slowest bolting cilantro available. The plants are prolific and fragrant and have a citrus-y flavor.
Courtesy of W. Atlee Burpee & Co.

'Calypso' is a top variety and the slowest bolting cilantro available. The plants are prolific and fragrant and have a citrus-y flavor.
There's nothing like the addition of some freshly chopped cilantro to a bowl of guacamole or some black bean dip to bring out the flavors — that is if you're among those of us who love this green parsley-like herb. Cilantro has a long history and is gaining popularity in American cuisine. Here's the scoop on the history of cilantro, as well as how to grow it in your garden.
Cilantro's various names can be a bit confusing. Coriander refers to the seeds from the cilantro plant, while the leaves are called cilantro or sometimes Chinese parsley or coriander leaf. The plant in its entirety is generally referred to as cilantro. Cilantro (Coriandrum sativum) is in the carrot family.

The word coriander has a rather creepy background: it comes from koris, the Greek word for "bedbug" — the plant and unripe seeds are thought by some to smell like the unwelcome little critters. Love it or hate it, cilantro tastes disgustingly soapy to a certain sector of the population but tastes bright, citrusy and spicy to the rest of us.

Cilantro has a long history of use all over the world. It's mentioned in the Old Testament, and coriander seeds were found in King Tut's tomb. The seeds were once used to preserve meat — and mask the smell of rotting meat — and the plant was thought to convey immortality and act as a powerful aphrodisiac.

While the ancient plant has its roots in the Mediterranean, after it was brought to Latin America and Mexico by the Spanish and to Asia by the Romans, it developed more of a stronghold in those regions. Introduced to North America by the British in the 17th century, cilantro has never quite gained the popularity here and in Europe that it enjoys on other continents.
Herbalists consider cilantro to be a cleansing herb, effective at removing heavy metals from the body. As it has been shown to lower blood sugar, cilantro is thought to be effective for regulating diabetes. It also has antioxidant, antibacterial and antifungal properties.
Most Americans associate cilantro with salsa, guacamole and other Mexican fare, but this versatile herb pairs very well with fish, chicken and other meats, and makes a bright, tasty addition to sauces, dressings and marinades. Coriander is often used in baking. Add cilantro leaves toward the end of cooking or just before serving. Its fragile flavor is easily dissipated by heat.
Cilantro is a cool-weather plant, so it does best when planted in spring or fall.
Planting from seed requires a few extra steps: first, the outer hull holding two seeds together must be gently crushed and removed. Next, soak the seeds in water for 24 to 48 hours, and then let the seeds dry. Now you're ready to plant.

If you're planning to start seeds inside and then transplant, cover seeds with about 1/4 inch of soil, then allow the cilantro to grow about two inches before thinning the plants to about 3 to 4 inches apart. Then transplant cilantro seedlings 3 to 4 inches apart outside and water thoroughly.
Cilantro doesn't like heat, and if the soil gets too warm, the cilantro will bolt and go to seed. Cool but sunny conditions are cilantro's best friend.
Cilantro likes rich, well-drained soil.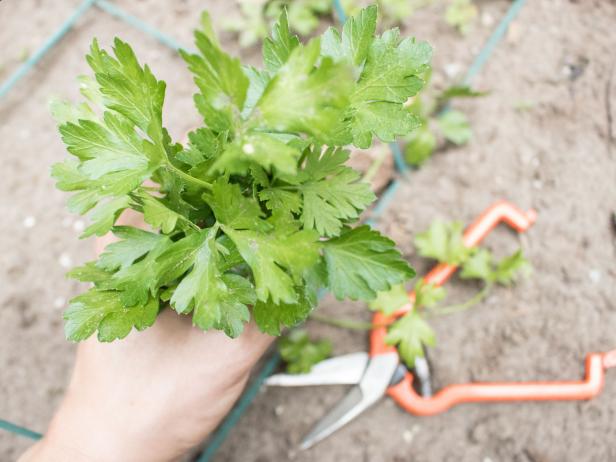 How to Cut Herbs So They Keep Growing
Trimming and pruning is important to the health of your herb garden.
Pruning
Prune your cilantro frequently and harvest regularly to get the most from your plant. Plant new seeds about every 6 weeks throughout the growing season to have a continuous supply.
Cilantro has a short growing life, so after your plant bolts, let it go to seed and you will likely have new cilantro next year. You can also collect the seeds and crush them for cooking or baking.
Once you collect the coriander seeds gently crush them to crack the shell. Soak the seeds in water overnight. Allow the seeds to dry and then plant in rich, well-drained soil.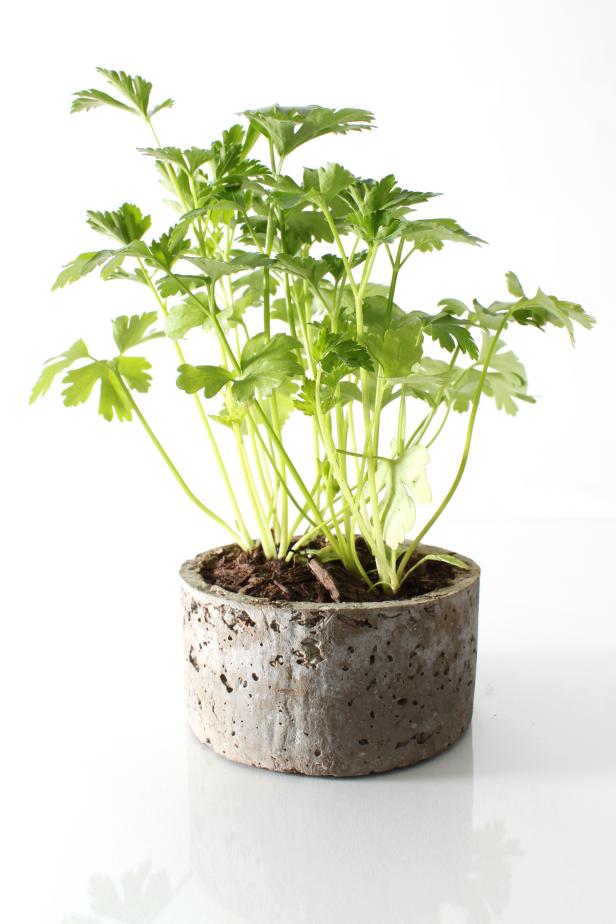 Small Concrete Planter
A planter that measures 4 inches to 6 inches across is suitable for starting seeds; thin to one or two seedlings after the first set of true leaves appear. Unless you're growing succulents, cacti or other plants that prefer dry soil, or your plants are in a terrarium, check often to see if it needs water.
Image courtesy of NativeCast
Learn how to prepare chives, parsley and other herbs for the deep freeze.
If you plant cilantro in pots, you can move your cilantro indoors when the weather gets chilly and keep the harvest going.