Health Benefits of Echinacea
Discover the benefits of Echinacea—beyond its beautiful blooms that are perfect for gardens and bouquets.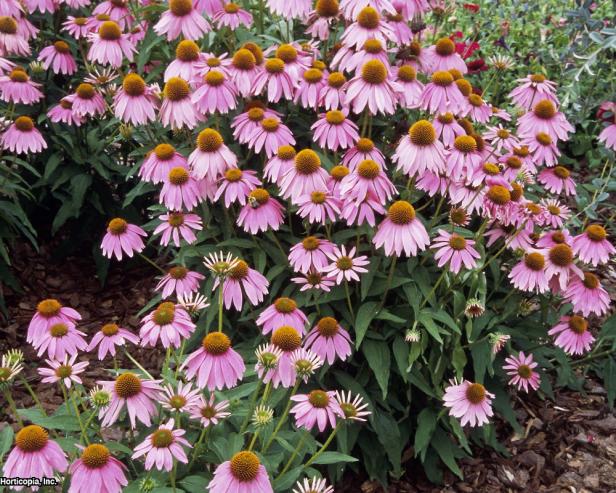 'Kim's Knee High' Dwarf Purple Coneflower
'Kim's Knee High', as the name suggests, is a dwarf purple coneflower that maxes out at a height of 1 to 2 feet. Like its taller cousin, it features rose to purple petals that fall away to reveal a spiny, copper-orange cone.
Curious about the benefits of Echinacea? This perennial herb native to North America was a common herbal remedy among Native Americans for centuries, often used for a host of maladies as well as to strengthen the body and to prevent diseases. Native Americans used Echinacea externally for wounds and insect bites and internally for various pains and stomach cramps. The herb was used medicinally in the United States and at the beginning of the 20th century was the most commonly used plant preparation. But with the advent of antibiotics, Echinacea largely fell from favor as a popular herbal remedy. However some contemporary herbalists continue to tout Echinacea's potential benefits as a remedy for everything from snake bite to migraines. Echinacea advocates have supported its possible beneficial use as a treatment for the common cold and flu. Are Echinacea's benefits real? Read on to find out more about some of the claims for Echinacea's reported health benefits.
The term Echinacea derives from the Greek word for hedgehog, echinos, because of the spiky scales on the plant's large seed pod. The herb is available commercially in tablets, capsules, in tinctures, extracts and ointments and can often be found in various preparations containing other herbs, vitamins and minerals.
When used medicinally, Echinacea can be used in both dried—in tea or capsule form—and fresh forms, using the petals, flower heads and flower buds of purple coneflower (Echinacea purpurea) or narrow-leaf coneflower (Echinacea angustifolia) or Echinacea pallida.
The claims for Echinacea's health benefits are myriad. Some herbalists claim that Echinacea is one of the most effective treatments for strep throat. Others have championed its purported antibacterial properties and have suggested the herb may help to kill germs on open wounds. By far the most often cited value of Echinacea is its possible role in fighting colds, flu and other infections, as well as its claimed benefits in boosting the immune system. Some herbalists routinely use Echinacea to either ward off or lesson the symptoms of cold and flu. Noted herbalist Steven Foster, the co-author of the National Geographic Society's Desk Reference to Nature's Medicine and author of Echinacea: Nature's Immune Enhancer has written that he often treats the onset of a cold with regular doses of Echinacea. Some believe that Echinacea can prevent a cold if caught early, or that the herb may even lessen the symptoms of a cold if taken regularly. Debate continues over Echinacea's effectiveness in treating or lessening the symptoms of the common cold.
The National Institutes of Health warn that Echinacea can have side effects. Echinacea has been known to cause allergic reactions in some, as well as a possible host of gastrointestinal side effects. Like other herbal medications, Echinacea may also interact with other herbs, supplements and medications. Before using any herb for medicinal purposes, be sure to check with your doctor.
Editor's Note: This article is not intended as medical advice. Always consult a professional healthcare provider before trying any form of therapy or if you have any questions or concerns about a medical condition. The use of natural products can be toxic if misused, and even when suitably used, certain individuals could have adverse reactions.