Make room for figs in your landscape. These tasty fruits are a cinch to grow, and you can find varieties to fit any size yard.
Gorgeous and delicious, fig trees tuck their prize of candy-like fruit among architectural leaves that grace any landscape with good looks. The hardest part of raising figs is choosing which variety to grow because there are so many. From dwarf types (perfect for pots) to full-on trees, there's definitely a fig to suit your garden and appetite.
If you've always wanted to try your hand at growing fruit, a fig is a great place to start. This edible beauty is surprisingly easy to grow. Learn what you need to know to succeed with figs.
Figs come in two forms: potted and bareroot. If you order from a fruit tree nursery, you're more likely to find bareroot saplings. At many nurseries and home centers, potted figs are the norm.
The best time of year to plant a fig is early spring. In colder regions, wait until all danger of frost has passed. Spring planting gives your heat-loving fig a chance to sink roots and unfurl leaves during the current growing season. It is also okay to plant figs in the fall. In regions with hard frosts, try to get your fig into the ground about six weeks before the ground freezes (sooner is better).
For best fruit production, plant your fig in a well-drained spot that gets at least eight hours of sun each day. Add organic amendments to soil to improve fertility. Use things that are readily available, such as compost, rotted or composted manure, bark fines or other local material.
Remove your fig carefully from its pot. You might have to lay the pot on its side and press slightly on the pot to loosen the root ball. Gently grab the stems and slide the plant out of the pot, or turn it upside down. Place your fig in the planting hole at the same depth it was planted in the pot.
If you're planting a bareroot fig, follow the instructions that come with it. A bareroot tree needs moisture; don't let it sit in an unopened box overnight. Unpack the tree carefully, and hose off any material clinging to the roots. Soak roots in a bucket of water for an hour or two before planting. Dig a hole a few inches deeper than the roots and at least as wide as the roots when fanned out. Place the tree in the hole and spread out the roots. Position the point of the trunk where the roots begin to spread out just below the soil line.
When planting potted or bareroot figs, after settling your fig in the planting hole, backfill with soil until the hole is three-quarters full. Water well to settle soil. Finish filling the hole and water again.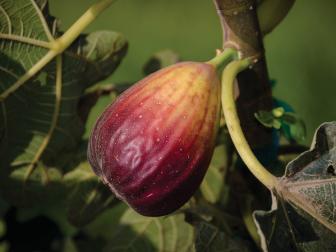 Big on taste and good looks, fig trees ripen candy-like fruit on a plant packed with textural appeal. Best of all, this edible beauty is surprisingly easy to grow.
Add a 2 to 3-inch thick layer of mulch over soil around the base of your fig. Use organic material, like shredded bark, pine straw or compost. Refresh the mulch as needed to maintain that 2 to 3 inches of thickness. Figs are shallow-rooted, and a mulch layer helps protect roots from drying out.
Make sure newly planted figs receive consistent moisture during the first year. If soil dries out in summer heat or drought, water the tree well. Figs aren't heavy feeders. If you prepared the planting hole with compost, you shouldn't need to fertilize your fig again until the following spring. Simply apply a 2 to 3-inch layer of compost, or use a slow-release fertilizer with a low first number (nitrogen). Organic fertilizer that's fish- or poultry-based works well.
Figs don't ripen after picking, so let figs ripen fully on the tree. Unripe figs are green, hard and stand up on little stems. As fruits ripen, they typically change colors — often to dark hues, but research what color your variety should be when ripe. When the fig is fully ripe, the fruit will be soft and droop down. Pick ripe fruits as soon as possible to prevent spoilage. You may need to drape bird netting over your fig plant or add scare tape or whirligigs to keep pests from devouring your crop.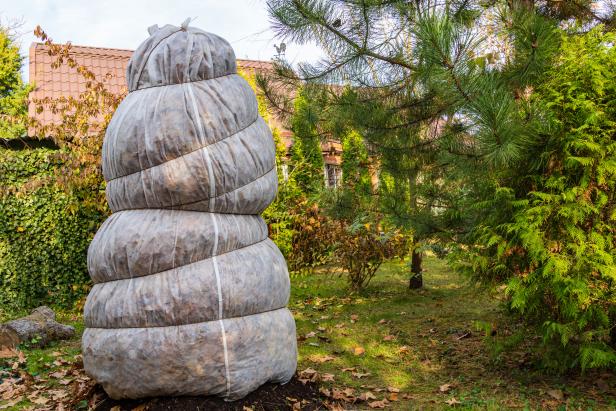 Fig Tree Winter Protection
Winter-hardy fig trees are typically hardy to Zone 5. In coldest parts of Zone 5, these figs need winter protection to help ensure a fruit crop during the next growing season. The easiest way to provide winter protection is to tie branches together and wrap the tree with a spunbond frost protection fabric stuffed with autumn leaves.
Shutterstock/Alexander Denisenko
Provide Winter Protection
Figs need TLC to overwinter in colder regions to prevent winter-kill on aboveground stems. New stems grow from roots in spring, but these won't bear a strong crop for two to three years. In colder zones, if you want a healthy fig crop, it's a good idea to protect stems in winter.
Shrub-type figs are easier to protect than ones pruned to tree form. You can bend pliable branches to the ground, pin them using landscape staples and cover with leaves and a tarp or old blanket. Or, tie branches upright together and wrap with burlap or old blankets. Add leaves or straw to help insulate the fig.
Another option is to place a chicken wire cage around your fig (tie the branches up together to fit). Once the ground freezes, fill the chicken wire with leaves or straw. Add a tarp to shed rain. Professional growers suggest placing a block or two of rodenticide on the ground before adding insulating leaves or straw. Otherwise, voles may devour fig stems over winter.
If you're growing potted figs, shift containers into a garage or cool basement for winter. Barely water plants (maybe every 4 to 6 weeks)—just enough to keep roots alive. Shift pots outdoors in spring when all danger of frost has passed.