Make your special day even more memorable by selecting seasonally-fresh flowers for a winter wedding.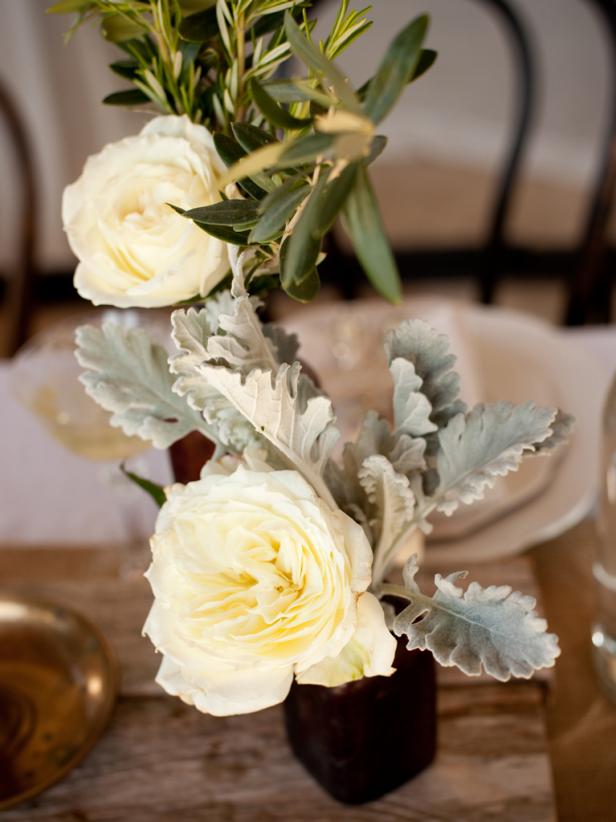 Rustic Organic
Play up an organic color palette by combining cream flowers with green and sage foliage, including rosemary and olive branches. The Byrd Collective used neutral hues to create beautiful small arrangements in old repurposed bottles then scattered them down the length of the table. Courtesy of Camille Styles, editor of CamilleStyles.com
Celebrate your nuptials in sophisticated style with winter wedding flowers. Winter presents an elegant setting for a wedding ceremony. Its seasonally-spare scenery allows winter flowers to sparkle and shine. By focusing on seasonally-fresh winter wedding flowers, you can create one-of-a-kind memories even on a shoestring budget.

While you might think that winter wedding flowers consign you to a palette of white, you'll be delighted to discover that you can draw from a wide variety of hues just by using seasonally-fresh floral material. Flowers that thrive in the year's cool season include familiar faces, like tulips and snapdragons, both of which unfurl petals in a rainbow of hues, from deep burgundy-black to sunny yellow. Both of these blooms boast stems that are easily wired or directed into geometric shapes, making them perfect choices for dramatic bouquets.

Romance abounds when you select winter wedding flowers from cool-season blooms. Fully-petalled ranunculus, velvety anemone, delicately-perfumed sweet peas and deep blue Dutch iris are all regular players on the cool-season flower roster. For tall spikes in shades of blue and pink, look for larkspur and delphinium. Lupine also offers spiky blooms, but in myriad tones, from purple, to red, to butter yellow.

You might be able to find cut bleeding-heart blooms in shades of pink or white. These richly-romantic flowers last from 12 to 17 days in a vase. They'll provide a long-lasting memory of your wedding day bliss. Pair them with a delicate fern or ivy to let them steal the show.

Complement winter wedding flowers with seasonally-available greenery, such as boxwood, rosemary, ivy, scented geranium (in warmer zones) and pittosporum, to keep your arrangements cost-conscious but nonetheless beautiful. You can add florist-supplied hypericum berries, pink pepperberries and tallow berries to interject contrast and drama. Lamb's ears are often available in winter. Their silvery tone provides a beautiful backdrop and accent to other winter wedding flowers.

A winter marriage ceremony also provides the perfect place to highlight evergreens. Simple arrangements spotlight greens' textural drama and subtle shadings. Consider sprigs of juniper, cedar, holly, pine, fir and arborvitae. Tuck in a few pine cones—in natural tones or painted in wintry silver—and you have the makings of memorable bouquets.

For a wedding with a holiday color scheme, draw upon the classic Christmas flower, poinsettia. Breeders have actually developed poinsettias for use as cut flowers that boast a vase life of 21 days. Ask your local floral supplier to source 'Renaissance Red' or 'Renaissance White' poinsettias. You might also be able to locate cut amaryllis blooms, which look rich and exotic when paired with paperwhite narcissus and feathery marabou.

White winter flowers are perfect choices for a cool-season wedding. Look for white ranunculus, white anemone, white snapdragon, and white freesia to stage a snowy bouquet. White ranunuculus can stand on their own as bridal nosegay, especially when you use blossoms in various stages of opening and petal display.

If you work with a florist who sources winter wedding flowers from a combination of local, national and international growers, your floral palette is limitless. Roses, chrysanthemums, hydrangea, button mums, alstroemeria, lilies—you can select winter wedding flowers to celebrate your ceremony with floral fanfare.

Learn More About Winter Flowers