Give your garden a strong pop of color with scarlet sage.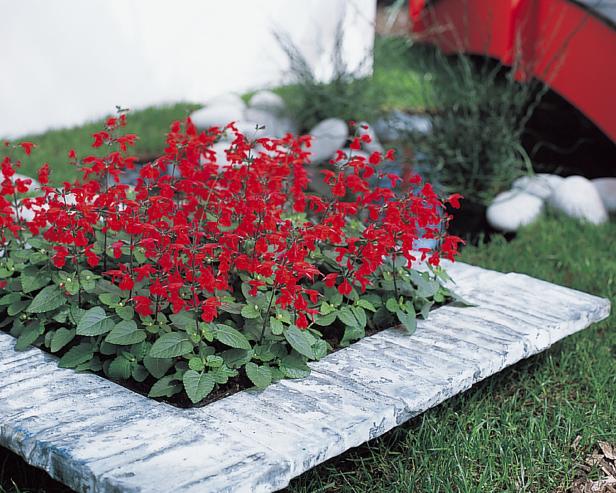 'Summer Jewel Red' (Salvia coccinea 'Summer Jewel Red')
You'll be dodging hummingbirds when you plant 'Summer Jewel Red' salvia. The bright red blooms on this beauty are a hummer magnet. Plants grow to 20 inches tall and hold their own in containers or planting beds. This annual self-sows to create drifts of color in years to come.
Give your garden a shot of bold color with the bright red blooms of Salvia coccinea. This salvia has a host of common names, including Texas sage, scarlet sage and blood sage. The plant is most likely native to Mexico, but it has naturalized readily through Texas and the Southeast, as well as through Central America and into Northwestern South America. Salvia coccinea sprouts readily from seed without being invasive, and it flowers non-stop. Texas sage is a welcome sight in any setting.

In its natural form, Salvia coccinea opens red flowers along spikes that stand above bright green leaves. It's the red blooms that have earned it the common names of scarlet sage and blood sage. The tricky part of all these common names is that there are other plants known as scarlet sage and Texas sage, which don't resemble Salvia coccinea. So if this is a plant you want in your garden, buy seeds or plants by using the botanical name of Salvia coccinea.

Scarlet sage is a butterfly and hummingbird favorite. When the flowers start opening, you'll see a steady supply of these creatures, along with a variety of bees, visiting blooms. The plants continue to flower all summer long. It's worth the effort to snap faded flower stems from plants, especially early in the season. As your growing season draws to a close, let some stems set seed, especially in colder regions, because birds like goldfinches will visit plants to nibble seed.

Texas sage is hardy in Zones 8 to 10, although it's occasionally killed in Zone 8 during hard winters. If temperatures dip below freezing for more than a few hours, plants die. In Zones 6 to 8, Salvia coccinea reliably reseeds from year to year, creating a steady presence in the garden, although you never know where it might pop up. In colder zones, treat scarlet sage as an annual.

This salvia sprouts readily from seed and is easy to start indoors or out. Direct sowing works fine if you wait until all danger of frost is past. Another option is to start seeds outdoors in small pots in spring, or try winter sowing techniques. Salvia coccinea cross-breeds readily, which can lead to fun color mixes in the garden. Plant breeders have created a host of flower colors including white and pink.

Grow Salvia coccinea in planting beds or containers. In either spot, Texas sage grows best in full sun in well-drained soil. In natural settings, Salvia coccinea tends to sprout in dry soils, rocky spots and waste places. It grows without lots of water, but flowers best when there's a ready moisture supply. In containers, use a commercial growing mix for use in pots.

One tip about growing Salvia coccinea is that stems tend to be brittle. If you plant this near a path, slip some supports into soil early in the growing season to hold plants back from the walkway. This will help prevent stems from being broken if plants are brushed against. It's also a good idea to use grow-through supports in windy areas.