Q and A: Planting Pansies
Follow these tips on pansies.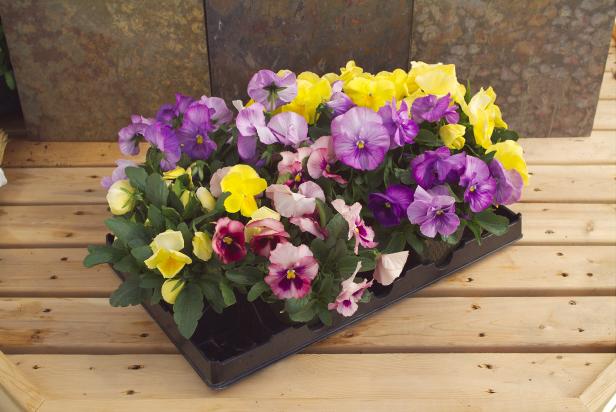 'Dynamite Silhouette Mix' Pansy
Highlight the beauty of pastels by planting pots with this pretty pansy mix. When bedding plant breeders develop varieties, they often blend the single colors into an eye-pleasing mix. Buy these mixes, and you're on your way to practically perfect containers. Recipe: Purchase the number of cell packs needed to give your pot a lush, full look. A rough guide is one 4-cell pack per 8-inch pot.
Q: Are the pansies in fall catalogs perennials or annuals? Will they come back next spring in my area?
Especially in areas with mild winters, pansies are used as fall bedding plants because they bloom heavily over a long period of time in the fall and again beginning in very early spring. Depending on the climate, they may even bloom all winter, or at least sporadically during mild spells. In some parts of Texas, for instance, they are a mass of bloom all winter long. In areas with heavy snow cover, however, they rest hidden under the snow and begin to grow again when the snow melts, so many gardeners simply plant them in very early spring.

Pansies resent hot weather and will show it by looking shabby in a hurry (or drying up and shriveling away), so most gardeners rip them out in late spring and replace them with fresh summer annuals. Basic care is the same as for most annuals--rich, moist but well-drained soil, regular attention to watering, nutrients and deadheading. Be sure to plant them in full sun in a protected spot to maximize their blooming season when planted in the fall.