Learn how to grow coneflower seeds, including tips on saving seeds from plants.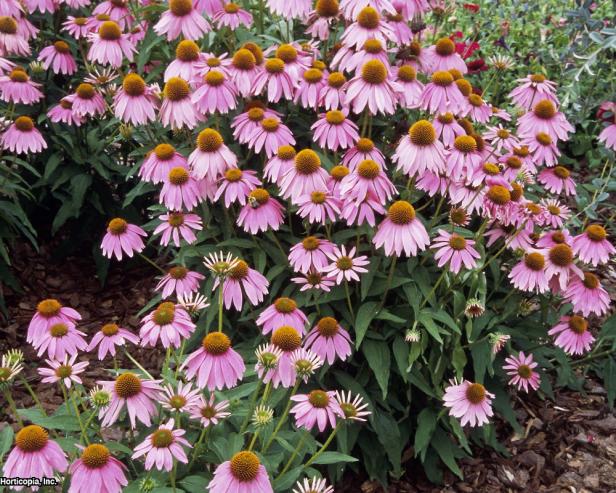 'Kim's Knee High' Dwarf Purple Coneflower
'Kim's Knee High', as the name suggests, is a dwarf purple coneflower that maxes out at a height of 1 to 2 feet. Like its taller cousin, it features rose to purple petals that fall away to reveal a spiny, copper-orange cone.
Increase the color in your garden with Echinacea flowers. These tough-as-nails perennials package their sturdy constitutions in a pretty package that includes a host of blossom colors and forms. Echinacea flowers include the everyday beauty known as purple coneflower (Echinacea purpurea), which has pink to lavender petals that fall away from a coppery orange-tinted spiky center.
Other coneflower species bring different bloom colors and forms to the Echinacea party. Tennessee coneflower (Echinacea tennesseensis) boasts a similar hue to its purple Echinacea cousin with rose-purple petals and the same spiny, although slightly green-tinted center. The petals on this bloomer, though, extend from the center with an upward bend, with petal ends curving toward the sun. Yellow coneflower (Echinacea paradoxa) has a blossom form that mimics purple coneflower, but with yellow petals.
Modern breeders have used these—and other—coneflower species to create a host of hybrids that boast a rainbow of hues. Look for Echinacea flowers in shades of fiery red, cherry, tangerine, coral, rose pink and gold. 'Big Summer Sky' coneflower opens blooms with a range of orange and rose tones. 'Flame Thrower' coneflower has petals in shades of gold and orange. 'Mac 'n' Cheese' coneflower offers a visual feast with cheese-tinted petals, as does 'Tomato Soup', with electric red blooms.
'Marmalade' ramps up the display with Echinacea coneflowers in shades of orange that vary with different growing conditions. Some blooms are more orange-gold, while others tend more to tangerine. This coneflower is also fragrant and has fully double blooms. Twice the number of petals results in a fluffy blossom that makes a nice addition to bouquets.
Another double Echinacea flower is 'Pink Poodle'. It actually resembles a zinnia, but has a sturdier stem that works well in bouquets. 'Razzmatazz', with pretty pink blooms, is the first double Echinacea flower that was introduced. The lower petals droop away from the fluffy double pink center, creating an eye-catching blossom in the garden.
You can also find Echinacea flowers that blend full-size flowers with dwarf plant sizes. Most of the dwarf coneflowers don't grow above 2 feet tall, but include blooms with a variety of colors. 'Kim's Knee High' offers rosy-pink petals that fall away from the centers, and 'Pixie Meadowbrite' grows to 18 inches with flat pink blooms.
The new Echinacea flowers not only boast unusual colors and forms, but also offer long-lasting blossoms for use in garden bouquets. Like all coneflowers, the new introductions beckon butterflies, bees and other pollinators, making these bloomers great additions to wildlife-themed gardens. Allow flowers to fade and seed heads to remain in place, and birds will come to feast on seeds as they ripen.