What You Should Know About Your Christmas Tree
HGTV Magazine says 'If your spruce could talk, it would give you these pined-for tips and tricks.'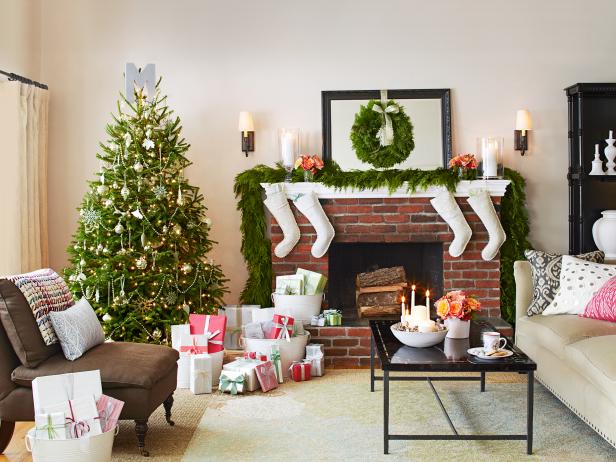 Living Room with Holiday Decorations
Marianne still goes all-out without sacrificing style. "The house is very warm and welcoming," she says. "I host an annual holiday party with a fire going in the living room, christmas music playing and hors d'oeuvres and desserts in the dining room."
Photography by David A. Land; styling by Matthew Gleason
After untying your tree, let its branches fall back into shape naturally. Use loppers or heavy-duty scissors to trim uneven branches, then add lights. For a super-sparkly tree, you'll need about 100 bulbs per foot of height.
"Help me last the season."
A carefully placed tree—that means away from the fireplace, heating vents, and windows that get a lot of sun—should stay lush for a month if you keep it watered. But don't bother adding aspirin, bleach, soda, or anything else to its H2O. Despite what you may have heard, they won't prolong a tree's life.
"I'd hate the drop the ball."
Before decking the tree with ornaments, make sure it can support their weight. The stiff branches of blue spruces, Fraser firs, and noble firs hold up better than the fluffy ones on Douglas firs and grand firs. The latter has one of the strongest Christmas tree scents.
In addition to collecting them for recycling, many areas hold events where trees are run through a chipper to make mulch for parks or your yard. Before hauling over your tree, break off some branches for your compost pile.
"My stand is not a water bowl."
Bacteria in tree water can upset your pet's stomach. To keep a dog or a cat from lapping it up, buy a stand with an enclosed water reservoir (Krinner makes a good one) or block the stand with wrapped gifts.
Trees need water to stay fresh, and their drinking patterns vary. A newly cut tree will guzzle more than a gallon in the first 48 hours, but a tree from a lot might not soak up much until you've had it for a few days. Make sure the bottom few inches of the stump are submerged at all times.
Our experts: Bert Cregg, Ph.D., associate professor at Michigan State University; Rick Dungey, executive director at the National Christmas Tree Association; Ange Niestuchowski, interiorscape and holiday decorating manager at David J. Frank Landscape Contracting, Inc., in Germantown, WI; Jill O'Donnell, senior educator at Michigan State University Extension