How to Throw a Talk Like a Pirate Day Party
Shiver me timbers! It's time to paaaarrrrrty!
Ahoy, mateys! One of the best holidays of the year is upon us. Yo ho ho! Today, Sept. 19, is International Talk Like a Pirate Day. This means two, very precise things. First, you should absolutely talk like a pirate All. Day. Long. Second, you should definitely throw a pirate-themed party. How, you ask? Aaaarrrrrgh, grab a barrel o' rum, and read on!
First things first: To talk like a pirate, you must look like a pirate.
Don't forget to dress your furry friends for the party.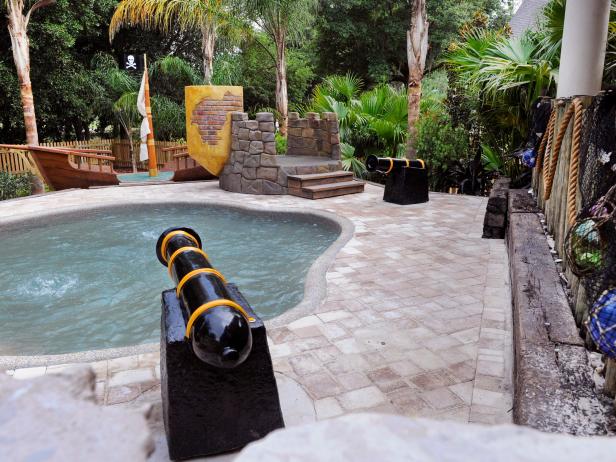 Tropical Backyard Swimming Pool With Pirate Theme
Shoot cannons across the water to a sinking pirate ship, or peer out from the top of the stone castle in this enchanting pool area. With just a little imagination, this backyard pool surrounded by palm trees is a pirate's battleground.
From:
My Yard Goes Disney
If you're lucky enough to have a pool in your backyard, design your party around it. Let your creativity run wild, incorporating purchased or handmade props. Think cannons, pirate ships, pirate flags, ropes and wood planks.
Set out an assortment of snacks for guests to munch on while they mingle. Search for pirate-themed chips or crackers, and stick mini pirate flags in all your dips.
If you want something a bit more substantial, try Food Network's zucchini pirate boats filled with corn-and-bacon salsa.
With coconut rum and pineapple juice, this tropical cocktail is a pirate's dream. Make a big batch, and serve it in a punch bowl.
Serve cupcakes and cookies embellished with a skull-and-crossbones design.
Make Food Network's adorable gelatin-and-candy cups for the kids. Top the mini oceans with a plastic pirate ship or a mini pirate flag.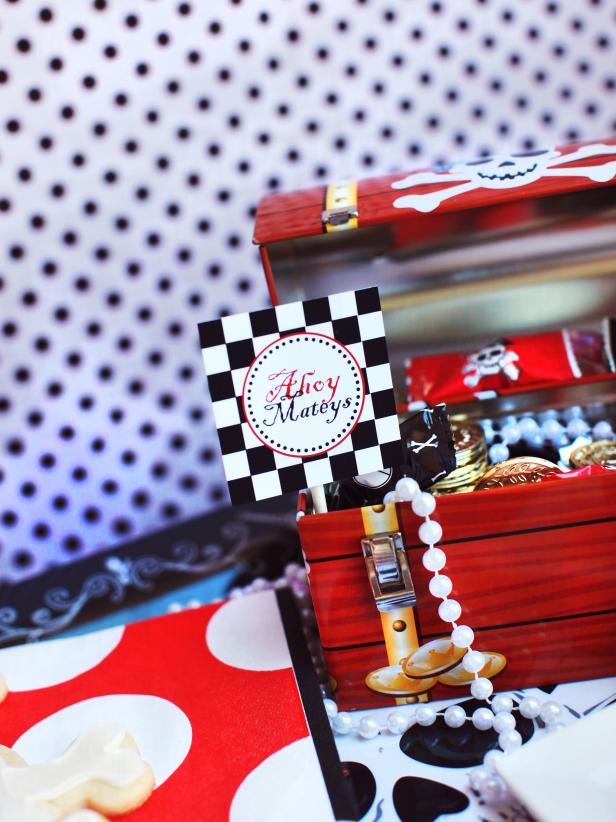 Pirate Chest Party Favors
A pirate treasure chest full of party favors is a great way to reward guests for making it through the party. Mini treasure boxes filled with candy, gold coins, sparkly gems and temporary tattoos add to the pirate theme.
Create a treasure chest full of take-home treats for your guests. Gold-wrapped chocolate coins are a must!
Try one of these fabulous party dips. They're just as easy to make as they are delicious — we promise!