12 Ways to Organize the Bedroom
A Mission: Organization expert offers advice for getting a bedroom in order.
Sabrina Soto's Organizing Tips
01:49
Sabrina Soto welcomes viewers to her home and shares organization tips.
The bedroom is generally the last area to fix, but professional organizer Randy Ballesteroes of Gainer Organizing thinks it should be one of the first. "It is the place where you start and finish your day. You want it to be stress free and relaxing. So don't be afraid to pamper yourself — you deserve it."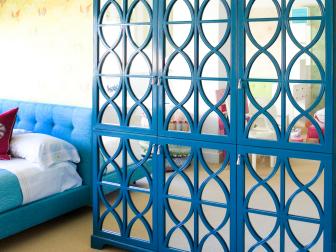 Bedroom storage is a highly coveted commodity. Even if you don't have a roomy closet where you can stash things out of sight, you can choose a great piece of furniture that will store your stuff in style.
Do your research before making a move. Gather clippings and magazine photos of ideas you like and keep them all in one place.


It helps to measure the room and draw the shape on a piece of paper. Trust me, it is easier to draw and erase a full-size sleigh bed than it is to move it across the room.


Picking colors is always a difficult task. There are so many opinions about what is right and wrong or in and out. Get over it. Find items that you love such as pillows, CD covers, artwork and vacation pictures, then draw inspiration from those colors.


Don't be afraid to paint bold colors. If you hate it, you can always change the color. That's why paint was invented.


Closets are always an overwhelming job. It is such a small room in the house, but it is generally the messiest. I recommend taking a deep breath and going in with a clear mind and goal to reclaim the space. Assess the clothes you truly wear. Then be brutal.Goal clothes are a big no. First and foremost, they are depressing to look at, and secondly, by the time you are able fit into them again, they may be out of style.



The easiest way to fix a small closet is to look at the hanging space situation. Most closets have one bar straight across. Group all of the long hanging clothes (coats, dresses) on one side and the short hanging clothes (folded pants, shirts) on the other. Now you have open space underneath the short clothes that could be used as a drawer unit, a shoe stand, a laundry hamper, for example. The possibilities are endless.


If you have a walk-in closet, approach it like an assembly line. The items you start dressing with should be the first items on the left. Work your way to the right, setting up what comes next. By the end of the closet you should have your accessories.


No more wire hangers. Joan Crawford had it right. As soon as you get your clothes from the dry cleaners, remove that destructive metal. Most dry cleaners will take back their hangers to reuse them.


Unfortunately, big movie studios aren't making films of your summer vacation. If you are still cluttered with VHS tapes of home videos it is possible to convert them into DVD. There are computer programs that can help you with this, or you can hire someone to do it for you.


Lastly, remember that if organizing is too overwhelming for you, there are professionals who are always happy to help.
A Master Bedroom Reimagined
01:54
Genevieve helps a couple after their three unsuccessful bedroom makeovers.