Exterior Siding Buyer's Guide
Getting ready to re-side your house? Compare costs, weigh pros and cons, and learn how the most popular siding materials rank in earth-friendliness.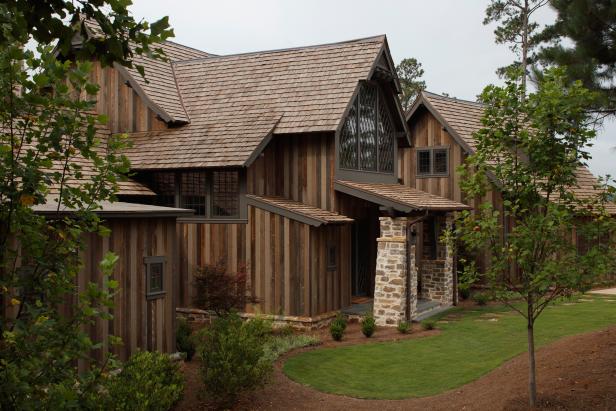 Rustic Lakeside Home With Two-Toned Wood Siding
Two-toned wood siding creates a gorgeous look for this lakeside home. Stone columns and a shingle roof complement the rustic design.
If you're thinking of new siding, you're in for a treat — and a conundrum. Your choice will likely be a major upgrade in your home's appearance — that's the fun part. On the flip side, it's not an easy decision to make. There are lots of siding options, and each presents a mixed bag of cost, reliability, ongoing maintenance and environmental responsibility.
Here's what you need to know about options for new siding:

Vinyl siding is tough and comes in a boatload of colors and textures. Because the color is throughout the material, nicks and scratches don't show up. Sophisticated manufacturing techniques create products that do a surprisingly fine job of mimicking wood-grain lap siding, wood shingles and even stone.
Vinyl siding is lightweight and, in many instances, can be installed directly over existing materials, so it's a good retrofit option. Because it's easy to handle, vinyl can be installed quickly, saving labor costs.
Relatively new to the market, insulated vinyl siding features a layer of expanded polystyrene foam, providing an insulating value of R-2 to R-6. Insulated vinyl is on the checklist of items that can help a house achieve Energy Star qualification. Expect to pay about 15 percent more for insulated versions of vinyl siding than the standard.
Upside: The material requires little or no maintenance, and dirt simply washes off. Never needs repainting. Vinyl has a relatively low cost compared to other siding materials. The best brands offer transferable lifetime warranties.
Downside: Because the standard panels are 12 feet long, the ends of the panels must be overlapped, creating noticeable seams. You can order extra-long panels that reduce the number of seams, but you'll pay a premium of about 30 percent more than standard-length vinyl.
Green meter: The same stuff that makes vinyl so tough — polyvinyl chloride or PVC — lasts for decades (if not centuries) in landfills. Although many vinyl manufacturers claim that the material is readily recycled, not many contractors take the time to remove and recycle used vinyl siding. Manufacturing PVC can produce dioxin and other toxins.
Cost: $2.50 to $11 per square foot, installed. Expect to pay $7,000 to $16,000 to install vinyl siding on an average two-story house.

Few building materials have the natural charm and beauty of wood clapboard and shingle siding. Prized for its warmth and workability, wood siding is the choice for a premium renovation project.
Wood siding comes in many species and grades. What you choose usually depends on how you plan to finish the siding. Using a clear sealer or semi-transparent stain highlights the grain, but you'll need to select more expensive grades of wood that are free of knots and other blemishes. Choose less expensive grades for use with paint or opaque stains.
With dedicated maintenance, wood can last generations. Clear finishes should be reapplied every two years; semi-transparent stains every three years; and paints every five years. That kind of diligence adds up — a complete refinishing job is $2,500 to $6,000.
Upside: Wood is easy to cut and shape, and can be installed by reasonably skilled DIYers. It's a great-looking material prized by architects, designers and homeowners for its natural beauty.
Downside: Better grades of wood can be pricey. Diligent maintenance adds to the overall cost. Retrofitting with wood siding requires removing existing siding materials.
Green meter: Wood siding is considered a highly sustainable material that breaks down easily in landfills. The best grades are made from old-growth timber. To relieve the pressure on old-growth forests, choose wood siding that's certified by the Forest Stewardship Council as being harvested from sustainable forests.
Cost: Clapboard siding: $6 to $9 per square foot, installed. Expect to pay $15,000 to $24,000 to have wood siding professionally installed on an average two-story house.
Cost: Shingle siding: $7 to $10 per square foot, installed.
The current darling of the siding industry, fiber cement has earned a reputation for stability and low maintenance. It's made from a mix of wood pulp, cement, clay and sand, and it can be molded to mimic wood clapboard, shingles, stucco and masonry. It readily accepts paint, and most manufacturers offer an array of factory-applied finishes.
Upside: Fiber-cement siding resists expanding and contracting with changes in humidity and temperature, so caulk and paint really hold up. It's fire-resistant, termite-proof and it won't rot. A 30-year warranty is the norm.
Downside: Fiber-cement siding is flat-out heavy, and installation requires special techniques and tools that add to the cost. Finding a remodeling contractor with experience installing fiber cement can be a challenge. Retrofits mean completely removing the old siding, adding about 5 percent to the overall cost.
Green meter: It's extremely durable and has a long replacement cycle, which scores points for sustainability. However, fiber cement is relatively new and that longevity has yet to bear out.
Cost: Horizontal board siding: $3 to $12 per square foot, installed. Expect to pay $14,000 to $23,000 for an average two-story house.
Stucco is an extremely durable siding material that pairs well with other siding materials and adds a bit of architectural panache to a retrofit job. Today's stucco mixtures include epoxy, which prevents chipping and cracking, but installation isn't a DIY job — you'll need to look for an experienced stucco installer. Well-maintained stucco will last a lifetime.
Upside: Toners added to stucco mixtures result in beautiful, organic colors that go all the way through the material, making repainting unnecessary. Stucco is a low-maintenance material that's resistant to fire and insects.
Drawbacks: There's a lot of prep work required before stucco can be applied. Finding a reliable, experienced stucco contractor can be a challenge.
Green meter: New formulations of stucco use earth and lime instead of Portland cement — cement production is linked to CO2 emissions.
Cost: $6 to $10 per square foot, installed. Expect to pay $12,000 to $22,000 for an average two-story house.
Engineered wood siding is made of wood fibers and exterior-grade resins. It's tough, strong and can stand up to extreme weather conditions. It comes in a variety of styles and textures, including beaded lap, rough-sawn clapboard and look-alike wood shingles. It comes ready-to-paint, primed or with factory finishes.
Engineered wood siding positions itself as a cheaper alternative to fiber cement and real wood, but with similar durability. Some brands provide 50-year warranties.
Upside: Easy to work, with no harmful dust. Borate compounds added to the mixture make engineered wood siding impervious to insects. It's half the cost of real wood siding.
Downside: Although now backed by serious R&D and warranties, early versions of engineered wood siding experienced failures due to moisture problems, resulting in class-action lawsuits. Newer varieties haven't been on the market long enough to prove their longevity claims.
Green meter: Binders are low-VOC. Manufacturing uses entire trees and select wood scrap so that production waste is minimal.
Cost: $4 to $9 per square foot, installed. Expect to pay $7,000 to $15,000 to cover an average two-story house.
Synthetic stone is made in molds from a mixture of cement, sand and aggregate. Modern manufacturing techniques ensure that the final product looks realistic. It mimics any number of stone types — including granite and limestone — and the variety of shapes and styles includes split face, dry-stacked and round river rock.
Although it's not often used to cover entire houses, it's a popular choice as an accent, covering lower portions of walls or chimney exteriors.
Upside: The look of real stone at a fraction of the cost. Lightweight, so installation doesn't require beefing up foundation footings. Synthetic stone is fire and insect-resistant.
Downside: Although it costs less than real stone, synthetic stone is still one of the more expensive siding options. Discerning critics say it still doesn't look like the real thing.
Green meter: It is an inert material that doesn't off-gas or use toxic ingredients during manufacturing, and it reduces demand for real stone and associated environmental disruption.
Cost: $12 to $25 per square foot, installed.