Cure the Laundry Room Blues
Design gurus offer ideas for turning a laundry room into a more colorful, useful and efficient space.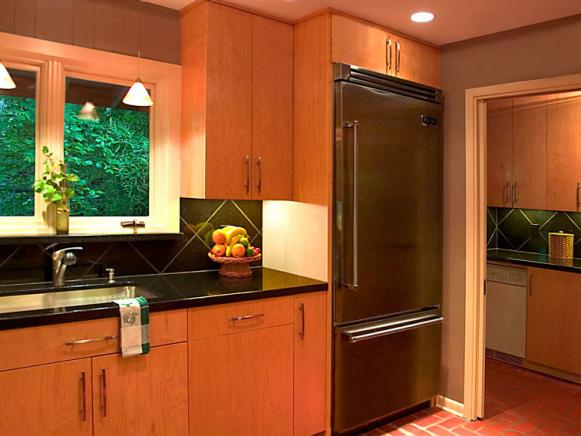 KM_Laundry3
David Kettler of Kettler-Austin, Inc. said homeowners are interested in adding form and function when updating laundry rooms. The cabinets and countertops of this laundry room were made to match those of the kitchen so both rooms could be used for entertaining. The washer/dryer are hidden behind doors to disguise the other purpose of the room.
David Kettler of Kettler-Austin, Inc. said homeowners are interested in adding form and function when updating laundry rooms. The cabinets and countertops of this laundry room were made to match those of the kitchen so both rooms could be used for entertaining. The washer/dryer are hidden behind doors to disguise the other purpose of the room.
I've lived in four houses since I got married, and the laundry rooms in all of them have had three consistent factors: Basements, cement and small, mud-spattered windows. This is pretty pathetic, considering how much of my life I spend in the laundry room.
On any given day, 28 million Americans are doing laundry-related chores, according to research done by Whirlpool Corp., which wants consumers to rethink the laundry room as a "family studio," a place with a hobby and craft center, TV and games "where your family values are nurtured," as one press release states. Since family values are seldom nurtured in my laundry room, where someone is usually complaining or arguing about the laundry, it may be time to rethink my laundry room's somewhat dungeon-like demeanor.
Laundry rooms are a key focus for many consumers now, with high-end washers and dryers (complete with colored finishes) leading the charge. Manufacturers shipped more than 14.3 million washers and dryers to stores in 2009, according to the Association of Home Appliance Manufacturers.
Lynne Stephenson, co-owner of HUB Design/Build in Villanova, Pa., says laundry rooms have been a part of 75 percent of the home remodeling projects they've drawn up recently. "Laundries have definitely been a focus," Stephenson says, who attributes the interest to the introduction of those tony washers and dryers several years ago. After all, who wants to put $2,000 worth of washer and dryer into a cinder-block basement?
An informal survey of members of the National Association of the Remodeling Industry unearthed stories of recent laundry room projects that included dog-washing stations; craft tables; lockers for each family member; smart-house technology with video cameras, speakers and telephones; a butler's pantry; a workshop; and custom finishes, including marble counter tops, marble tile walls and custom cabinetry.
Designers and contractors also report that a majority of customers want the laundry room moved out of the basement and onto the second floor, where the dirty laundry is generated. "Clients don't want to walk to the basement to do laundry, period," says Kirk Moffitt, president of Moffitt Construction in Chicago, Ill. Although, he adds, "they must not have seen the Brady Bunch episode when Bobby flooded the kitchen with bubbles."

While marble finishes and butler's pantries and even a move to the second floor are not in the immediate future for my laundry room, I did gather some excellent ideas for jazzing the room up without ripping down walls. Consider the following:
What do you really do there?
User habit is a key factor in planning your laundry room. "People will go to a lot of expense and build a beautiful laundry room with all this counter space," says professional organizing consultant Vicki Norris, "but then mom doesn't fold laundry in the laundry room; she dumps it on the couch and folds it while she's watching Oprah."

If that's your style, you may want to mount a TV on the wall in the laundry room so you can see it from your folding counter, or you may want to continue folding laundry on the couch and not include too much counter space in your laundry room.
Since laundry is a key part of what you do there, make sure the room works for getting the laundry done. If your laundry room is just six feet by six feet, for instance, you have to have enough room to open the door of your dryer before you think about putting in shelves.
You'll also want to consider wall-mounted shelves that are higher up so you have the necessary clearance around the dryer door. You need to fit laundry supplies close to the washer and dryer, so make sure shelves are the right width (too deep means supplies end up hidden behind each other so you over buy; too narrow and you can't fit in wide jugs).
What do you want to do there?
Your laundry room, if it's anything like mine, may be a dumping ground for all kinds of items, from gift wrap to cleaning supplies. "It's a space like the garage or a closet that can become a catchall space," says Norris, president of Restoring Order in Portland, Oregon. She suggests taking absolutely everything out of your laundry room and defining how you want to use that space. If your laundry room is also going to be an arts and crafts room, for example, then gather every last paintbrush and hot glue stick from every corner of the house and put them together in one spot. Go out and purchase the plastic bins you need to hold it all, and then figure out if it's all actually going to fit in your laundry room. "You want to make sure you're not overshooting the space you have with 12 boxes of art and craft supplies," Norris says.
Norris teaches clients the "only principle": If you're going to use your laundry room for laundry, crafts and to store cleaning supplies, for example, then only items related to those three functions should be in the room. So the games and puzzles and batteries and flashlights go out; every bottle of Windex and every magic marker come in.
The color red? Orlando Bloom? Hawaii? "You don't have to stick to all the rules that the rest of the house has," says Mark McCauley, author of Color Therapy at Home (Rockport, 2000) and senior designer at Darleen's Interiors in Napierville, Ill. "In the laundry room you can do whatever you want."
Vicki Norris' laundry room includes a display of vintage soapboxes, two vintage washboards and a display of retro aprons on the wall. She bought a large, old-fashioned metal milk jug to hold her laundry detergent. "It just makes it more enjoyable to do a chore you have to do every day."
A few guidelines for indulging your whimsy:

Be careful with color. Deeply hued wall colors will reflect on to the clothes, making it hard to see stains or how clean they are, says McCauley. He suggests painting just one wall a bright color and leaving the others neutral. Since many laundry rooms use fluorescent light, which has a blue cast, neutrals with yellow undertones will help combat the blue. Bright colors also are fine in borders near the ceiling, McCauley says.

Make sure you have adequate lighting. The laundry room is a work area, and you need to be able to see what you're doing. If you're doing ironing or sewing, consider task lighting, like an architect's lamp with an incandescent bulb.

Bring in artwork. "If you've always loved Starry Night, by Van Gogh, hang it in the laundry room to give yourself something to look at while waiting for the towels to dry," says McCauley. Peggy Sellwood, interior designer with P.S. Designs in Minneapolis, says the laundry room is a terrific spot to frame and display children's artwork. "Make a little gallery in the laundry room," she says. "My son is 31 now and I still have one of the famous little drawings he did hanging on my wall."

Pick a theme. Sellwood decorated a Minnetonka, Minn., home in a Southwestern theme and continued that design thread into the laundry room. She painted the walls terra cotta, made a lamp out of an old cowboy boot, and used a pair of garage-sale shutters to cover a storage cabinet. "The homeowner says every time she walks in that room it puts a smile on her face," Sellwood says. "Alice in Wonderland, 1950s automobiles, swimming pools--pick a favorite motif," McCauley says. Display all the souvenirs you bought back from your recent trip to Hawaii, for instance, and give the room a tropical theme. "Fill it with things that remind you of a time when you were happier than when you're doing the laundry," says McCauley.
Changing your laundry room may even change your attitude about laundry. Mark McCauley finds laundry "a pretty depressing event," in spite of his sage-green laundry room. But Peggy Sellwood decked out her laundry room with a realistic brick wallpaper, an elegant crystal chandelier and a variety of artwork, including an old print she bought in Russia. "I love doing laundry," she says. "When I go into my laundry room, it's a comfort."