Vern's Design Tips: Garage Transformations
In episode four, the Design Stars transform garages into comfortable family rooms. See what Vern says they did right, did wrong and how she could have done it better.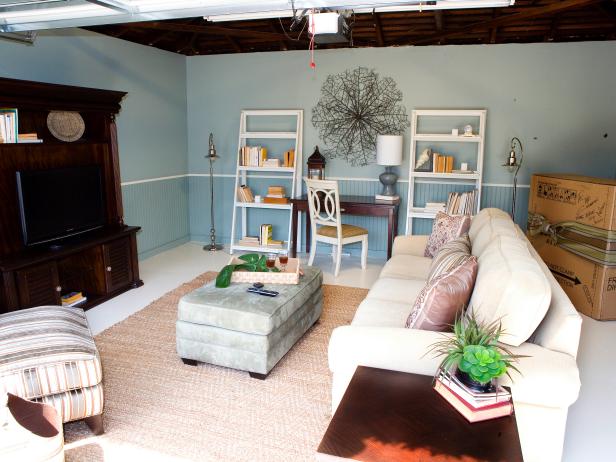 Add Unexpected Touches to Garage Makeover
Increasingly, homeowners are asking more and more of their homes — to reclaim previously wasted or underutilized spaces like attics, storage rooms, closets, garden sheds and garages so that every last square inch of their homes is working for them. Designer Candice Olsen said this garage suffers from an overabundance of predictability; predictable furniture has been predictably arranged, from the media unit to the desk vignette. She recommends adding something unexpected, like a swinging wicker egg chair or big breezy hammock suspended from the open rafters.
With so many homeowners needing more active living space, but facing a tough real estate market, this challenge is particularly prescient for today's economy. Garages across America are often packed with "stuff" that we no longer utilize or need, and this should pose an interesting challenge for our Design Star contestants, who must work in two teams of four to address the needs of two families wanting to convert their junk space into great hangout space. The goal for our individual contestants in this challenge is to showcase their unique and creative design solutions that address specific homeowner requirements while also reflecting aesthetic preferences — all executed to perfection within the allotted time and budget — while working collaboratively in a team setting. Additionally, teams were provided with the free option of a new, professionally installed garage door but had to allocate the time for this to happen. This is a tough challenge, but one that our contestants should be capable of excelling at!
Exhibit a Strong Point of View
The challenge for this team was to create the feeling of the Hamptons inside a dark and windowless garage, while providing for a myriad of functions including hanging out, watching television, meditation, working out, storage and an all-inclusive desk space that could be utilized for a plethora of purposes. The Hamptons style can often be summarized as a confluence of clean, classic lines and the beauty of the oceanic environment. Although there are, in fact, many styles in the various homes in the Hamptons, the stereotypical one is often characterized as high-end but comfortable and crisp at the same time, with an easy and timeless color palette incorporating various tones of neutrals, blues, grays, silvers and hints of white throughout. In many ways, this garage conversion is a success. This team managed to work together efficiently enough to get the transformation mostly finished, incorporating enough time to allow for the professional installation of a new garage door. All of the typical and expected Hamptons elements and colors are present, but the room lacks in some areas that a Design Star would definitely have addressed.
One of the biggest problems in this room is the lack of forethought in space planning. The complex program requested by this family necessitated a thoroughly conceived space plan in order to ensure success, and the presence of a treadmill in a box (sitting in the corner of the room), along with a thin space behind the sofa relegated for meditation, reveals that a complete space plan was not put together. I applaud this team for including the treadmill in their overall budget, but having unsightly exercise equipment in a room is a large problem for homeowners across America, so it would have been nice not only to have seen this equipment assembled but also to have seen how they would have addressed disguising it. Sheers or curtains hung from the ceiling, or an easily movable screen, are all ways that would have worked, but because the treadmill was never assembled, we did not get to see a solution. Issues of scale also abound in this room.
Throughout this garage, there are significant pockets of wasted space that could have been pooled to allow for better answers to the problems at hand. The tiny desk, which is mostly covered by a lamp and accessories, provides inadequate work space, while open shelves throughout fail to address the continued need for storage. From an aesthetic standpoint, it would have been nice to have seen some inventiveness from this team of great creative minds. Everything in this room is correct and sufficient, but nothing in this room demonstrates why someone on this team should win this competition. Fewer but bigger and bolder elements that capture the essence of the high-end Hamptons look would have been preferable to the profusion of little accessories that dot the visual landscape. Unique case-good pieces with great character and bold lines — readily available in the Los Angeles area — would have balanced the blander lines of their upholstered pieces. As is often the case, certain members on each team get relegated to construction since they are capable of executing the work while others are not, and it is unfortunate that bolder design voices did not prevail here. Antonio got caught up in addressing construction issues and the poor condition of the existing floor (failing to show us why his design know-how has brought him this far), while other members of the team failed to adequately demonstrate that they could both design and execute.
All in all, this team did a nice job of mostly completing a very challenging space that addresses the bulk of what these homeowners requested. In order to win this competition, however, you have to continuously exhibit a strong point of view as a designer, offer fresh and creative solutions to age-old problems and get those solutions implemented. Unfortunately, we did not see enough of that from this team.
Creating an entertainment space with an ethnic flair was the request of this family and, unquestionably, this team had a major challenge in front of them with this conversion. The first issue they had to contend with was the poor condition of a broken-up floor — and their solution was a controversial one. Instead of removing loose pieces of the concrete and skimming over the surface to level it out, or installing padding and wall-to-wall indoor-outdoor carpeting, they chose to create a large L-shaped platform that would hug two of the garage walls to effectively cover up the uneven areas. On the one hand, this could be viewed as a clever solution that demarcates space and addresses the floor issue; on the other hand, the ceiling heights are already low, and the team has lowered them even further by installing the platform. In fact, taller members of this family, and their guests, must avoid hitting their heads against the open garage door when standing on the platform. The platform also makes a small room smaller by diminishing the flexibility of the square footage. Rooms with ceilings that drop in height in certain areas (oftentimes attic conversions have this) should always employ these areas for activities that involve low seating instead of standing. This team has installed a custom-built bar seating area and a second custom-built serving bar area on this platform, which may become a problem for this family when taller adults try to access beverages without hitting their heads.
On the other end of this garage stands another custom-built element: a large, dominating entertainment center anchors the opposite end of the garage and holds a flatscreen television that sits on its base. Every challenge must be a carefully determined design with clear understanding of time and budget constraints, and this team bit off a little more than they could chew with the massive amounts of custom construction. Although fine, nothing is unique or distinctive about this entertainment center that would have prevented this team from purchasing one equally appropriate. When budget allows and time is an issue, it is always incumbent to ensure that you only spend your time on construction elements that would not otherwise be able to be purchased. Sometimes it's actually cheaper to buy something than to build it, and a Design Star must always remember to check this. By not allocating their time properly, this team also failed to incorporate a new professionally installed garage door when the family specifically requested their old and worn door be replaced.
From a color and aesthetic vantage point, this team has made some nice decisions: Warm yellows, oranges and greens make this cold garage seem inviting and comfortable. A richly patterned rug with Old World style and dark chocolate woods throughout speak to the requested style of the homeowners and make this ancillary room seem like a main portion of the house. Lighting in the form of a pendant fixture hanging over a corner dining area also helps designate this as a special area, while mirrors hanging opposite the garage door opening smartly bounce natural light entering the space back into the room, helping to make this room feel like its got a bank of windows instead of a solid concrete wall. Space planning is again an issue here with an inappropriately scaled coffee table that will not let users get between it and the sofa.
All in all, this room could have benefited from a more thorough planning effort from a space- and time-allocation vantage point. This talented team is capable of so much more, and it is unfortunate that we didn't get to see their full capabilities this week.