Genevieve's Design Tips: Garage Transformations
In episode four, the Design Stars transform garages into comfortable family rooms. See what Genevieve says they did right, did wrong and how she could have done it better.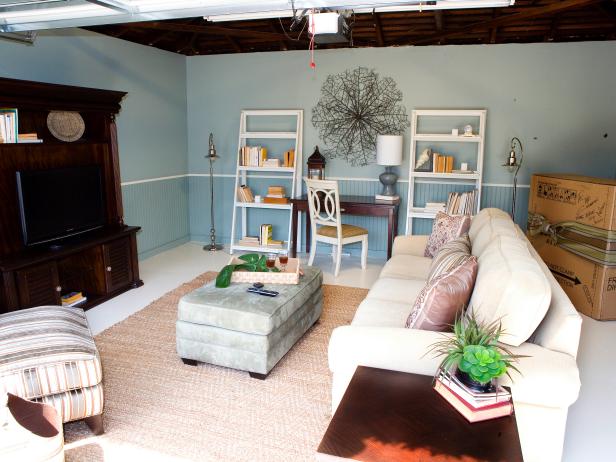 Add Unexpected Touches to Garage Makeover
Increasingly, homeowners are asking more and more of their homes — to reclaim previously wasted or underutilized spaces like attics, storage rooms, closets, garden sheds and garages so that every last square inch of their homes is working for them. Designer Candice Olsen said this garage suffers from an overabundance of predictability; predictable furniture has been predictably arranged, from the media unit to the desk vignette. She recommends adding something unexpected, like a swinging wicker egg chair or big breezy hammock suspended from the open rafters.
It's lighter, it's brighter and it's now an additional, semi-functional living space for the homeowners. The homeowners wanted a room inspired by the Hamptons, but to be honest, I see more of a poor man's Restoration Hardware. Coming from the outside in, I'm a bit confused about where I'm supposed to land. Compositionally, there is not a lot of guidance: the small desk in the center of the focal wall doesn't leave much room for any sort of task, while the flanking bookcases are dwarfed by the enormous coral accent. The coral is a powerful and pretty accent but without a complementing partner in scale. If the bookcases were built-ins and filled up that whole back wall from floor to ceiling, the space would make a lot more sense to me.
Adding a larger desk that faced out into the room so one is not staring at the wall while working would be a very simple and impactful adjustment. The color palette is pretty, very predictable, but missing what the homeowners were going for. The Hamptons have a very defined chicness about them that is missing in this space. Oversized black, glossy planters with seagrass instead of California succulents would've helped tremendously. By rearranging the couch or two armchairs, two separate seating spaces can be created very easily. Wainscoting is a great feature to set the beach tone very quickly in any room, but capping it with a very narrow chair rail like molding doesn't make the impact that this space needed. Raising the wainscoting up the wall paired with a narrow ledge above eye level would've softened the whole space and given it more of the Hamptons drama that it was missing. The armoire is way too suburban to be in a room inspired by the Hamptons. Along with built-in shelving on the back wall, the same treatment could've been applied to the media center. Black-and-white striped accent pillows to tie in the hot, black planters would give this room the swagger it was missing.
Always Remember the Room Height
Wow — what happened? I love the thinking behind raising the floor in this space to give it an entirely new function and flow of traffic. Unfortunately, this team forgot how short the ceilings were in the garage — ouch! I think they could've achieved this exact same effect via their furniture arrangement. With a custom built-bar/sofa table, the definition in space would have been achieved sans platform.
I love the idea of a wall of fabric as the focal point; it also will become an acoustical wonder in a loud space like a garage. I would've loved to have seen a thicker, more dynamic fabric that would really command the space and give it the depth it needed with a beautiful pattern. With that added pattern we wouldn't need a flower mural, hanging mirrors or an accent wall of color. I think the wood platform for the TV works the vertical nicely and adds some warmth and texture to the space. A shelf or piece of art above the television could've added a bit more balance. The coffee table should not have been used at all as it doesn't function well. When there is no passage in which to walk around a piece of furniture, that's a problem.