A Sleeping-Space Solution
New Yorkers Sarah Raskin and John Kerl needed to turn a portion of their small apartment living room into a separate bedroom-like area. Thankfully designer Brian Patrick Flynn had a plan.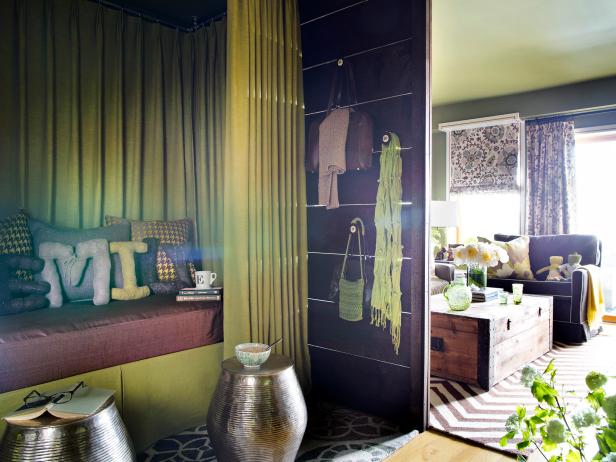 Original_Brian-Patrick-Flynn-Horizontal-Overall-IMG0260_s4x3
The redesigned living room has two defined areas: a sleeping space for tween daughter, Emily, and a family room for the entire Kerl-Raskin clan.
The redesigned living room has two defined areas: a sleeping space for tween daughter, Emily, and a family room for the entire Kerl-Raskin clan.
New Yorkers Sarah Raskin and John Kerl love their Brooklyn apartment -- a lot. Sarah notes, "Our place is perfect for us! We're close to all the excitement of Manhattan and Brooklyn's more bustling neighborhoods, while being far enough out to get some peace and quiet. Not to mention, we have a sizable space that is actually affordable."
When the married couple (he's a software engineer, and she's a public health researcher) discovered they were expecting their first baby together (adding to their family that already included John's tween daughter, Emily) they were quick to ask me for help. With their guest room already outfitted as a nursery for the baby -- a girl they'd name Orly -- their biggest issue was figuring out how to turn a portion of their 16x10 living room into a separate bedroom-like area for Emily, who lives with her mother in Arizona during the school year then with John and Sarah in the summer. In addition to accommodating visits from Emily, the couple also needed extra space for Emily's niece, Ryanne, who lives with her in Arizona. As far as design projects go, this was a tall order. Lucky for me I'm 6' 5" and love a good challenge.
When Sarah, John and I first met at their Greenwood Heights neighborhood home, Sarah couldn't stress her frustration with spatial planning enough. The eager and optimistic mother-to-be explains, "We were having a really hard time figuring out how to continue to give Emily her own space while also making room for Orly. Plus we wanted to make sure that we had somewhere to spend time all together -- a place where we could rock Orly to sleep as a family, then play Wii or Scrabble as three once she was in her crib. We decided to turn our unique challenge over to a pro and just give a designer free rein." Since I'm well experienced with small-space design and live in a spatially challenged house myself, it immediately occurred to me that the solution was all about partition and separation.
First up was creating a furniture plan that could be separated into two zones without visually shrinking the space. In order to plan properly, Sarah and John needed to get rid of their existing pieces -- ones that didn't work well for the living room in regard to scale and proportion.
John comments, "Getting rid of most of our old stuff was pretty easy. While it was difficult at first to decide what to keep and how to store it, we soon found it liberating to discover what our essential belongings were (and were not!). We uploaded things to craigslist and had interest almost right away. In just a few hours many of our pieces were in good hands."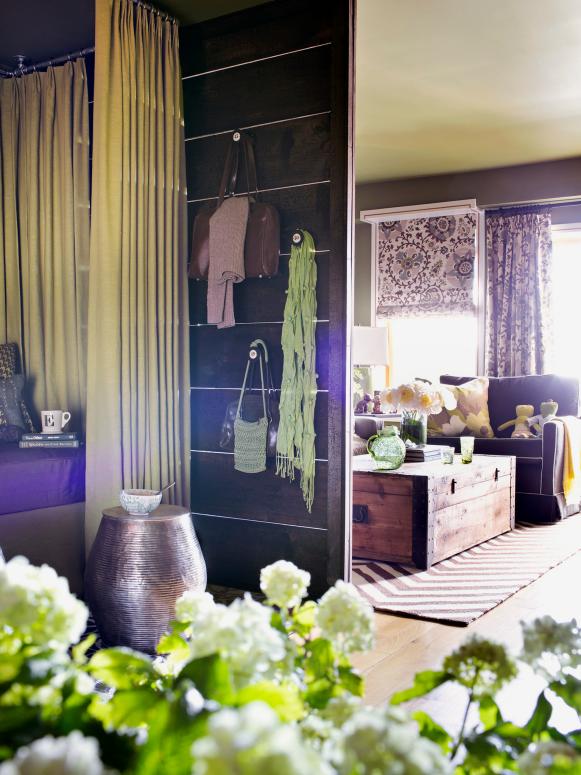 Original_Brian-Patrick-Flynn-Vertical-Overall-IMG0295_s3x4
A room divider fashioned from darkly stained 10-inch tall pine planks also functions as a place for Emily to hang up clothing and accessories.
A room divider fashioned from darkly stained 10-inch tall pine planks also functions as a place for Emily to hang up clothing and accessories.
Although smaller furniture such as the coffee table, dining table and folding chairs were easy to find new owners for, John and Sarah's bulky rolled-arm leather sleeper sofa was another story. Sarah explains, "I had no idea how hard it was to get rid of a sofa -- even to give it away! A note for all you New Yorkers out there trying to get rid of sofas on craigslist: it's harder than you think! After days with no response, we tried to donate it, and still no one was interested -- due to its size and how hard it would be to get from one place to another. The usual charity thrift stores turned it down because it had a few minor dings on the side from being moved. One charity committed to take it but couldn't schedule pick-up for less than a month away! At one point I was ready to just stand out on the sidewalk and pay someone however much they wanted just to take it!" Just a few days later, after asking everyone they knew over social media, Sarah and John found the perfect fit in another charity that was able to take it sooner. With the sofa gone, the living room was now completely empty, and my space plan was underway.
In order to give Emily a space to sleep and lounge without John and Sarah having to sacrifice their area for watching TV and entertaining guests, I'd need to add a room divider, one that would fit in architecturally and work well with the decoration for both Emily's area as well as the living room. After searching for ideas on Pinterest, I collaborated with New York-based industrial designer and former Design Star contestant, Dan Faires, who designs furniture made entirely from reclaimed materials. With both of us on the same page for the overall design style of the room -- transitional, packed with muddy green and brown tones and a plethora of rustic texture -- Dan and I decided to use darkly stained 10-inch tall pine planks installed horizontally to create a modern partition that could also function as a place for Emily to hang up jackets, purses and backpacks. As far as how tall and wide to make it, we decided to take it almost all the way up to the ceiling, allowing light to pour in from the nearby window. To ensure the partition didn't completely overpower the space, we kept it just under six and a half feet wide.
With the biggest change in place, and the walls and ceilings painted the same shade of olive green, Dan and I next turned our focus to Emily's bed. Since the entry door is only a few feet away, it was important to position the bed in a manner that wouldn't make Emily feel as though she was sleeping up against the front door. The solution was to place a twin bed horizontally up against the wall, creating more of a daybed or lounge-like feel rather than having the bed jut out 75 inches (a standard twin is 35 inches wide by 75 inches long). In order to add separation between the bed and the rest of the living room, custom floor-to-ceiling draperies were sewn from celery-toned slubby basket weave cotton, then installed on galvanized metal conduit and flanges directly into the ceiling joists. When Emily is ready for bed, the draperies can be drawn closed, instantly making the lounge-like area feel like a separate room.
Next we focused on creating a family room seating area that would give John and Sarah ample storage for their extensive book collection as well as a flat panel TV that could be concealed when not in use. After installing an IKEA media system with concealing door fronts along the entire entry wall, all books and electronics were accounted for, and we turned our attention to the actual furniture. With only 11 feet of width and nine feet of depth with which to arrange seating, the design of the family room's seating area became all about scale and proportion. They wanted a glider in the seating area to rock Orly comfortably, a coffee table with integrated storage, and a sofa or love seat cozy enough to curl up on and fall asleep. Sarah notes, "We're all about comfort and togetherness. While we love a great looking sofa, how it feels is most important. Being covered in machine-washable slipcovers is a huge bonus in terms of making a long-lasting choice for our growing family."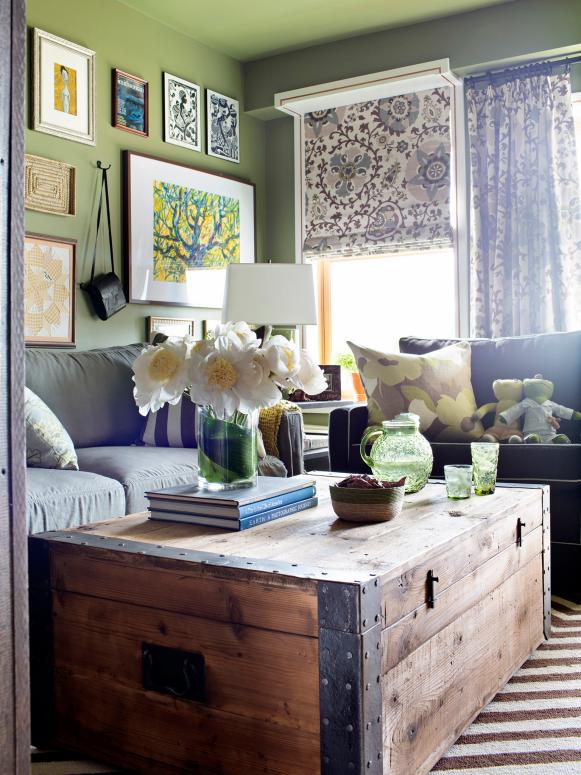 Shabby Chic Living Room with Wood Trunk Coffee Table
Storage is at a premium in New York so this rustic wood coffee table doubles as a place to contain and conceal baby toys. Safety latches were added near the top as a childproofing measure.
Storage is at a premium in New York so this rustic wood coffee table doubles as a place to contain and conceal baby toys. Safety latches were added near the top as a childproofing measure.
After finding four different sofa choices, John and Sarah headed to Manhattan to test them out in person, resulting in their number-one pick being the same as mine. Since the sofa needed to be short, we opted for an apartment-sized piece that is a cross between a loveseat and a three-seater. With the sofa taken care of, I found a coffee table online that was long and deep enough to contain Orly's toys, keeping the living room neat and tidy. With one look, Sarah and John were equally approving, so we moved on to finding the proper glider, which ended up being the most challenging of all furniture pieces, both spatially and aesthetically.
Sarah explains, "It was tough to find a glider that had all the features we wanted: timeless style, comfort (of course) and a look that didn't scream baby or super girly if it was going to be part of our living area. Plus, we hoped that the glider would be big enough to fit John or me alongside both of our kids. After learning about the current trend of 'chair and a half,' we knew we wanted to go that route."
Some newer gliders are made extra wide so that parents are able to have babies or toddlers sit beside them and not just on their laps or shoulders. After weeks searching online, we came across a style we liked, then had it custom made with brown fabric and celery green piping.
The last step in the family room redesign was delineating the two areas with rugs. In order to give the two areas their own distinct styles but ensure the styles worked harmoniously, it all came down to pattern mixing. Emily's rug features a transitional-style geometric pattern in gray-brown, dark olive and greige while the living room rug features a zigzag pattern with tribal influence in dark brown and cream tones. The two rugs work well in the same space since they have similar color schemes, but their patterns have different scale and shape.
With the project complete, John and Sarah are even more in love with their Brooklyn apartment than before. Not only can they maintain plenty of room for Emily, they can also make room for baby sister Orly, thanks to the chair- and-a-half glider and proper space planning. Thrilled with her newly updated living room, Sarah adds, "I'm amazed by the impact of this transformation on our lives. It feels like we added an extra room, but without an actual renovation or having to move. Plus, because these changes are cosmetic rather than structural, they're landlord-friendly! Maybe next we can add a home office to our master bedroom."