Versatile, functional and handsome, wood kitchen countertops can go from antique-chic to rustic elegance depending on the species, wood grain and finish.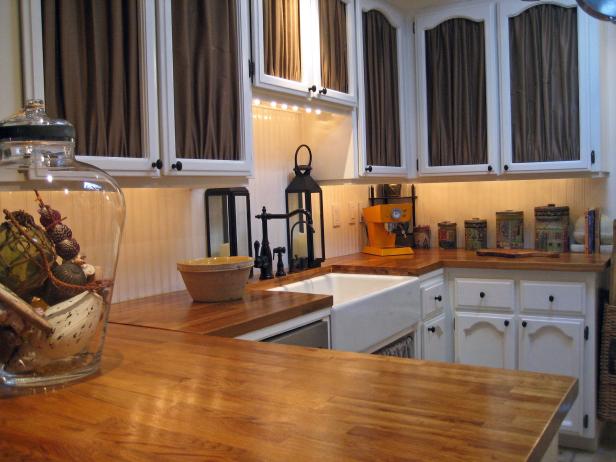 Butcher Block Countertops
Butcher block countertops instantly warm up and add a timeless element to any kitchen. Not only do you never have to use a cutting board again, but scratches can be easily sanded out. Protect butcher block from water damage though by sealing with mineral oil frequently. Design by HGTV fan LaDolfina
Wood kitchen countertops may get outmuscled by their more heavy-duty stone counterparts, but the material is as handsome and durable as it is fashionable.
Warm, timeless and versatile, like furniture, wood counters can be designed from a variety of different species: think walnut, elm, oak, pine, cherry, bamboo and hickory—or even reclaimed or salvaged materials.
While some like to think of wood as adding a nostalgic element to the kitchen, a better word might be "approachable." There's nothing pretentious about a wood countertop, but when used as a counterpart to a gorgeously finished kitchen island base or impeccably tailored cabinetry, the resulting look might be as varied as antique-chic, cottage-casual or rustically elegant. Wood countertops are also more affordable than most stone or stone-look materials.
Butcher-block countertops have recently increased in popularity, and they're equally attractive and inviting. Available in a variety of species, finishes and grains, they're also great for cooks who love to work in the kitchen, or owners of period homes.
Other Kitchen Countertop Materials
More Kitchen Countertop Ideas