Vern's Design Tips: Kids' Room Makeovers
In episode six, the Design Stars create rooms for their most demanding clients ever: kids. See what Vern says they did right, did wrong and how she could have done it better.
Designing a bedroom for a child or teenager can be one of the most fulfilling creative outlets a designer can have! Although all of the traditional bedroom functions still exist, children and teenagers have yet to embrace acceptable design standards that so many adults force themselves into. At this young age, there is still tremendous freedom of expression and an intense need to have their room serve as the ultimate escape. Color, pattern — and plenty of storage — all come into play in pulling off a room that will satisfy their immediate design sensibility now, while still providing a foundation that will serve as the basis for a room that they will grow into later.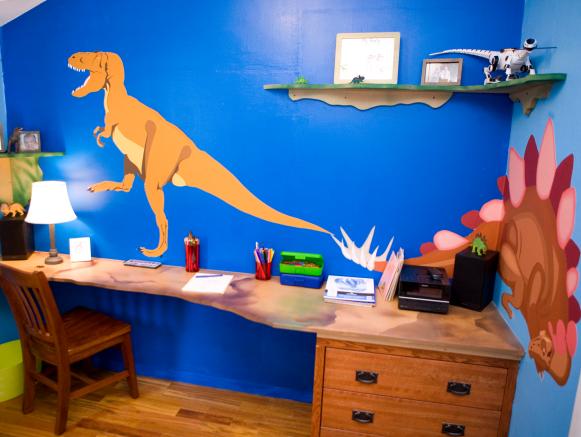 Boy's Room With Dinosaur Theme
Designer Genevieve Gorder has a bone to pick with this room design. "My fear with this room is that the child will love it today but outgrow it tomorrow, and that's a waste," explains Candice. "Quality core pieces like the dressers are great starting points; they'll last forever and transition easily. I would have liked to see the theme established with more attention to the temporary accessories in this room rather than the more permanent construction elements."
Designer Genevieve Gorder has a bone to pick with this room design. "My fear with this room is that the child will love it today but outgrow it tomorrow, and that's a waste," explains Candice. "Quality core pieces like the dressers are great starting points; they'll last forever and transition easily. I would have liked to see the theme established with more attention to the temporary accessories in this room rather than the more permanent construction elements."
Lonni has plenty of experience designing for high-end clients who have sophisticated palettes, so it was particularly nice to see how her skill set would translate into a room for a teenage boy obsessed with baseball. Pleasantly enough, the end result is a high-concept room that still feels age appropriate. A beautiful focal wall — which is quickly becoming a Lonni signature — features a pattern composed of upside-down home plates that lends a graphic quality to the room. This wonderful pattern supplants the need for art in this room and really infuses a sense of high-end playfulness. Replacing wall-to-wall carpet with fantastic wood floors (reminiscent of a baseball bat), personalizing the space with a blown-up baseball photograph, and providing a leather bench at the foot of the bed for friends to sit on as they watch the flat-screen TV (sitting on a desk that anchors the corner) are all very smart design moves that feel masculine, age appropriate and enduring. It would've been nice to have seen more closed storage integrated into the overall space plan. Open shelving looks great for a photo shoot but doesn't work from a practicality vantage point. Kids come with stuff, and teenagers in particular can be less than neat, so it would have been helpful to have seen a cabinet with doors and a more extensive area dedicated for drawers. Overall, this room is successful, sophisticated and smart — and a great indicator of why Lonni is still in the competition!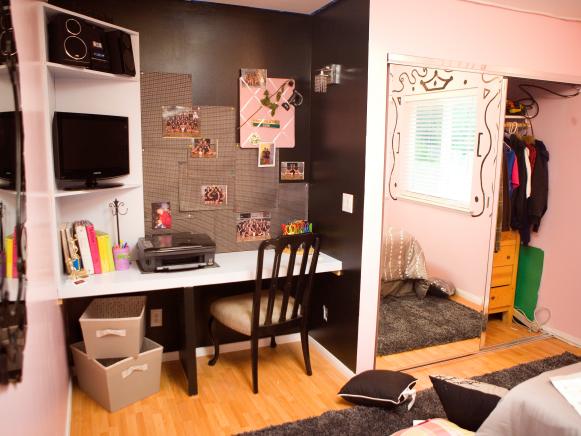 Girl's Bedroom With Mirrored Closet Doors
According to Genevieve Gorder, this bedroom needs some serious help. "A white upholstered hollow-core door as a headboard and layers of white bedding would have added comfort and a sense of dreamy luxury," says Candice. "Acoustical ceiling tiles wrapped in pink cotton to fill the area above the desk would have been a more striking and practical treatment."
A Design Star contestant has to be able to think outside the box and actually execute his or her solution. In this room for a young boy, Antonio demonstrates that he can do all of these things. Almost every little boy is fascinated with dinosaurs, and this room is a celebration of them in a fantasy setting. Bright colors abound on walls and bedding, while realistic dinosaurs painted in child-friendly colors inhabit the walls. An extremely creative desk solution showcases the benefits of combining purchased pieces with newly built items to produce a well-executed customized result. Holding up the desk on one end is a great three-drawer dresser, while a wall-attached ledge on two walls supports the other end. The desk top, cut and painted to resemble a piece of carved stone, highlights Antonio's skill set developed from years of working on high-concept photo shoots. The same stone look is also translated to a headboard, footboard and "stone" archway that supplants window dressing while providing a place for art projects to be prominently displayed. A custom photo decal of this lucky boy is cleverly mounted below a flat-screen television, personalizing this space and adding another fun factor to this over-the-top room design. (Unfortunately, a mishap in planning leaves the boy's legs cut off, giving him the impression of floating in space.) Will this child spend years in this room, adapting it to changing tastes as he grows older and loses his zest for dinosaurs? Probably not — and that is the biggest criticism of this room. His fascination for dinosaurs is translated so literally that it limits the lifespan of this space. By substituting some abstracted elements for all of the literal elements (e.g., translating the scale of a dinosaur's skin into a wall pattern), this room could have had more longevity. To Antonio's credit, there are several storage pieces utilized that demonstrate forethought and will translate well into adulthood. For now, this room is dynamic, interesting and incredibly creative, and a real demonstration of why Antonio is still in the running to become the next Design Star.
Don't Forget About Storage
Although Jason is an extremely talented designer with years of experience, this room does not do justice to all that he is capable of. Pink and black is a strong and bold color combination that's perfect for a young girl transitioning into young adulthood, and many of the elements employed in this space head in the right direction. A beautiful crystal chandelier hung above the bed is a dynamic lighting solution that this young girl will continue to appreciate long after she loses her love of pink walls, and a custom-built desk tucked into the niche of this room is the perfect way to functionally address this space. Simple and graphic bedding in a smartly selected neutral perfectly balances out the exuberance of the wall color. The rest of the room, however, fails to demonstrate all that Jason can do. So much of this room seems like it was rushed to completion. Fabric tacked to the walls to allow personalization looks neither permanent nor substantial enough. Squiggles, curves and a crown hand-painted around the window distract from the polish of the wall color, bedding and chandelier, creating an odd juxtaposition of sleek and homemade. An abundance of mismatched throw pillows, all randomly piled on the floor, adds to the overall impression that Jason had difficulty with time management. It would have been nice to see floor-to-ceiling drapes in black velvet framing the window. It would've also been nice to see something more substantial acting as a headboard other than nine pieces of fabric tacked above the pillows. Additionally, more closed storage would have contributed a dimension of practicality to this space. All kids need storage to help them manage the plethora of stuff they ultimately acquire, and there is a real dearth of practical storage in this room. Jason is an extremely talented designer with a boatload of potential, but that talent was not fully displayed in this lackluster effort.
Bright neon colors dominate this transformation by Dan. The intensity of the hot-pink stripe that zigzags around the perimeter of this space, ending up as an empty rectangle above the bed, is at least an interesting and bold design decision that is unpredictable. The fact that the stripe demands so much attention but never leads anywhere is, however, confusing. It is indeed wonderful that Dan listened so intently to his client's wishes, and the reuse of the old dresser (transformed with a can of neon-green paint) into the new room scheme is not only environmentally friendly but also a nice, traditional injection in an otherwise contemporary room. It is always up to the designer to take the client's ideas and deliver a solution that embodies what they are about, but in a fashion that is better than they could ever have dreamed of, and Dan failed to do so in this transformation. Building the dresser into an overall top that integrates an off-center window seat and narrow vanity/desk is impractical and awkward. Pairing a Spanish-looking wrought-iron semicircle above the hot-pink rectangle to form a headboard looks strange and out of place. Making a light out of a gumball machine, however, is brilliant and whimsical! There is no question that Dan possesses extraordinary talent and aims to please the client. This effort fails to showcase the extreme amount of talent that Dan can unleash as a designer and is mostly a disappointment because we know that he can do so much more.
Perhaps more so than any other designer this week, Torie has given her kid client furniture pieces with longevity that will endure as she grows up. In an attempt to create more square footage in this room, Torie selects a loft bed with sophisticated lines and sleek detailing. Below this loft bed is an extensive workspace, perfect for a computer monitor with plenty of room left over for homework to take place. The desk chair (plush, red and fun) sits a little low for desk purposes. Across the loft bed sits a brand-new dresser, replete with a ton of storage that would look great in almost any adult bedroom. This room smartly showcases how a carefully selected foundation of furniture can be paired with transitional kid-centric elements to produce a room that is appropriate for the moment while still providing a basis for future room redesigns. The child's name, Carina, is spelled out in dynamic and backlit letters that instantly personalize this room, and an easel sitting in a painting corner demonstrates that Torie has listened to her client's expressed passion for art. Not everything in this room, however, is successful. Wall-hung fabric behind "Carina" looks messy and temporary. It would have been nice to see this fabric stretched over a board before hanging in order to give it some tautness and stability. Placement of the loft right alongside the window causes an awkward projection of the bed into the window space. If Torie had simply flipped the placement of the loft with that of the bookcase, this problem would have been easily solvable. Additionally, a plethora of open shelving seems impractical for a child. Kids come with plenty of stuff, so it is always advisable to offer an abundance of closed storage. For the most part, this room is a large success and demonstrates that Torie has much to offer as a designer.