Two-Toned Kitchen Cabinets
Two-toned kitchen cabinets provide an interesting and exciting variety to a ho-hum kitchen.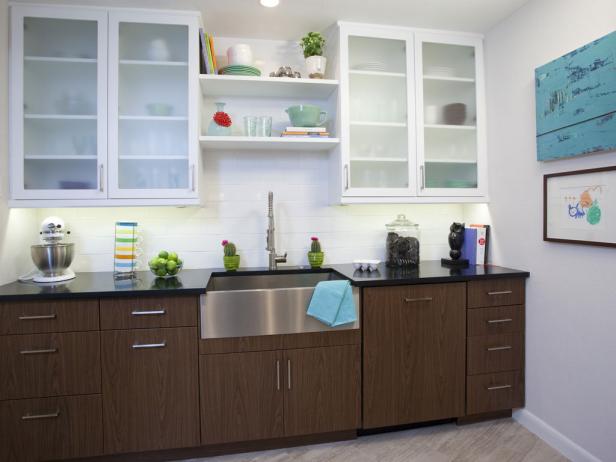 Contemporary Kitchen With Frosted Glass Cabinets
Outdated cabinetry was replaced with dark-toned wood lowers and white uppers in this charming kitchen. Four frosted glass uppers add a modern feel that helps open up the room with a reflective surface. A black quartz countertop was installed for a chic look with gorgeous contrast.
Two-toned kitchen cabinets are an exciting new trend for home design. The ways of using two different colors of paint on your cabinets this are varied, and the effect can be to either contrast or complement a color scheme.
For a bold, warm kitchen, you can paint your cabinets a candy apple red and trim the inlays with black, or paint your entire kitchen in white and then throw in a splash of color by painting the island in the center a vibrant red or black. Another great look is to paint the top cabinets a traditional white and the bottom cabinets a sunny yellow. Or you can alternate between a robin's egg blue and a sage green for something fun and eclectic, with a white trim to bring them together.
The two-toned approach allows you to play with more than one color to break up any monotony and create something truly unique and inspired. Different shades of the same color work well to complement each other. Just be sure to put the darker shade on the bottom as an anchor. A look I really love is to paint the top cabinets a light color, like white or a very pale green, and the lower cabinets a darker color, like blue, and then paint the inside of the top cabinets the color of the lower cabinets as a bridge between the two. A two-toned look like this is even more stunning if the walls are also the light color of the upper cabinets.
Another look I really love is white upper cabinets that are either open or glassed-in for a fluid look, with navy blue lower cabinets and a white tiled backsplash between the two. A deep sea blue finishes off the look to convey both warmth and serenity in a modern but casual look. White combined with teal green for the cabinets and black for countertops and appliances gives an interesting contrast that makes an unusual statement. Add open or glassed-in front facings and it has a casual, almost retro feel to it.
To add depth and texture to your cabinets, consider a two-toned look that puts two different colors of paint on the same cabinet. To get this look, you prepare your cabinets as you would for any DIY paint project, then apply the base coat on the cabinet boxes and the outer portion of all the doors. Once the paint dries, apply the second color paint to the center panel. Apply a second coat of paint if necessary. For a finished look, apply a glaze over the whole thing. This is a really fun way to show off your personality and style; and it's inexpensive, too!
Other Kitchen Cabinet Colors and Finishes
Kitchen Cabinet Inspiration