Tips to Declutter and Organize Before a Kitchen Remodel
An organization expert provides tips for getting your kitchen in order before your remodel begins.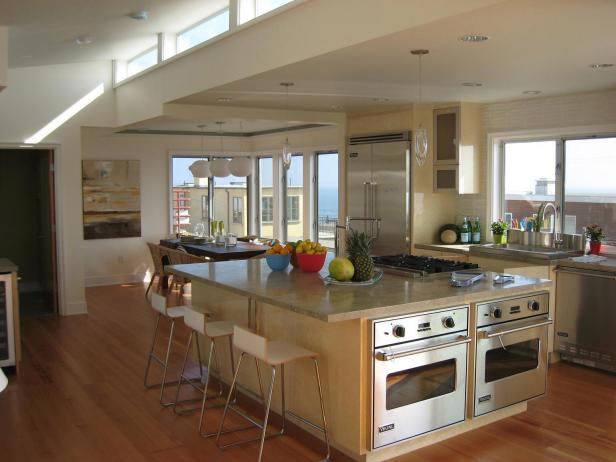 Beach Kitchen
A clean kitchen free of clutter helps you keep everything in order before renovation.
A clean kitchen free of clutter helps you keep everything in order before renovation.
Professional organizer and Mission: Organization guest Debbie Lillard offers web-exclusive tips.
Renovating your kitchen can be very disruptive to daily living. Before you start tearing everything out, I recommend removing items that you use everyday — utensils, plates, mugs and glasses, coffeemaker — and place these items in a box or two and label them "everyday items". That way you can easily find what you need, and it will also help you decide what's absolutely necessary to keep in the space.
The next step is to pull everything out of the cabinets and categorize those things. Again, mark boxes clearly, and as you fill a box, donate or discard anything that is broken or no longer used.
The kitchen is a very practical place, and most people I meet have more stuff than storage. So only keep what you use on a regular basis. If there is something you use only a few times a year (ice bucket, punch bowl, warming tray, etc.) those items can be stored away in a basement or closet.
When putting things back into your kitchen, try to keep like items together. Some useful categories might be cereal and breakfast food, canned foods and sauces, pasta and cooking and baking materials. Think about the aisles in the grocery store to give you some ideas.
Also, be sure to put things you use often in the easiest-to-reach cabinets.
When it comes to papers in the kitchen, just say no. Kitchens are for cooking and eating. Bills, newspapers and school papers belong in an office area or in a desk.
If you don't have an office area and you have the space in your kitchen or in a connected room, have one desk or table for sorting the mail and paying bills. Handle the papers each day so they don't pile up.
I believe all incoming paperwork can be broken down into three categories: to do, to read, and to file. Keep all important appointments written on a family calendar. Try not to hang that calendar in the kitchen — it doesn't belong there.
If you really want to be organized, write down appointments in a designated color for each member. Once you've copied the information down, throw out the flier, reminder card or invitation.
Keep refrigerator art to a minimum. If you must put photos there, use a plastic frame magnet to keep the grease and grime off of them. Use a sturdy clip to keep children's artwork from flying off with every slam of the door. I also recommend one piece per child, and rotate it occasionally. If your refrigerator looks like a scrapbook, that's too much. And it's time to start a scrapbook.
Food shopping can be made very efficient by using two tools: a coupon organizer and a perpetual shopping list hung on the refrigerator. Instruct family members to write down an item on the list each time they notice that a product has run out.
If you have a special recipe you want to make, write the ingredients down on the shopping list. Then check for coupons before you shop, and stick to the list. This cuts down on impulse buying and forces you to buy the brand for which you have a coupon. When my husband does the shopping I put a little "C" next to the items on the list that have a coupon.
When deciding where to put dishes, pots and appliances in your kitchen, think about the flow of what you do there. You might place dishes above the dishwasher, pots and pans under the stove, bakeware near the oven, and plastic cups down low, where children can reach. I even have a drawer that my child with food allergies can reach to get his own snacks.