Tile So Nice They Used It Twice
HGTV Magazine profiles a fab Los Angeles kitchen that dares to double up.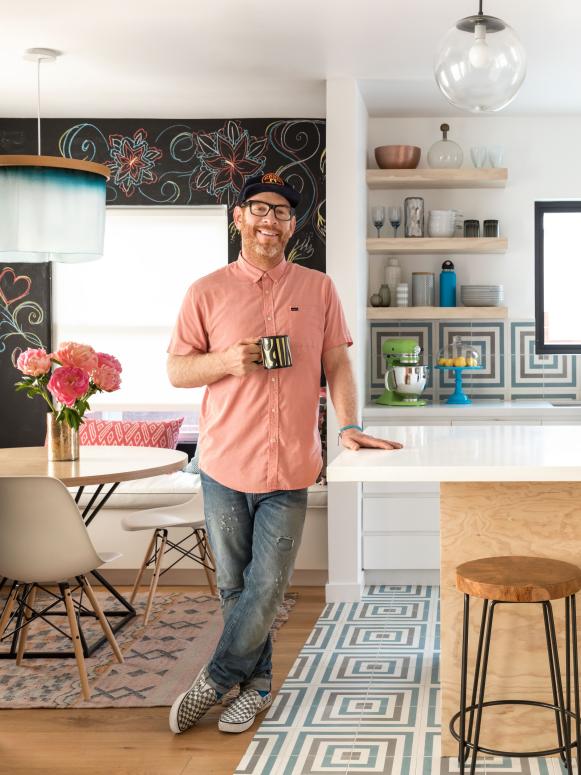 Owner of a 1941 Los Angeles bungalow
HGTV Magazine features the owner of this 1941 Los Angeles bungalow.
Dave Laden didn't have much on his kitchen wish list. "All I wanted was a cool, laid-back place where I could hang out." The one in the 1941 Los Angeles bungalow he bought was cramped and dated, so he roped in designer Daleet Spector to deliver a redo. After opening up the living space, she had an additional goal: making the kitchen stand out from the adjacent rooms.
In came graphic cement floor tiles (Square Target by Clé) in soft blues and grays that bring punch but put out a Cali-chill vibe. And then, in a never-before-tried move by Daleet, in came that tile again—this time for the backsplash. Bingo! They kept the rest of the area pretty low-key, with white finishes, open shelving, and simple lighting.
"The tile may have a striking pattern, but the colors are surprisingly calming," says Dave. "I used to relax in my living room—now the kitchen is my place to decompress."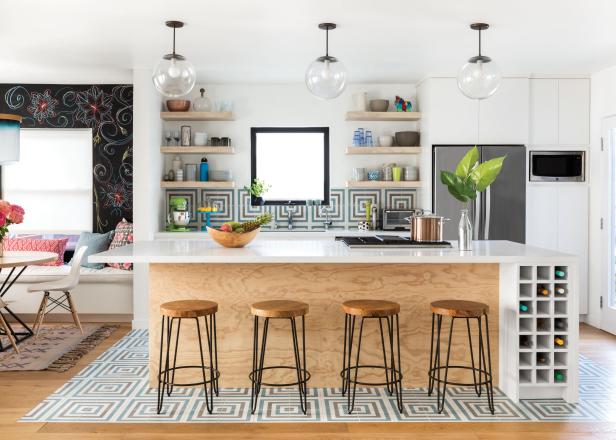 The kitchen of a 1941 Los Angeles bungalow
HGTV Magazine features the kitchen in a 1941 Los Angeles bungalow, where tile is used on the floor and on the walls.
Eight-inch-square cement tiles by Clé form a square-in-square pattern that resembles a graphic rug, especially when set within French oak floors, like they are here. The pattern is repeated 18 inches up the backsplash, right to the start of the open shelves.
The goal here: an island that was not the same-old, same-old. Designer Daleet painted three sides and the wine rack white (All White by Farrow & Ball). When she suggested accenting the fourth side with raw fir, Dave was skeptical: "I worried it would look unfinished and cheap," he says. But paired with a Caesarstone quartz countertop and hairpin-leg teak barstools from Crate & Barrel, the wood looks downright sophisticated.
A smart way to keep all eyes on a knockout backsplash: floating shelves in a light wood, like these 2-inch-thick bleached maple ones. They're stacked with Dave's everyday glasses and dishware for quick access.
Since the star of the kitchen is what's underfoot and on the wall, Daleet went ultra-airy with what's above: three clear glass globe pendants from Schoolhouse Electric. "When you're sitting at the island and you look up, they're a great detail," says Dave. "Otherwise they just sort of blend in, and that's a good thing."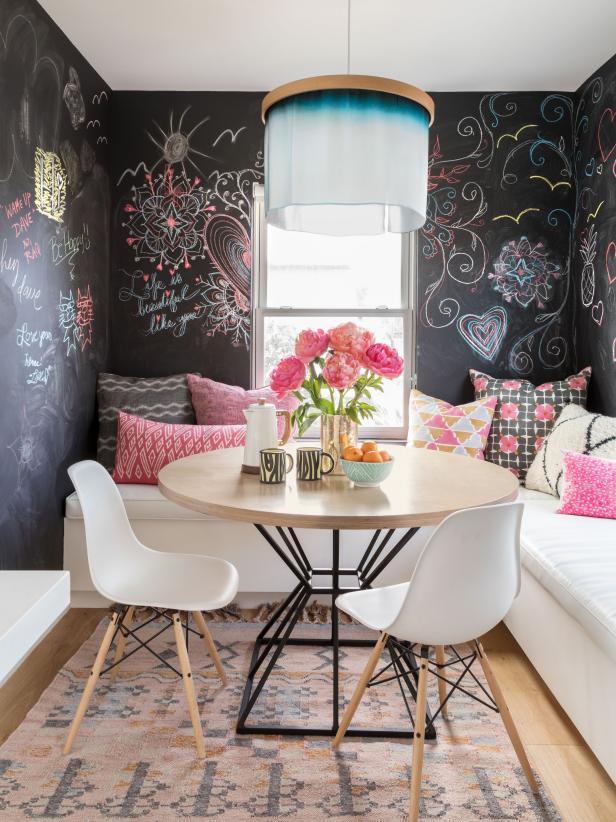 The breakfast nook in a 1941 Los Angeles bungalow
HGTV Magazine features this breakfast nook from a 1941 Los Angeles bungalow.
Built-in white benches with cushions (Dave has been known to nap here), bright pillows, and a floaty blue silk pendant from YLighting look cozy and contemporary; the chalkboard paint (Black by Benjamin Moore Studio Finishes) is pure fun.
I love that the chalkboard paint covers three walls. It's not just a spot for grocery lists—it's a giant piece of art!
Dave
Says Dave, "Guests—kids and adults!—love doodling and playing hangman or tic-tac-toe." A custom table with an oak top plays off the kitchen's wood shelves. The molded plastic Eames chairs are from Design Within Reach, and the Moroccan-style rug is from World Market.
HGTV Magazine has everything you need.