The White, Wood, and Wow Kitchen
HGTV Magazine finds a once-dim kitchen that now brings the outdoors in and finally feels in sync with its California surroundings.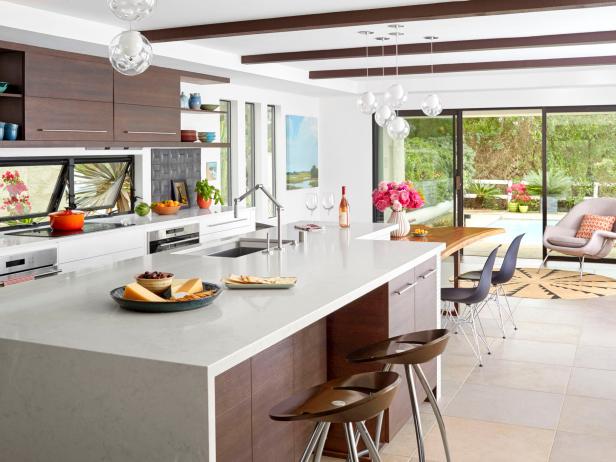 David Tsay (styled by Liz Strong)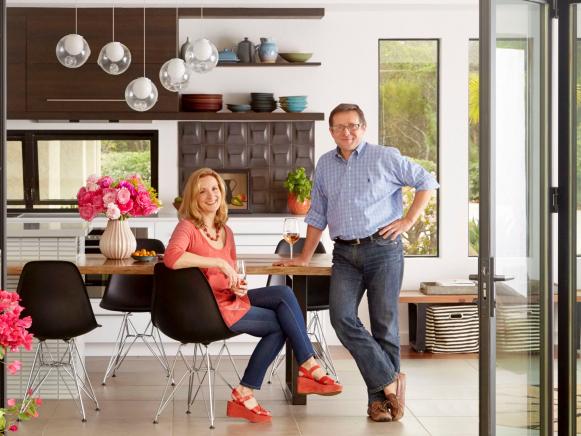 David Tsay (styled by Liz Strong)
After relocating from blizzardy Wisconsin to sunbaked Encinitas, CA, four years ago, Sally and Frédéric Pla embraced the oceanside town's balmy weather and casual scene—and wanted their home to do the same. But the kitchen wasn't cooperating. Cave-dark and choppy, with one smallish window overlooking the driveway, "it was like a sealed-off little box," says Sally. Eager for an open-plan kitchen with an eat-in dining spot and easy access to the patio, they recruited Jackson Design & Remodeling for a radical overhaul. Knocking down walls and annexing the family room doubled the kitchen's size. Acres of windows now flood the space with light and offer views of the backyard and the craggy rolling hills beyond. "Our view is really incredible," says Sally. "And now we can finally enjoy it every time we cook and eat."
For a streamlined look, the 16-foot-wide island has a waterfall edge—the London Grey Caesarstone goes across the top and swoops down the side to the floor. Along with a dishwasher, a sink, and storage-loaded cabinets, the island includes an inset base so diners can pull up barstools.
The European-inspired horizontal melamine cabinets open upward, like garage doors. The stainless steel bar pull handles echo the shape of the ceiling beams.
Handblown glass pendants with an irregular spherical design soften the kitchen's angles. Suspended from coaxial cables, they're hung at staggered heights.
A row of wood beams—one is load-bearing, the rest are decorative—add some visual oomph overhead. Stained a rich chocolate color, they contrast with the white-painted walls and ceiling (Atrium White by Benjamin Moore).
They resemble concrete, but the unglazed Italian tiles are actually hard-wearing porcelain. "We have an 80-pound Goldendoodle, so we need dog-friendly flooring that can take abuse," says Sally. The tiles' large-scale size—they're each 24 inches square—helps the floor seem less busy and minimizes grout lines.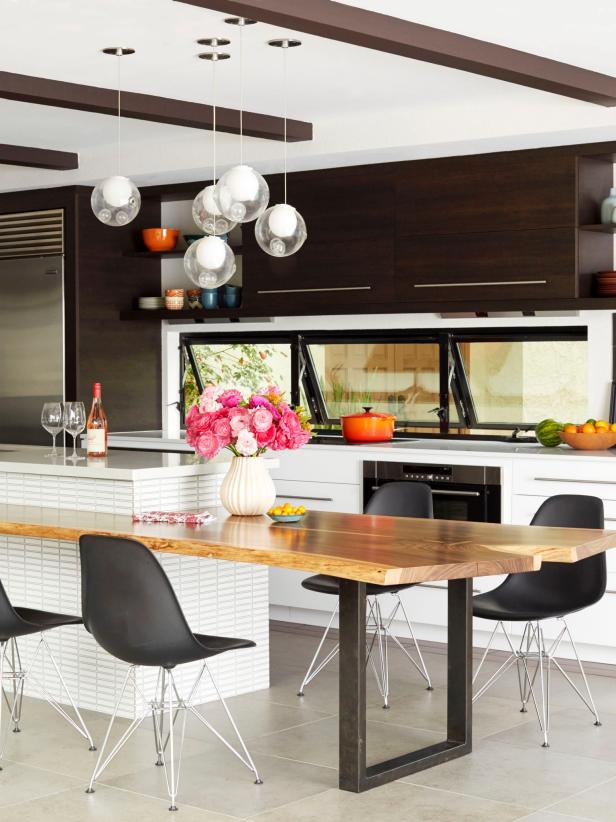 David Tsay (styled by Liz Strong)
Rather than a standard tile backsplash, awning windows were installed. They not only let in light but are also practical: Since the glass slopes down, they can be open while it's raining without the countertops getting soaked.
The island's base is covered with 1-inch-by-4-inch glossy ceramic tiles that give it an interesting texture and tie in with the high-shine white lower cabinets.
A hand-hewn table crafted from Indonesian rosewood warms up all the kitchen's sleek surfaces. "It's so beautiful, I almost feel bad putting place mats on it," says Sally.