Before, Sarah and John's small Brooklyn kitchen could be used only for cooking. Now four people can dine comfortably thanks to smart storage and better use of available space.
After visiting my friends Sarah and John in Brooklyn, N.Y., and dining in the middle of their spatially challenged living room that faces the back of their sofa, I offered my design services to put their open-concept kitchen to better use.
The kitchen, a 75-square-foot L-shaped space right in the center of their two-bedroom apartment, was packed with new stainless appliances, solid surface countertops and honey-toned cabinetry. Although it looked great and fit their day-to-day needs, it could be better utilized with an integrated dining space -- especially since they enjoy eating fresh, home-cooked meals along with newborn daughter, Orly, and John's tween daughter, Emily. After persuading them to turn the space over to me and my team for three days, I gave my team a clear goal: we'd maximize their storage and free up enough space to seat four people comfortably.
First on our to-do list: creating and installing a four-person seating arrangement, followed by adding warmth and pizzazz to the beige walls and ceiling with olive green paint. Since a 52-inch radiator closet wall divides the kitchen from the nearby living room, we decided to put it to good use with a wall-mounted counter-height table. Determined to give Sarah and John something durable and custom, I worked with furniture designer and former HGTV Design Star contestant Dan Faires to create something from reclaimed wood that was one-of-a-kind, kid-friendly, forgiving and sturdy. After cutting the lumber to size, sanding it, then finishing it with a wax treatment, Dan installed it directly into wall studs using heavy-duty anchors and drywall screws.
With the table in place, we next turned our focus to seating: a set of four stackable steel stools with a powder-coated celery green finish. Since saving space was the most important element of the kitchen update, keeping the stools stacked and tucked below the table ensured the floor surface of the kitchen remained open and unobstructed. Once guests are seated, the sleek lines of the stools still offer plenty of room for Sarah and John to work in the kitchen.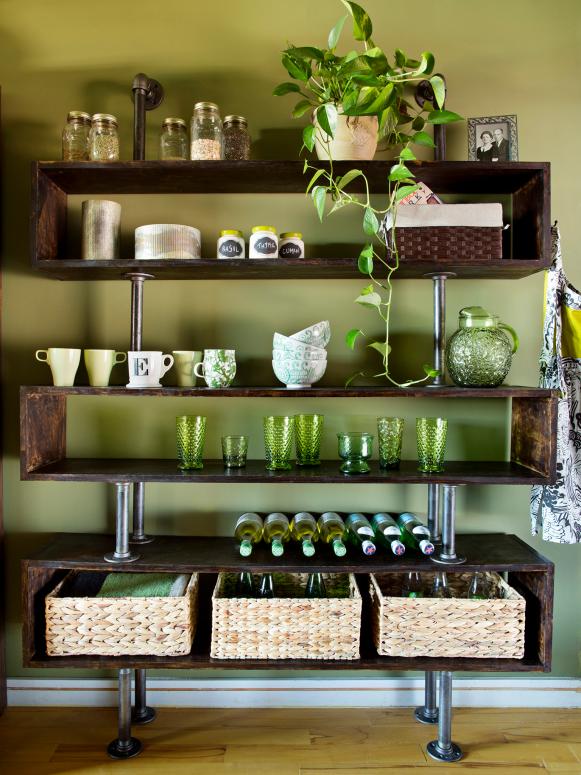 Eclectic Green Kitchen With Pine and Pipe Shelves
Dead space near the apartement's entry door became an opportunity to add more open storage.
Dead space near the apartement's entry door became an opportunity to add more open storage.
Next, we aimed to free up as much cabinet space as possible by keeping all pots and pans stored on a ceiling-mounted pot rack. To give the pot rack dual purposes, we chose a type that also doubles as a light fixture, with small halogen bulbs integrated into the four corners of the rack. By installing it above the custom wall-mounted table, we not only took advantage of dead space by using it as open storage but also added much-needed ambience to the dining area.
Since the kitchen is located just a few feet from the entrance to the apartment, we decided to use dead space near the door as an opportunity to add more open storage for everyday items such as cereal bowls, water glasses, coffee cups and bottled drinks. To create something low-cost with a designer look, we used basic plumbing supplies and darkly stained pine, resulting in somewhat of a rustic farmhouse aesthetic. Dan measured the space, then attached threaded pipe, flanges, elbows and nipples together, and screwed the flanges to planks of pine that were cut with a circular saw and assembled as shelving boxes. Once the boxes were secured into studs, we were able to move approximately three cabinets' worth of items into the new open shelving.
The final step in the kitchen's design update was employing space-saving tricks to the cabinets and countertops. Since the kitchen already had integrated wine storage, and coffee in the mornings is equally as important to Sarah and John as wine over dinner with friends, we integrated space for coffee cups by mounting an extendable coffee cup holder over the sink, just a few inches from the coffee maker. With the coffee cups out of the cabinets, room was instantly added for Orly's feeding supplies.
Thanks to space-saving items -- from spice jars with chalkboard exteriors to paper towel holders that attach to the tops of cabinet doors -- Sarah and John now have a place for everything and everything in its place.