Small Kitchen Island Inspiration
Use small kitchen island inspiration and ideas to integrate a stylish feature, whether stationary or mobile, into your tight quarters. It will allow you to maximize space for cooking prep, dining and even storage.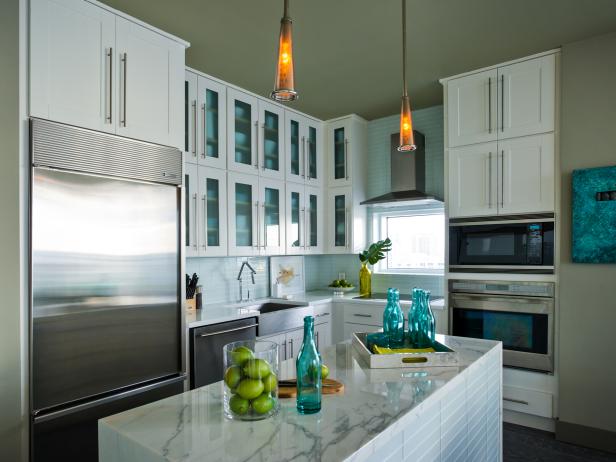 Contemporary White Kitchen with Marble Island
A crisp white palette, chrome accents and marble surfaces elevate the design of the contemporary-style kitchen at HGTV Urban Oasis 2012. To maximize space and storage options, the unit's standard kitchen was blown out and cabinetry installed to ceiling height.
Using small kitchen island ideas and inspiration, you can create a mini command center off of which the rest of the kitchen flows.
The kitchen island is indeed a focal point and perhaps the kitchen's ultimate workhorse, often serving as a counter space, storage and dining table in one. Though it can be a hefty addition, you can find a style that won't overwhelm your small space.
A built-in center island anchors the kitchen, establishing a work zone and creating an important focal point. The optimal height should be the same as that of hour counters — around 36 inches or three feet. It should also be no less than four feet long and two feet deep.
Certain tiny kitchens, like those found in mobile homes or with galley-style floor plans, should not even consider a kitchen island. Instead, bringing in an island on casters provides a mobile work space when you need it, and it can be rolled away when you don't — the ultimate in flexibility for a tight space. This addition can be invaluable for especially tight U-shaped layouts that can't accommodate a permanent island feature.
In a small kitchen, most elements should be designed for multiple tasks; this is especially true of the kitchen island. The island not only provides bonus counter space, but it can also serve as a dining table and provide compact storage. Every culinary headquarters needs a space for dining, and a large kitchen island requires little more than a row of bar stools to become a casual dining spot. If outfitted with open shelving or cabinets and drawers, then an island can conveniently house kitchen supplies within arm's reach for the cook. To add maximum efficiency, customize your island with extras, like electric outlets for kitchen appliances or a pullout cutting board just below the countertop to expand your workspace.
Island styles run the gamut. Contemporary kitchens call for sleek, streamlined units made from metal or topped with slate, while country styles feel best with butcher block tops and decorative bracket details. When choosing a countertop material, keep in mind that large-scale tile can give a small room the impression of expansiveness as can the uniformity of a solid-colored surface.
Get creative and transform an unlikely piece of furniture into a center island to suit your space. For example, enlist an old dresser, a sofa table or even a card file cabinet to anchor your kitchen. Or go bold and wrap your kitchen island in a bold accent color for a boost of character in your small space.
Other Furniture Ideas for Small Kitchens
Inspiration for a Small Kitchen