Welcome big style into your small kitchen with design ideas, from color and countertops to seating and storage.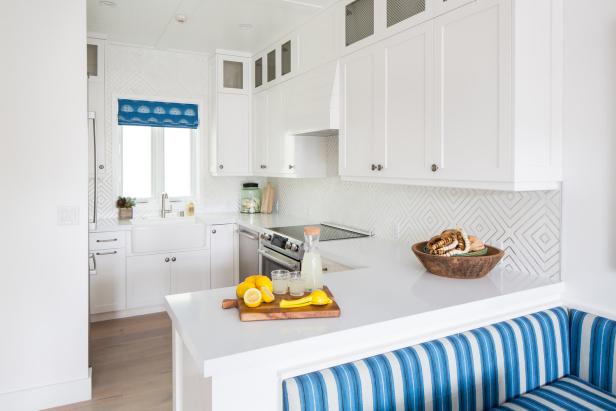 Small Modern Kitchen in White
This small corner kitchen lacks nothing in style, outfitted with all-white modern cabinets, quartz countertops and a geometric tile backsplash. The blue and white striped breakfast nook bench creates visual interest in an otherwise all white room.
Small kitchen design is a lot like cooking. Several elements are involved, and when you capture just the right mix, the results can be delightful!
Though the dimensions of a small kitchen are limited, the task of designing within these spatial confines requires extra planning and a host of innovative ideas for making your small space live large.
A kitchen makeover can range from a series of weekend DIY projects to a job for the professionals. Determine whether you're going to make minor tweaks such as updating hardware and staining the hardwood floors, or major ones like adding built-in benches or knocking out a wall. Establishing the scope of a kitchen design project provides you with a game plan for making your small kitchen not only functional, but also a space that's attractive and welcoming.
"Less is more" when it comes to decorating a small kitchen, but that doesn't mean you have to do away with all of the extras. Let open shelving showcase a collection, give a single painting the gallery treatment on a spare wall, and create a bright moment with a decorative light fixture—especially in a breakfast nook. Further this goal with the introduction of color and pattern into your small kitchen through paint and tile work. Command attention bursts of bright complementary shades or a show-stopping backsplash. A kitchen design isn't complete without soft design elements such as rugs and window treatments that can introduce color and pattern, while softening the kitchen at the same time.
If you are, however, aiming for a contemporary aesthetic, then you're in luck—small kitchens benefit from the restraint and simplicity of this design style. The qualities of contemporary style, such as a calming monochromatic color palette and open-air shelving, naturally foster the idea of roominess.
Countertops may very well be the hardest-working element in any kitchen, so choosing this surface, which provides storage, cooking prep and sometimes dining space, requires careful consideration. Granite and marble lead the pack as the most-requested materials, while stone has emerged as a popular option and metal and concrete both offer the ultimate in versatility. Another consideration to be made with countertops is their scale. In a small kitchen, more counter space is always welcome. Customize your surface by expanding its dimensions and possibly accommodating a built-in peninsula off of the countertop.
More Small Kitchen Design Ideas
Inspiration for a Small Kitchen