Pantry and Pantry Door Organizers
Organizing your kitchen starts with a great pantry.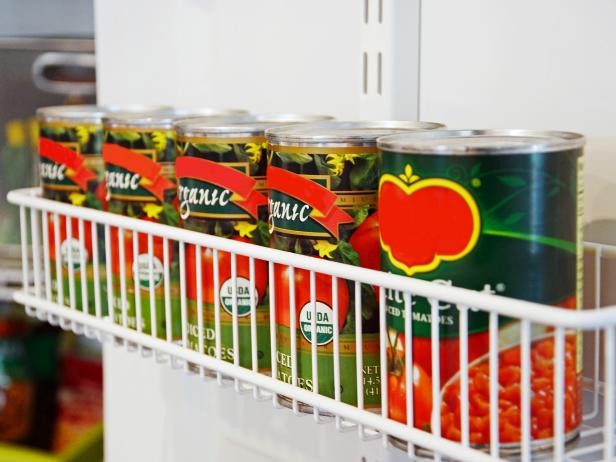 Canned Food Storage
6. Utilize the Doors. If you have doors on your pantry, hang organizers specifically designed for them. Canned goods, spices, oils and jars easily fit inside the organizers. 7. Make a Kid-Friendly Spot. Fill a bottom shelf with snacks so kids can put away their own groceries and easily grab a snack on their own. 8. Use Extra Wall Space. Use wall space if you have it. Command hooks are great for storing reusable shopping bags, or put bags in a bag dispenser. 9. Lay Plastic Shelf Liners. Shelf liners prevent food from falling through wire shelving and boxes from tipping over. 10. Keep It Up. Your pantry can get disorganized after time. Twice a month make sure everything is clean and in its place, so you don't have to spend hours organizing it again.
When it comes to having a well-organized pantry, making every bit of space count is the key to maximum efficiency, and there's a lot you can do with pantry and pantry door organizers.
Whether you have a small two-cabinet pantry or a full walk-in closet, you don't want to forget to utilize the space your pantry door provides. From hanging racks to built-in shelves, organizing your pantry door will make grabbing those frequently used items so quick and easy, you'll wonder why you didn't think of it before.
You have a lot to choose from with hanging racks. They come in a variety of styles and sizes and simply hang over the top part of the door so they lay flat against the inside of the door, ready to be filled. They can be made of wire, plastic or wood, consisting of multiple shallow shelves or nifty little pockets. If you aren't the do-it-yourself type, this is a great option for you. You can pick up the perfect rack for your needs at any store that sells home and kitchen supplies; then, take it home and simply hang it. It's an easy, inexpensive, no-hassle solution for instant extra storage in your kitchen.
Built-in shelves are a great option for you if you want something more permanent and longer lasting. You'll have all the convenience of the hanging racks, plus added value to your home. Built-in shallow shelves on the inside of the pantry cabinet doors work really well to organize your spices, cans, jars and bottles for easy access. You can have just one set of shelves on the door or multiple layers of shelves that open one after another, expanding and collapsing in on each other. Essentially, it's like having a pantry door that leads to many pantry doors.
Also, when organizing your pantry door, be sure to have one that blends well with your other cabinets. You can achieve this with simple refacing, painting or replacing it with a whole new door. Refacing your pantry door is the process of laying a new "face" over the old one, giving it a whole new look. The color can be matched in most cases, and the wood type can instantly change. If all your pantry door needs is a new coat of paint to match the rest of your kitchen, this is a fun option for you. Replacing the door is a bit more expensive, but well worth it to make it blend. Whatever option you choose, making your pantry door compatible with the style, tone and color scheme of the rest of your kitchen is the perfect finishing touch to make your pantry not only functional, but aesthetically pleasing so your entire kitchen really shines.
More Kitchen Pantry Accessories and Ideas
Other Kitchen Pantry Design Ideas