Freshly painted kitchen cabinets transform your kitchen from "blah" to "wow" in a few easy strokes.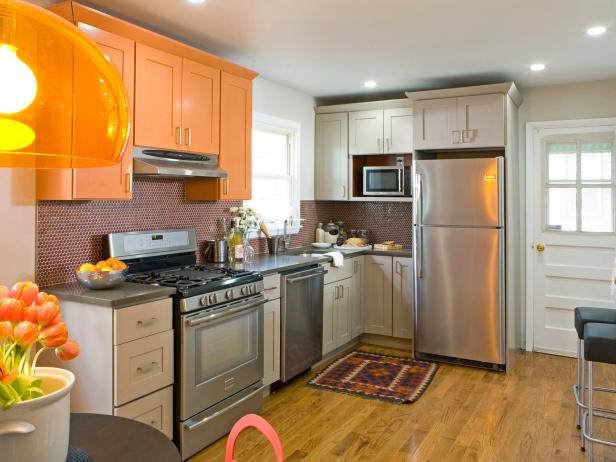 Energetic Kitchen Cabinets
A splash of orange in the cabinetry and pendant light adds instant energy to the mostly neutral kitchen, which also features warm khaki cabinets and sage countertops. Another burst of color, though more muted, is brought in through the red oxidized penny-round backsplash.
Nothing breathes new life into a worn, outdated kitchen better than freshly painted kitchen cabinets. Once you decide on the color, finish and type of paint you want, the sky really is the limit on the look you can achieve.
Kitchen Cabinet Color Options: Ideas From Top Designers
See All Photos
If you have budget restrictions or just want to have fun on a DIY project you can truly personalize, painting your kitchen cabinets is a great option for updating the look of your kitchen. You just have to commit to several weekends of elbow grease and a not-so-fully functional kitchen. Even so, the result is very satisfying. So let your imagination run wild and grab a brush, and let's get to work.
Color is probably the most important factor in deciding what you'll do to transform your kitchen cabinets and achieve the new look you want live with. What is your style? If you don't have an idea yet, go online or to your nearest home improvement store and check out different color schemes and styles to see what colors and looks really sing to you. Are you a traditionalist or is ultra-contemporary more your style? Do you prefer the rustic, worn casual look of the great outdoors, or the glass and chrome energy of the city? Does an eclectic combination of old and new call to you or send you scrambling for something more constant and orderly?
You can highlight your perfect style, tone and look with the right combination of colors and finishes. Whether it be one solid color throughout with complementary accessories, a two-toned color combination, antiqued or distressed finish, a metallic overlay of paint, shiny gloss so high it looks like glass or metal, or the weather-worn look of crackled, paint is the most versatile material you can use to transform your kitchen into a showplace the whole family will love—without breaking your budget.
Once you choose your color and/or finish, the type of paint you'll use is the next crucial step in the process. Your kitchen is a high-traffic room that takes a lot of punishment from use, and you'll want a paint that is easy to clean and can withstand oil, dirt and grime from cooking and fingerprints over an extended period of time. As such, a durable and long-lasting finish is the priority. Your choices will be centered on latex paints and oil-based paints, with primer or without, and what amount of maintenance to expect. Costs vary, but for such a high-traffic area, the old adage of you get what you pay for is apt. Do not go cheap on the paint or you'll regret it later, and don't use a flat matte. It will not clean up well or look all that great.
Spraying is a more complicated technique than brushing and will have to be considered. So, dive into the options for painting your kitchen cabinets that work best for you and have fun.
Painted Kitchen Cabinet Ideas
Kitchen Cabinet Inspiration