Outdoor Kitchen Countertops
What are the best outdoor kitchen countertop surfaces for your outdoor kitchen? HGTV.com explores the materials and costs behind the most popular materials.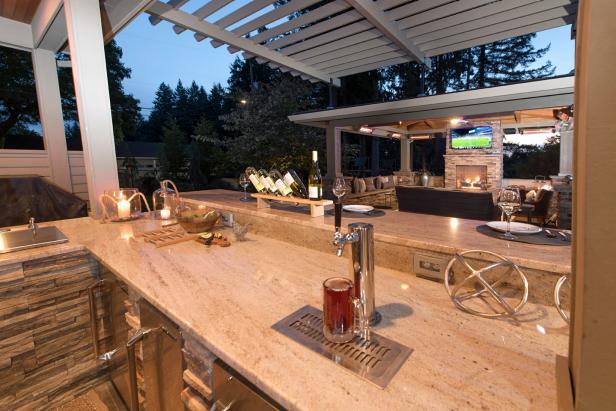 Contemporary Outdoor Kitchen With Concrete Bar With Beer Tap
This contemporary outdoor kitchen and living area features a covered patio, contemporary gazebo sitting area with stone fireplace and TV, and concrete bar countertop with built in beer tap.
Selecting the best surface for your outdoor kitchen countertops can be tricky. It doesn't seem as simple of a decision as using all stainless-steel appliances, or teak, rattan or wrought-iron furniture with durable cushions.
Outdoor Kitchens: Gas Grills, Cook Centers, Islands and More
See All Photos
Above all, the material you select for your outdoor kitchen countertops must be weather-resistant. You'll also want to keep in mind the cost—outdoor countertops, depending on the material used, can add up to be one of your greatest expenses.
Make sure you've provided room in the budget for basic accoutrements, from a sink and storage drawer to any other bells and whistles (rotisserie, ice maker, warming drawer) the outdoor cook may have his or her eye on.
The most common and popular materials for outdoor kitchen countertops include concrete, stone, slate, porcelain tile—even granite and soapstone—for their their resiliency and their ability to withstand harsh weather conditions.
Also, keep in mind that while function plays a more important role in the outdoor kitchen than aesthetics, you'll want the material you choose to look right within the context of your space.
More Outdoor Kitchen Accessories
Other Outdoor Kitchen Inspiration