Look for high-quality, durable and weather-resistant materials for your outdoor kitchen cabinets.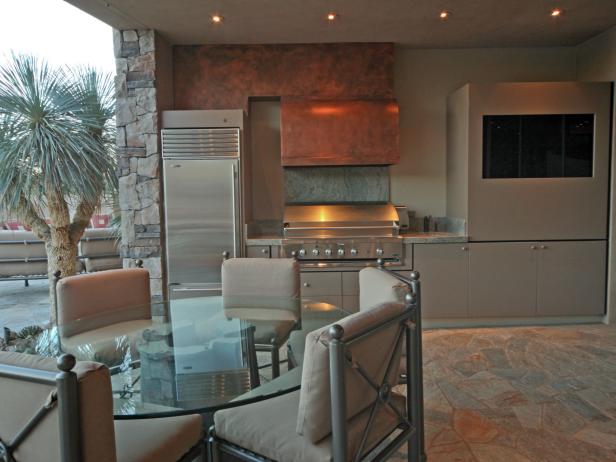 Modern Outdoor Kitchen with Stone Accents
This outdoor kitchen and barbecue area was designed around the natural landscape that surrounds this Palm Springs home. Stone flooring and wall accents along with a copper range hood add a luxurious feel to the space. Stainless steel appliances are hard-working and add a nice contrast to the natural landscape of the environment.
From:
Million Dollar Rooms
Outdoor kitchens can be the grill master's best friend. With a built-in grill, ample countertop surface, add-ons like refrigeration and a sink, and bar-seating for friends—he (or she) may never set foot indoors again.
Outdoor Kitchens: Gas Grills, Cook Centers, Islands and More
See All Photos
But it's important to plan your dream outdoor kitchen with the weather—and your climate—in mind. While it might be a no-brainer that grills and other appliances be stainless steel, or outdoor kitchen countertops be stone or concrete, finding the perfect material for outdoor kitchen cabinets is not as intuitive.
Of course, you'll need a material that's weather-proof and termite-proof (and non-combustible if close to sources of heat), but you'll also want to look for materials that are high-quality and durable, even if they are protected by a deck, umbrella or pergola.
Ideal outdoor kitchen cabinet materials include stainless steel, marine-grade polymer and teak—all materials that can stand up to the elements.
More Outdoor Kitchen Accessories
Other Outdoor Kitchen Inspiration