Modern Kitchen Cabinet Doors
Modern kitchen cabinet doors are easy with the right information.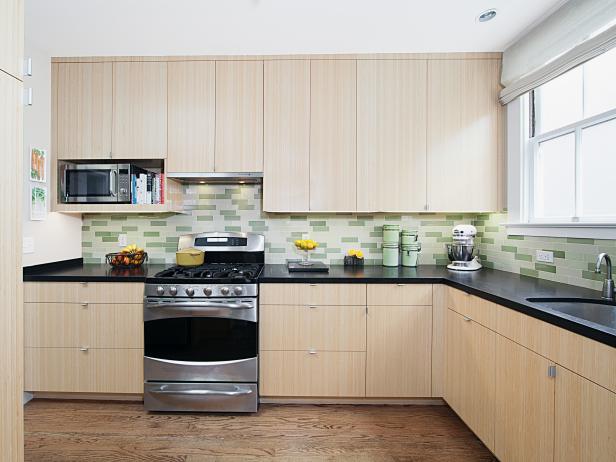 Kitchen With Green Tile Backsplash
This contemporary kitchen has a light and airy feel with the light wood cabinets and light green backsplash. The black countertops provide a nice contrast to the light colors in this space.
Modern kitchen designs aren't necessarily futuristic in nature, but they definitely stick to a streamlined look. This extends to modern kitchen cabinet doors as well.
You'll need to decide on the type of material you want for your new cabinet doors. The most common materials are wood or laminate, but for the modern kitchen design, a metal, glass or stainless steel door will fit right in. I've even seen a rolling garage door-like slab in place of a cabinet door. Since any of these materials work well for a modern design style, it's really whatever you prefer, though you shouldn't use a knotty pine or hickory wood because of the overly rustic, outdoor appearance.
For a modern kitchen cabinet design, the distinction is in the style of the cabinet door. A slab cabinet door style is preferred, as it is a smooth slab of material with no panels, accents or embellishments, giving it a sleek look. A flat-paneled cabinet door style will also work well with a modern kitchen design. Horizontal wood grain slab doors are an exciting trend, giving natural wood the appearance of texture and interest. If you do choose wood for your cabinet doors, choose the type of wood carefully to ensure it is consistent with a modern look.
For an upscale modern look, dark wood cabinet doors are a beautiful contrast to lighter countertops, walls and floors. Add stainless steel hardware and you've got a sleek look that blends with the rest of your modern kitchen. Since islands have become a centerpiece in a modern kitchen, adding curved designs to the wood cabinets of a kitchen island is another unique way to show off modern cabinets.
Laminate is another popular option for a modern kitchen design. It offers a sleek and stylish look free from embellishments. Glass cabinets are really popular in modern designs and have been for a while now. A trend I love is the occasional metal door for something quite unique. Stainless steel is popular in every area of the kitchen, but stainless steel doors for a few accent cabinets reinforce any modern kitchen design and create a clean, shiny, glossy addition to a favorite look. So have some fun updating your kitchen with beautiful shiny kitchen cabinet doors and see how creative you can get.
More Kitchen Cabinet Door Ideas and Options
Other Kitchen Cabinet Ideas