Kitchen Q and A With Josh Temple
HGTV Magazine asked the licensed contractor and host of House Crashers and Beach Flip to answer your pressing questions.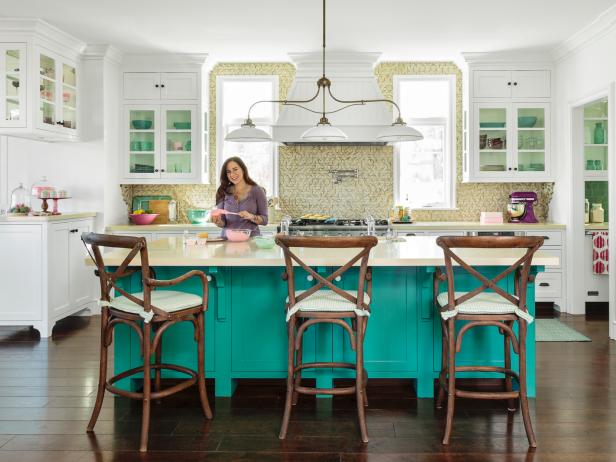 Updated Cottage Kitchen With Pastels
A large cottage-style kitchen uses pastels successfully
Mark Lohman (Styled by Liz Strong)
Q: Does it make more sense to have a kitchen island custom-built or to buy one from a store? I want something that is worth the investment and will hold up for years.—Maria Ricapito, Philipstown, NY
A: Like custom cabinets, a custom island can cost a fortune. But it's not always easy to find a ready-made one that's exactly what you're looking for. That's why I suggest having a cabinet installer build you an island out of stock cabinetry you'd find at a store like Lowe's, The Home Depot, or IKEA. You'll save money, and you can still add personal touches, such as a microwave drawer and your favorite countertop material. Expect construction to run you between $100 and $500, not counting the cost of materials.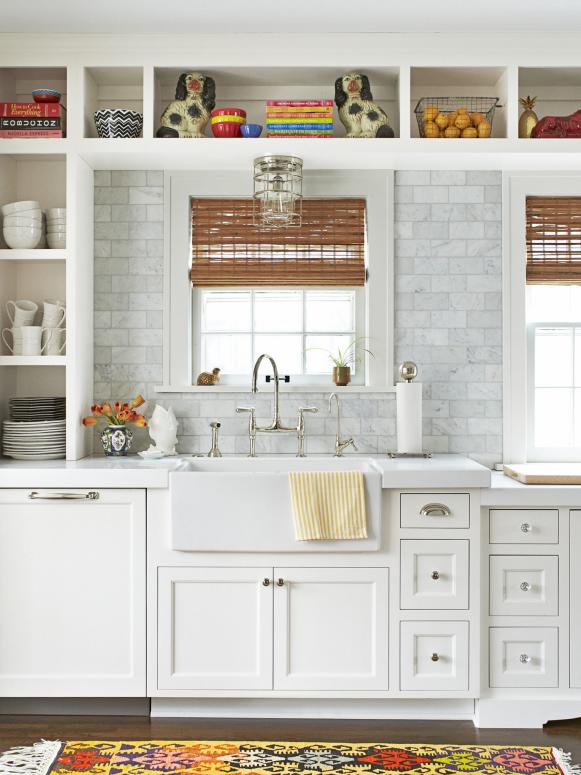 Cottage-Style Kitchen With Open Shelving
To style the built-in shelves, Jamie had the Risdalls send photos of accessories they owned, emailed back a list of her favorites, and arranged them later in person. She also suggested stacking different-colored cookbooks and adding a vintage rug from her store. "When Jamie sent a photo of the rug, I wrote back right away, 'Love it!'" says Quinn.
Q: My kitchen is too dark. What's the least expensive way to pump up the light?—Kate Chanoux, Boston, MA
A: I suggest repainting your walls, cabinets, or both. Choose crisp white or another light color that opens up the space. Then consider your materials: The more reflective they are, the better they'll bounce around what light the room gets, so try a mirrored backsplash or replacing some of your cabinet doors with ones that have a glass front. For extra task lighting, install under-cabinet lights. All cabinets have room underneath to mount these fixtures, and if you don't want to deal with wiring, you can find battery-operated LEDs at home improvement stores.
Q: What's the most durable backsplash material?—Marlene Sweda, Whittier, CA
A: Luckily backsplashes don't have to be all that tough since they rarely get hit with anything worse than water, food, and grease. But if you want a backsplash that will really last, I'd go with the same stone you used for your counters, whether it's marble, quartz, or granite. Get a piece that spans from counter to cabinets, or have one cut 4 to 6 inches tall, and affix it to your walls with construction adhesive. Because it's a solid piece, you won't have to worry about crumbling grout lines or loose tiles. That said, if tile is your preference, try cement ones (like what's shown here). They are super durable and come in many colors and patterns.
Q: Short of replacing their doors, how can I update white laminate cabinets?—Mary Marolla, San Diego, CA
A: Get creative. You can paint laminate as long as you coat it first with a primer that adheres to slick surfaces. Or reface the doors with a new material. My go-to: wood veneers, ultrathin sheets of real wood you can stick to nearly any flat surface. (Find them at woodworking supply sites like rockler.com.) The veneers either will come backed with adhesive or can be attached with contact cement. Then you drill holes into them for your hinges and knobs or pulls. If you have a hard time cutting the veneers to accommodate your hardware, you can always hire a handyman to do it for you.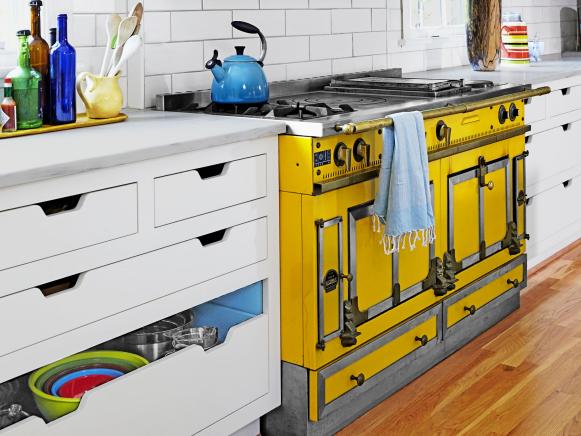 Bold Yellow Stove
For the Stephens family, a bank of 26 drawers was a better option than cabinets. When the couple couldn't decide on knobs, they went with carved-out notches instead. To keep the color scheme going, Hampton painted the insides of the drawers blue (for a similar look, try San Francisco Bay by Benjamin Moore).
Q: I have an electric stove, but I want a gas one. How much of a hassle (and expense) is this going to be?—Lesley Simon, Boulder, CO
A: It depends on whether you already have a gas line running into your house for your furnace or water heater. If you do, you're in luck—it shouldn't be too tough to have a plumber extend the line into your kitchen. Depending on how far it needs to go and how many walls it needs to run through, the project can cost anywhere from a few hundred dollars to a few thousand. But if you don't have an existing gas line, don't bother trying to add one. With the amount of effort and money you'd have to put into this kind of project, you'd be better off going out to eat every night.
Q: My kitchen and dining room are open to each other. Should they be painted the same color? Should the floors be the same material?—Lisa Nesbit, Lewisberry, PA
A: If your house is truly open concept—you can see the walls and the floor of the dining room from the kitchen and vice versa—then, yep, they should be uniform. Using the same color and material throughout will give your house a distinct identity and prevent the space from looking choppy. To distinguish between zones, work in furniture, rugs, light fixtures, and accessories in finishes or patterns that are unique to each room.