Kitchen Paint Color Schemes and Techniques
Find techniques for creating paint color schemes in your kitchen.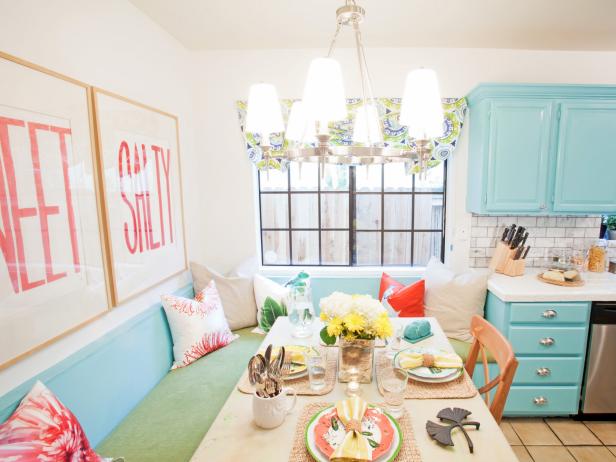 kitchen-paint-color-schemes-and-techniques_4x3
After 04 of Yu and Buny's kitchen. Casey gave a new life to the outdated kitchen with a fresh Heirloom Glam design style, making it more functional and better suited to entertain friends. New carrera tiles backsplash, chandelier, seating area and more counter space make a dramatic new space.
Gilles Mingasson/Getty Images, 2012, HGTV/Scripps Networks, LLC. All Rights Reserved.
Coming up with a kitchen paint color scheme can be frustrating for most people. There seem to be a million colors to consider and it's hard to know what to choose.
Kitchens in Color: Ideas for Brightening the Kitchen with Color
See All Photos
You might be set on bright red cabinets, but what about the rest of the colors in the room? Or maybe you have granite countertops but aren't sure what color walls to pair with them.
If you're starting your kitchen from scratch, think about your favorite colors and how to mix and match them throughout your space. If you're updating your current space with some new colors, think about which ones would work with the items you already have in place.
Many colors make sense in kitchens, but white, yellow, red, green, blue and gray tend to be the most popular shades. White feels fresh and airy and is the perfect base for bolder colors or low-key neutrals.
Pair white cabinets with light blue walls and marble countertops for an ethereal space you'll never want to leave, or just use blue on the ceilling. Green brings nature into the kitchen and comes in a range of shades, from mint to more earthy tones, all of which also pair well with white or wooden accents.
Many believe that yellow and red are colors that stimulate the appetite. Try using them together with yellow as the base and red as an accent color, or separately with a white or neutral base.
Brown tends to show up in a lot of kitchens, either on the cabinets, counters or kitchen island. It looks beautiful when paired with different shades of blue, from a sky-colored shade to a robin's egg hue. Incorporate crisp white accents to soften some of the darker tones.
Gray is frequently touted as the "new neutral," and this calming color works wonders in most rooms, especially the kitchen. It also pairs well with almost any color, including yellow, navy blue, pink and green.
It's easy to be swayed by a really striking color, but take time to really digest the shades you're considering. Paint them on small areas of your walls to see if you can and live with them for a few days before committing to a color. It's also important to consider resale value when selecting colors for your kitchen. You might love that glossy red right now, but if and when you put your home on the market some day, it might turn off potential buyers.
The safest bet is to go neutral with the most expensive items, including your cabinets, floors, countertops and appliances—and use colors on the walls, backsplash, lighting, window treatments, accents and accessories.
Other Kitchen Paint Schemes