Kitchen Countertop Options
From stainless steel and copper to recycled glass, reclaimed wood, bamboo or concrete, your kitchen countertop options have never been so varied and diverse.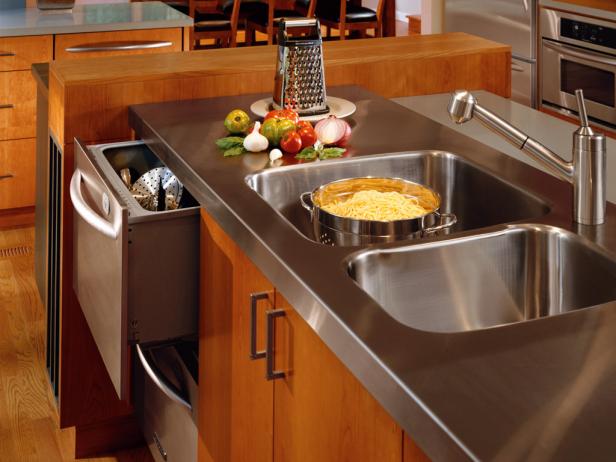 Kitchen-Countertop_Options_s4x3
Both traditional and contemporary, stainless steel works for most kitchen styles. Since it's a metal and nonporous, it doesn't have to be sealed and is naturally antibacterial. Another bonus, stainless steel is easy to clean with soap and water following the grain of the metal. Just be sure to dry with a clean cloth after to reduce water spots. For tough stains or scratches, stainless steel cleaner is available. Design by Barb Ince
When it comes to selecting a surface that's best for your kitchen counter, it's important to look beyond what the most popular kitchen countertop options are, as well as what's most affordable—for comparison's sake, anyway.
Granite, for instance, has reigned supreme in the kitchen-design world for years. For many, though, the price tag is a budget-buster, despite the claim that it adds to the resale value of your home.
Fortunately, the look of granite (or stones like marble) is possible to achieve for less—whether through intricate textured laminate patterns; engineered stone surfaces like quartz; or solid surfaces that can be molded to your specifications to include features like an integrated sink or backsplash.
For a more unique look and feel, other types of kitchen countertops worth looking into are stainless steel for added commercial appeal, woods like butcher block and bamboo to add warmth, or glass (or recycled glass) countertops for a statement-making addition to the kitchen.
Concrete is another kitchen countertop idea that's gained popularity in recent years. Consumers can personalize the material, and add an artistic effect by adding glass or shell remnants.

More Kitchen Countertop Options