Kitchen Countertop Materials
Aesthetics, cost, maintenance, durability—HGTV hones in on the pros and cons of each of the top kitchen countertop materials available.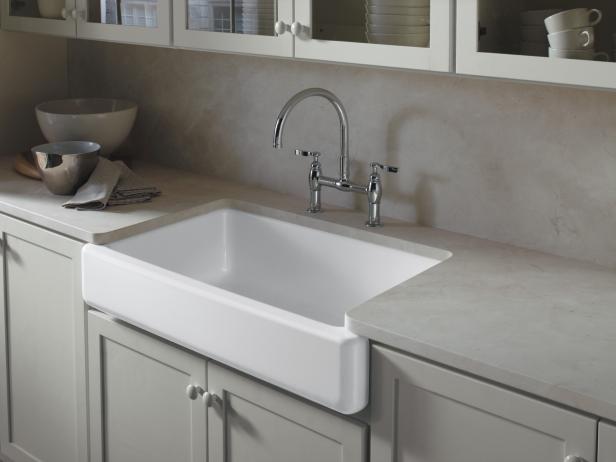 Kitchen-Countertop-Materials_s4x3
Kohler's apron-front cast-iron sinks (shown in white) come in a variety of colors, including new neutral tones Dune, a soft sandy shade, and Suede, a dark hue that pairs well with granite countertops. "Apron-front sinks have never gone out of style," says interior designer Christine Baumann. "They add a timeless focal point to any kitchen. From a practical standpoint, they're deep enough to hold large pots and platters for easier cleanup — a shorter person can even benefit from better access to the sink." Christine notes that because of their visual weight, apron-front sinks are best suited to medium-size or large kitchens. Image courtesy of Kohler
Choosing the best material for the kitchen countertop is a design decision that's not for the faint of heart.
Stone, metal, wood, marble, concrete—which surface will best complement the style of your kitchen? Which surface will provide the best return on investment? Which is designed to last a lifetime?
While aesthetics are certainly important, it's also important to keep in mind the cost, maintenance, and durability of the countertop material, whether you're renovating or starting from scratch. Marble, one of the most luxurious kitchen countertop materials, is the gold standard, but its cost can be prohibitive.
Granite and quartz are close seconds. These heavy-weight champions often outmuscle more affordable options like Corian or Formica, thanks to their commanding, natural stone look and glossy finishes.
Concrete and wood offer simple, sustainable and naturally handsome alternatives, whether the kitchen counters are stained concrete or butcher-block top.
Today's kitchen designers aren't afraid of mixing it up when it comes to surfaces—so don't hesitate to mix a stainless-steel countertop on the kitchen island with a granite countertop on the kitchen's perimeter.

Other Kitchen Countertop Materials