Keep Good Kitchen Design on the Front Burner
Kitchen designers can help transform your dreams into a reality.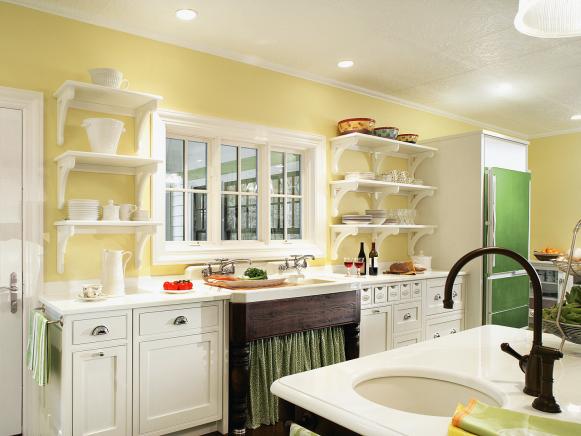 Yellow Cottage Kitchen
Pale yellow stars in this cottage kitchen by designer Regina Bilotta. Prim white cabinets and white open shelves dotted with dishware ensure that this charming kitchen feels tidy, light, and airy.
The first step in designing a kitchen is to collect ideas you love. The next step is to take them to a kitchen designer who can transform your dreams into reality.
When interviewing kitchen designers, ask what types of projects they usually do, ask whether they are certified by the professional kitchen design organization and request references.
Expect to pay for quality services. Fees can be structured in a variety of ways, but the common rate is anywhere from $50 to $150 per hour.
One of the first things a good designer will do is learn all about the intended uses for the space. An extensive questionnaire may be used that covers entertaining, shopping habits, storage needs, etc.
A good designer will be able to combine the necessary function within a chosen style.
Designers can incorporate added functionality in the kitchen, like a raised dishwasher, heatproof surfaces around the stove and strategically placed refrigerator drawers.