Inexpensive Kitchen Countertops
Select the surface that's right for your budget—without sacrificing style—by exploring easy-to-maintain and inexpensive kitchen countertop options.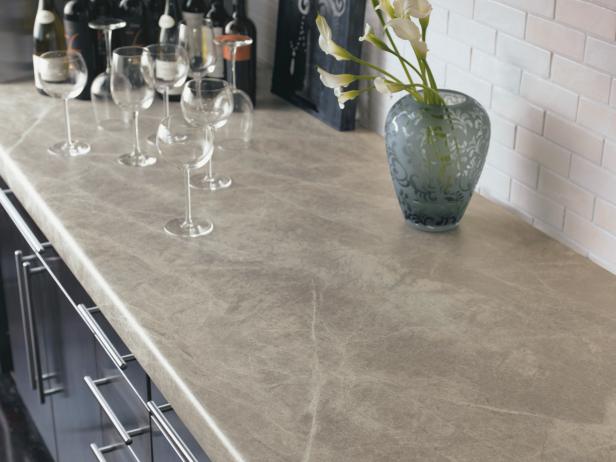 Inexpensive-Kitchen-Countertops_s4x3
Laminate countertops are an inexpensive, low-maintenance alternative to pricey stone and solid-surface countertops, and they are available in many styles that mimic expensive surfaces such as granite or marble. Laminate countertops are not resistant to heat and can scratch. Image courtesy of Formica Corp.
Searching for a stylish but affordable material for your kitchen countertop? Don't snub your nose at inexpensive kitchen countertop surfaces like laminate.
Consider that between the brands Formica and Wilsonart, more than 325 colors and patterns are available. This makes it nearly impossible to not find the style that works for you.
And if that's not great news, consider the price: at $12 to $40 per square foot installed, you'll save a small fortune in comparison to more expensive stone surfaces like granite and marble.
Beyond laminate, other inexpensive, easy-to-maintain surfaces include solid wood and butcher block countertops as well as ceramic tile countertops. In addition, solid-surface countertops like Corian shouldn't be overlooked. Corian, in fact, once enjoyed the status granite does today and was known for its seamless installation and the ability to easily integrate sinks and backsplashes.
Unexpected materials like concrete or glass are more recently trending countertop materials, as they not only make a statement but also offer plenty of personalization options, from stains and dyes (concrete) to LED illumination (glass).
More Info on Kitchen Countertop Prices
Top Countertop Materials for the Kitchen