Ideas for Refacing Kitchen Cabinets
Ready for a change? Discover the difference refacing kitchen cabinets makes.
Refacing kitchen cabinets, also known as resurfacing, is the process of giving your existing kitchen cabinets what is essentially a facelift, for a fresh, clean new look.
Kitchen Cabinets
Learn more about beautiful, efficient kitchen cabinets.
With laminate or wood veneers laid over the existing cabinet boxes, you can change the style, color, wood type—even the associated historical era. Those avocado green cabinets so popular in the 70s can be transformed into the contemporary sleek white of the 21st century. Those light, bright oak cabinets can become the regal dark of cherry wood, and vice versa. Within days your kitchen can take on the look of a complete renovation without the hassle, cost, mess and inconvenience of a full remodel.
Though you keep the existing cabinet boxes, you will need to replace the doors, drawer faces and side panels for the best overall match. While you're at it, you might want to consider replacing the hardware as well. A new style and look for the handles, moldings and hinges can be simple and inexpensive, and it will make a huge difference in the overall feel of the room. You can find new hardware at any home improvement store or your local mom and pop store that specializes in refacing. Although you can have the job done professionally, refacing your kitchen cabinets is generally a good DIY project. You will need to decide whether or not you want to do the job with laminate, rigid thermofoils (RTFs) or wood veneers.
Laminate is a highly processed, super-hard plastic that sticks to existing cabinet boxes with adhesive. You can buy this in sheets already coated with a self-stick adhesive; this is slightly more expensive, but also much more convenient and easier. As an alternative, you can apply the adhesive separately. Laminate is hard and durable, so it doesn't mold easily and can really only be used practically on very plainly styled cabinet boxes.
Rigid thermofoils (RTFs) are pressure-molded vinyl foil and are more malleable than laminates. As such, they can cover more intricate designs, such as cathedral doors and arches. The wood grains are very realistic-looking, though the solid colors are more limited.
Wood veneers are actual, real wood, and they come in different sheet sizes. With wood veneers, you can change the wood type while maintaining the integrity of all-wood cabinets. Like laminate, wood veneers can also be bought with the adhesive already applied to the back, or you can apply the adhesive yourself.
We're sorry, there seems to be an issue playing this video. Please refresh the page or try again in a moment. If you continue to have issues, please contact us here.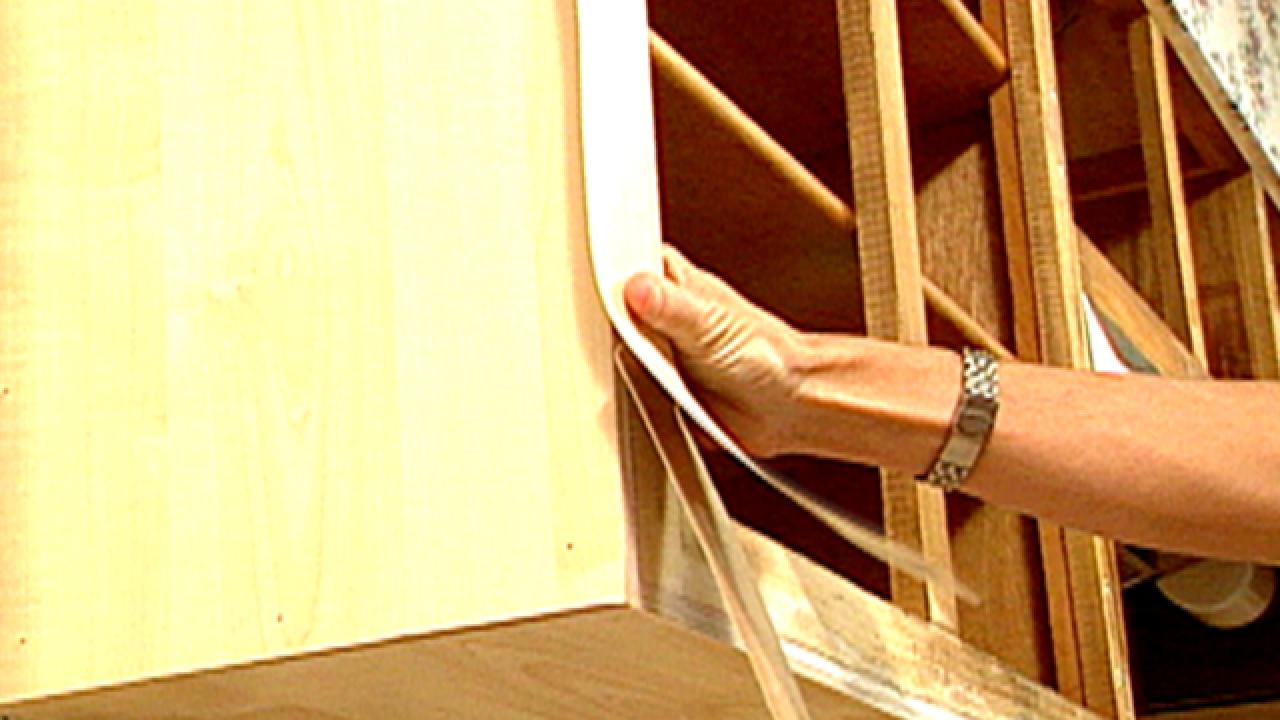 Sometimes refacing requires the veneer to be nailed to the old finish, but usually adhesive is all that is needed. You will have to cut and measure with all three options. As the saying goes, measure twice and cut once. When measuring, leave room for overlap, and then trim the edges, very, very carefully, a little bit at a time for the smoothest cut.
More on Updating Kitchen Cabinets
Kitchen Cabinet Inspiration