Get inspiration for galley kitchen designs, and prepare to add an efficient and attractive design to your kitchen space.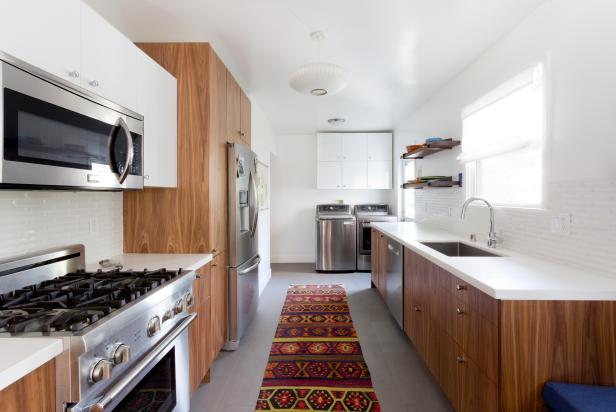 White Galley Kitchen with Contemporary Finishes
This white, contemporary galley kitchen is compact, but designed for maximum style and function. While undertaking a total remodel, the client insisted on keeping the kitchen's existing footprint because it was inherit to the character of the house. To open it up, the design team removed a partition between the kitchen and laundry area. A mix of walnut and white cabinets, along with a wall of floating shelves, keeps the space young and current.
Many contemporary homes feature sprawling, spacious kitchens for both gathering and cooking—but if your home has a more focused, efficient kitchen, you might want to browse the options for galley kitchen designs.
With a few tweaks and tricks, you'll be able to make the most of a smaller galley kitchen space so it's equally suitable for cooking, cleaning and conversation.
Galley kitchen design features a few traditional components; first and foremost amongst them is the layout—galley kitchens generally feature a narrow passage between two parallel walls. Usually, one wall features cooking components like the stove and microwave as well as storage elements. The other wall generally houses the sink and any other cleaning implements, plus more storage. Larger galley kitchens may feature an island in between the two sides, offering more storage and a convenient area for food preparation.
One of the chief tasks for any homeowner working on a galley kitchen design will be to maximize space. Kitchen wisdom has it that the ideal aisle width is approximately 4 to 6 feet—but whether your galley kitchen's aisle width is larger, smaller or right in that range, there are steps you can take to create more efficiency, as well as the appearance of a larger space.
If you're looking to expand the apparent size of a galley kitchen, you'll want to start from the ground up. Ensure that floor boards run lengthwise, and if you feature tile on a backsplash, arrange it in the opposite direction, so that it's perpendicular to the floorboards; this helps create the illusion of depth. Another suggestion is to raise cabinets off the floor in order to further suggest a larger, taller space.
If at all possible, you may want to consider secreting appliances behind cabinets or panels in a galley kitchen. Clean, unbroken lines will extend the space, whereas an array of distinct appliances side by side will break it up and make it feel cluttered. Similarly, monochromatic, relatively unadorned cabinet and backsplash designs can work well to open up the space.
When considering color schemes for your galley kitchen, remember that light colors generally expand a space, while dark colors create a more cozy, confined feel. Speaking of light and dark, a lighting scheme that employs recessed or under-mounted lighting can be a great low-profile addition to a galley kitchen design.
Lastly, when it comes to storage options, consider efficient options like lazy Susans, back-of-door cabinet storage, and tall cabinets or pantries in order to maximize your storage options in the small space.
More Kitchen Layout Ideas and Options