French Country Kitchen Cabinets
Learn about the different options for French country kitchen cabinets and how they translate into an elegant and welcoming dream kitchen.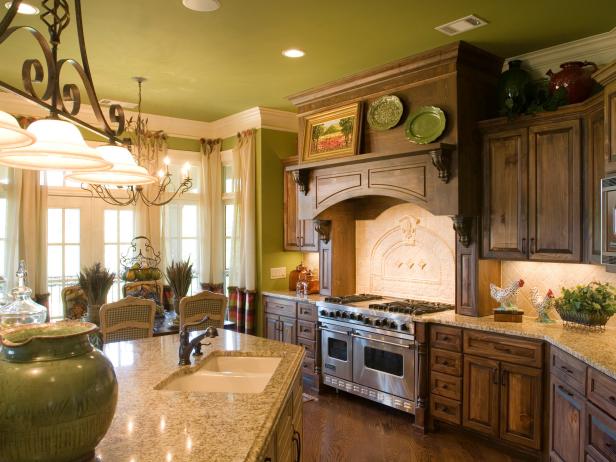 RMS-CynthiaA1_french-country-kitchen_4x3
The French country kitchen serves up a warm, comfortable gathering place for family and friends. A color palette of blues, reds, greens and yellows echo nature, and walls and cabinets often feature a distressed, Old World look. Antique furniture, colorful fabrics and interesting textures (think hand-blown glass bottles and oversized baskets) add the perfect touches.
French country design mimics the beauty and charm of rural France. French country kitchen cabinets use natural materials such as wood, as well as earth-toned color schemes for a comfortable environment that favors serious cooking.
In order to create the rustic and cozy charm of a French country kitchen, cabinets will have characteristic materials, colors and components to complete the look. Cabinetry tends to include ornate woodcarvings and furniture-like features such as decorative moldings and intricate arches. Most French country cabinets are made of wood and are left in natural warm tones showing distinctive wood graining. They can also be antiqued or distressed in order to portray a welcome, lived-in look. If the wood cabinets are painted, they tend to be in warm earth tones or cream-based colors to reflect colors seen in the rural French countryside.
In terms of cabinet components, hardware used in French country kitchens is usually ornate and made of antique brass, bronze or iron. Leaded glass or wire grille door panel inserts are additional touches that can give your cabinets that authentic French country feel. Rustic beadboard can also be added to cabinetry to give a more casual, lived-in feel.
Since many French country kitchen cabinets highlight unique finishes such as distressing or antiquing, homeowners may need to have the cabinets custom-made to gain that authentic look. However, given the modern popularity of French country kitchens, cabinet supply companies now carry stock and semi-stock cabinetry in the French country style, making this look more budget friendly.
Finally, to complete the French country look in a kitchen renovation, mixed metals can be incorporated to accentuate the wood cabinetry. Copper and bronze accents are commonly incorporated. Additionally, since the French are known for their culinary skills, cooking utensils and tools are often left on display in a French country kitchen, with copper pots hanging above the kitchen island or utensils displayed on countertops.
Regardless of your design budget, the French country look can be achieved in your kitchen by including warm colors, distressed wood and an emphasis on the reason why kitchens exist to begin with—to cook and feed family and friends. Bon appetit!
More Kitchen Cabinet Styles
Kitchen Cabinet Inspiration