Sustainable surfaces can also be attractive, high-quality and easy on the budget.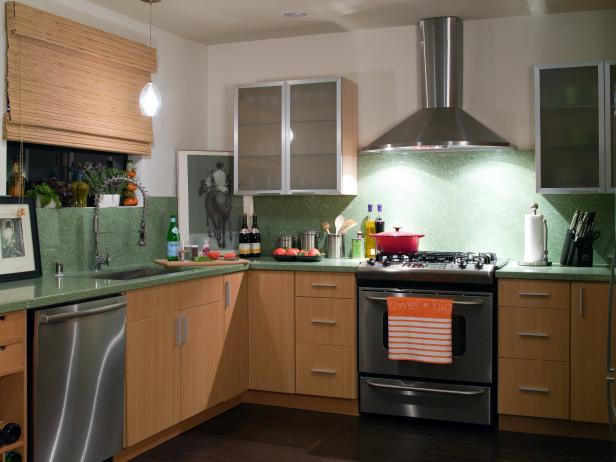 Eco-Countertops_s4x3
Recycled countertops, made to last a long time, come in a variety of recycled materials, including concrete, glass, paper, composite and recycled plastic. Designer Lori Dennis carried the recycled countertop material through to the backsplash for a continuous look. To complete the eco-friendly kitchen, she chose bamboo cabinets and flooring.
Are you searching for the best kitchen countertops for your space? Consider constructing it using eco-friendly materials.
You may be surprised to know that sustainable surfaces (think recycled glass, bamboo, concrete and even recycled paper) can also be attractive, high-quality and easy on the budget.
Eco-friendly countertops will not only add one-of-a-kind character to the kitchen, they'll also ease your conscience. Bamboo, for instance, is a renewable resource and a great alternative to wood because of its fast growth.
Blends of colorful recycled glass remnants can be incorporated into concrete countertops for a look and feel that mimics the color and texture of stone or engineered stone.
Consumers who are drawn to the time-tested, worn look of antique woods may see the potential in salvaged or reclaimed woods. These materials can add great color, texture and character to the kitchen for a look that's both eco- and rustic-chic. Post-consumer recycled paper composite, certified by the Forest Stewardship Council, is another eco-friendly countertop option that's similar in durability to wood.
More Kitchen Countertop Options