Even the most basic outdoor kitchen can be efficient, practical, stylish and affordable.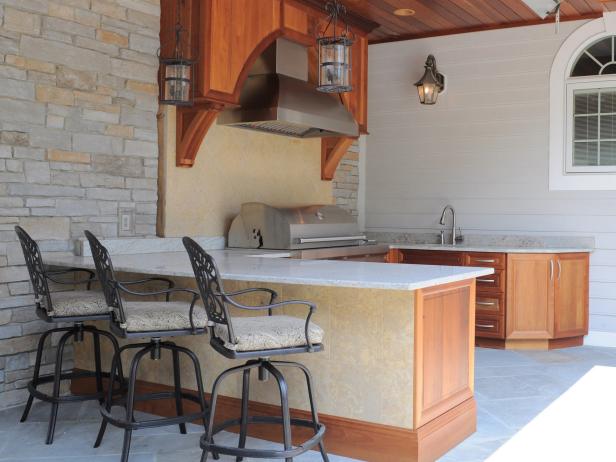 Mediterranean Outdoor Kitchen
The wood-paneled roof keeps the cooking area shaded and prevents the space from being affected by the harsh weather conditions of the Snowbelt region.
Looking to create an outdoor cooking space for your home—without spending a small fortune? Taking the DIY route can help you go beyond the basics (a grill, countertop space and storage space) on the most modest budget.
Outdoor Kitchens: Gas Grills, Cook Centers, Islands and More
See All Photos
Even the most basic outdoor kitchen island can also be efficient in design. Above all, consider durability when going the outdoor kitchen DIY route. You don't want to have to replace your low-cost grill next season, for example. Or find out too late that you've neglected to provide for adequate storage or prep space.
And while handy homeowners may opt to design and build outdoor kitchens themselves, the average consumer looking to cut costs can also make smart purchasing decisions that make a DIY outdoor kitchen both affordable and practical.
Think prefab rolling carts with grills that include extras like sinks, icemakers, lighting, stone-like counters and more. Or, if space permits, you may want to purchase separate carts based upon your needs, like a cart reserved solely for storage—or a combination countertop-sink option.
Bottom line: even if they aren't the result of your own elbow grease, DIY outdoor kitchens can still be cost-effective and efficient.
More Outdoor Kitchen Ideas
Other Outdoor Kitchen Inspiration