Corian Countertops for the Kitchen
Synthetic Corian countertops are wallet-friendly but high-end design option for homeowners looking for an uninterrupted surface.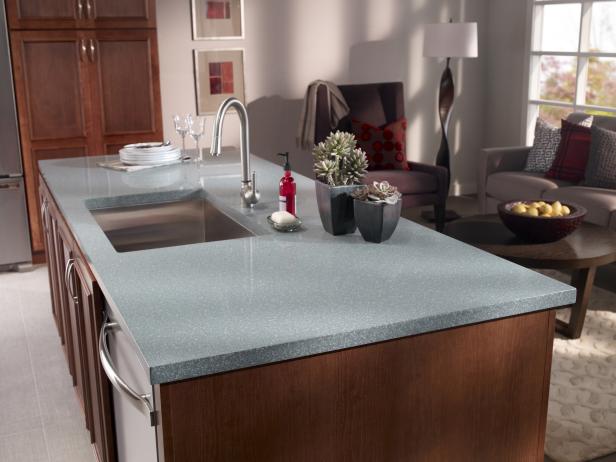 Corian-Kitchen-Countertops_s4x3
Nonporous solid surface countertops are durable and easy to maintain, with no sealing required. Today's designs take style to the next level by mimicking materials such as granite, quartz, concrete and glass. Sharp knives and hot pans can sometimes damage solid surface countertops. Image courtesy of DuPont Corian®
Non-porous, stain-resistant and cheaper than granite, Corian kitchen countertops are a solid-surface countertop that's available in a wide variety of colors and patterns (more than 100) to suit your aesthetic needs.
Most often seen with a matte finish, Corian may also be polished or high-gloss; Corian countertops are often said to mimic the look of granite or marble—but without the unsightly seams.
Because it's man-made (Corian is manufactured from acrylic or plastic), Corian is referred to as a synthetic countertop material—but don't let that deter you from choosing Corian over natural stone surfaces.
Corian is a high-end design option, and one of its main advantages is that if you use the material for countertops, backsplash and a sink, it will look like it's all just one uninterrupted surface (just think—no lip or seam to catch unsightly crumbs and debris!). As with laminate, hot pots, pans and knives can cause damage to Corian countertops, so you will need to use trivets or cutting boards.
Other Kitchen Countertop Materials
More Kitchen Countertop Ideas