Blue Kitchen Paint Colors
Discover the best blue paint colors for your kitchen.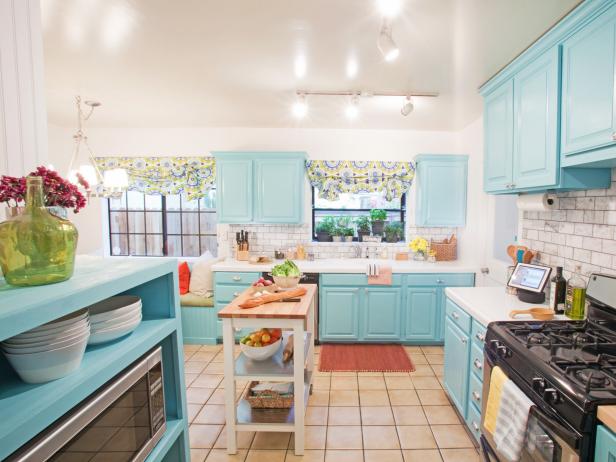 blue-kitchen-paint-colors_4x3
After 01 of Yu and Buny's kitchen. Casey gave a new life to the outdated kitchen with a fresh Heirloom Glam design style, making it more functional and better suited to entertain friends. New carrera tiles backsplash, chandelier, seating area and more counter space make a dramatic new space.
Gilles Mingasson/Getty Images, 2012, HGTV/Scripps Networks, LLC. All Rights Reserved.
Some say that blue is an appetite suppressant, but that doesn't keep this versatile shade from showing up in many kitchens.
There are many different directions you can go when working with blue kitchen paint colors. Choices range from pastel blue to aqua to deep, dark navy.
Before settling on the perfect shade of blue, look at what you already have in your kitchen or consider what you plan to put in it. If you're starting from scratch, figure out what color cabinets, countertops, backsplash and appliances you plan to use. If you're only changing the color of your walls or cabinets, make sure the color you choose works with whatever else you have in the room.
For a fresh, clean look, light blue works wonders in kitchens. A cool color that's incredibly calming, blue pairs well with white or gray accents and can instantly create an ethereal and calming space.
If you prefer a country look, powder blues can create a cozy vibe. Pastel blue also looks beautiful on cabinets or on islands. If you plan to use a few blues in your kitchen, use one of the lightest shades on the walls and a darker shade on an accent in the room such as an island. If you have a predominantly white kitchen but want to introduce some blue paint, look for a sky blue to use inside your cabinets.
Aqua blue is another good option, especially when paired with white cabinets and marble countertops. It's an uplifting color that will immediately energize you the minute you walk in your kitchen. Aqua works well on the walls, the ceilings or even the cabinets. Grayish blue shades are also good options for the kitchen. These colors feel more neutral without being boring, and they also pair well with gray, white or black accents.
Deeper shades of blue also look nice in kitchens, both on cabinets and on the walls. Some options include cobalt or deep, dark navy. Pair these colors with white and gray accents to keep them from feeling too overwhelming, but try them on walls, cabinets and islands. Navy can make a kitchen feel relaxing and cozy while cobalt is an intense shade that will put a sophisticated spin on your cooking space. Both colors would complement wooden countertops.
Blue floors also show up from time to time in kitchens and are another way to use this color. If you go this route, it's best to keep the other accents in the room fairly neutral in order to let the floor really shine.
Some good blue paints to consider for your kitchen include Silver Sage from Restoration Hardware, Sassy Blue and Rainwashed by Sherwin Williams, and Benjamin Moore's Soot, Old Navy, Sweet Bluette, and Paddington Blue.
Other Kitchen Paint Colors