A Two-Year-Old Kitchen in a 152-Year-Old House
Once out of sync with the rest of the house, this kitchen from HGTV Magazine finally feels right at home.
Annie Schlechter
The kitchen is in the octagon-shaped room.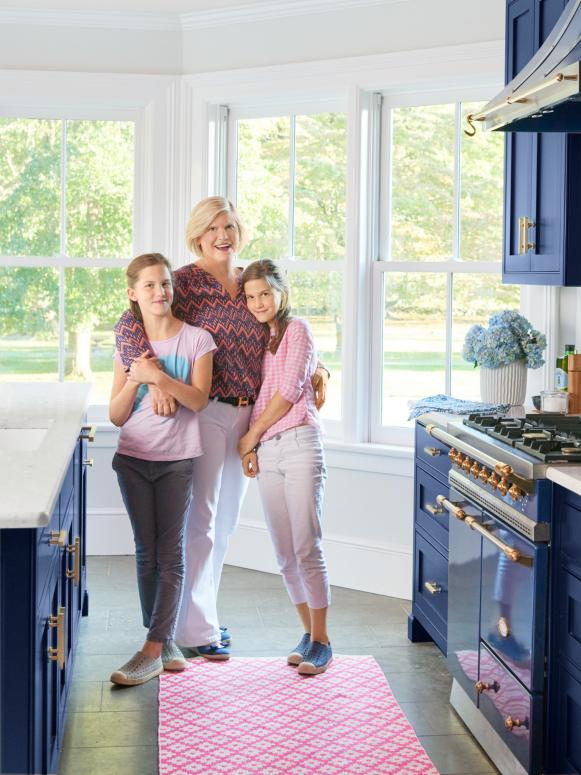 Sharp Kitchen (Lyme_ CT)
Liza with her twin daughters (from left),  Constance
and Helen, 11
Annie Schlechter
Liza with her twin daughters (from left),  Constance
and Helen, 11
Designer Liza Sharp and her husband, Matt, loved everything about their 1865 farmhouse in Lyme, CT, except one (important) detail: the kitchen. While the rest of the home oozed charm, with its original stone fireplace, recessed built-ins, and curved staircase, the kitchen felt like an afterthought. "It functioned just fine," says Liza, "but its lack of character — it had plain white cabinets and black counters — bummed me out." Plus, the narrow layout left no room for the island Liza dreamed about. After living with the room for seven years, she engineered a swap between the kitchen and the adjacent octagon-shaped living room, anchoring the newly configured space with a large marble-top island. With handsome navy blue cabinets and a coral pink tray ceiling, the kitchen became the personality-infused spot Liza wanted. "Our old kitchen could have been in any house," she says. "This one feels like it belongs here."
The 4-foot-by-9 ½-foot island houses the dishwasher and a pullout garbage bin, and it has plenty of storage, too. For the island and perimeter counters, Liza went with honed Carrara marble. "I actually like the nicks and scratches," she says. "It looks like these counters have been here as long as the house has." The rattan bistro-style stools are from Serena & Lily.
As part of the reno, Liza pushed up the ceiling's center by 18 inches to highlight the room's unique octagon shape, then painted it pink (Italiano Rose by Benjamin Moore) to keep the space from feeling too serious. "My daughters rolled their eyes at first, but now I can tell they secretly love it," Liza says. The wrought iron chandelier is a refurbished antique.
"I wanted wood floors, but I was worried that with two kids and a very energetic black Lab, they'd get destroyed," says Liza. Instead she chose 12-inch-by-24-inch honed limestone tiles and complementary gray grout. Sealing them every year or so helps protect the porous stone from water stains.
Liza tapped a local cabinetmaker for her hard maple cabinets (for a similar color, try Rich Navy by Glidden). "We sacrificed some storage with this new layout, but it was worth it to get the right configuration," she says. The brass cabinet hardware is from Lewis Dolin.